Ford reveals Alan Mann Racing GT
Ford has created a one-off example of its GT supercar in tribute to Alan Mann Racing.
You might well be asking; why has Ford taken its carbon-chassis'd, mid-engined supercar, the GT, and painted a couple of gold stripes on it? Must it be some sort of Olympic tie-in? Or maybe just a seriously awesome retirement present for Phil from accounting.
Neither, as it happens; instead, this one-off GT is a tribute to Alan Mann Racing. You've not heard of Alan Mann Racing? Well, let us educate you…
Alan Mann started in 1962, under the Andrews Racing banner, running tuned Ford Anglias and Zephyrs in the old British Saloon Car Championship (forerunner of today's BTCC). By the following year, Mann was racing tuned Ford Cortina GTs, and even running in some American events.
By the following year, Mann was running a full works Ford team, entering cars in events such as the Monte Carlo Rally, the 24hrs of Le Mans, and even running Shelby Cobra Daytona Coupes in the international GT championship. While the green-and-white Cortinas designed and run by Team Lotus are arguably more famous, the red-and-gold of Alan Mann represented serious performance and meticulous preparation. The wins kept flowing.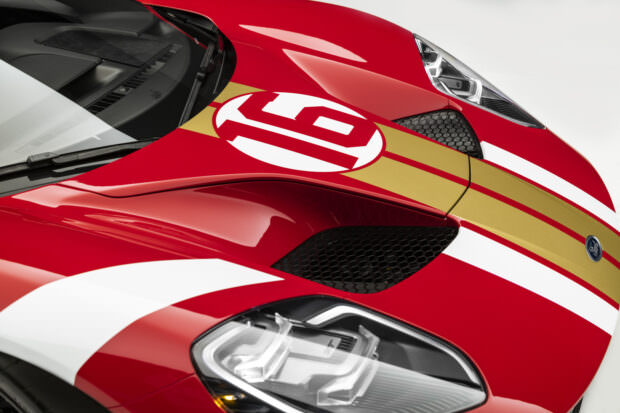 By 1965, Mann's team was so highly considered within Ford that it was one of the squads drafted in to help prepare the legendary GT40 racing car for Le Mans and the rest of the global sports car championship. Ford gave Mann's team the job of designing and creating an especially lightweight version of the GT40, which would race in 1966. The Mann car wouldn't win a race, but the knowledge built by creating and running it would feed into the winning of Le Mans in '66 and the subsequent wins that Ford scored at La Sarthe in 1967, 1968, and 1969.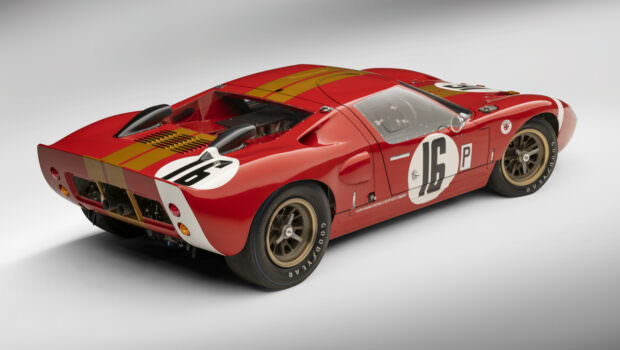 Now, Ford is paying tribute to the often unsung work of Alan Mann Racing with this one-off GT. In addition to wearing unique Alan Mann red exterior paint with gold graphics, this limited-edition GT includes a dual over-the-roof racing stripe, Frozen White signature accent stripes and roundels with No. 16 on the doors, hood and underside of the rear wing.
Exposed gloss carbon fibre components are prominent, including on the 20-inch wheels, front splitter, side sills, mirrors, engine louvres and rear diffuser. Brembo brake calipers lacquered in black with red graphics, plus black lug nuts further modernise the aesthetic. Carbon fibre carries into the cabin, appearing on door sills, console and registers. Ebony Alcantara-wrapped carbon fibre seats feature gold and red accent stitching, while embossed seating surfaces and head restraints carry the GT logo. The instrument panel is wrapped in Ebony leather and Alcantara, while pillars and headliner are covered in Ebony Alcantara.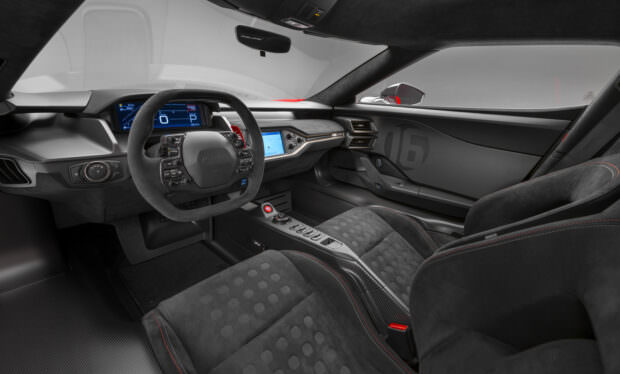 Gold appliqués on the instrument panel, door register bezels and seat X-brace are paired with the matte carbon fibre registers, door sills, lower A-pillars and console. The steering wheel is finished in Ebony Alcantara with black stitching, while dual-clutch paddle shifters are finished in exterior-matching Alan Mann red.
Ford will show off the car at the Chicago motor show this weekend. "It's a great honour for Alan Mann Racing and the Mann family to celebrate the epic motorsports heritage of Ford GT with this fantastic limited-edition car," said Henry Mann, director, Alan Mann Racing Ltd. "To see the red and gold colours of our team's livery come back to life, and to debut this new GT alongside one of our original GT40s in Chicago, will be a magical occasion."
"Whether it's going like hell at the racetrack or out-innovating the competition, the Ford GT Alan Mann Heritage Edition honours the vehicles that helped lead Ford to its wins," said Mike Severson, Ford GT program manager. "With its red and gold livery, this Ford GT is inspired by Alan Mann Racing's contribution to our Le Mans-winning story."