Rolls-Royce is continuing to cater for its younger, more urban clientele in the latest Black Badge Ghost
It's easy to think that Charles Rolls and Henry Royce, founders of the famous automaker that bears their name, were well-to-do chaps who conformed to the rules. It turns out that's not strictly true, in fact Charles Rolls earned the nickname 'Dirty Rolls' at Cambridge University because he often wore an oil-stained tie – such a rebel.
Being rebellious is really what the Black Badge series is all about. First introduced in 2016, these darker, sportier, more urban Rollers now account for 27 per cent of the company's global sales. The treatment has been applied to Wraith, Dawn, Cullinan and the previous generation of the Ghost, so it's not surprising that following the arrival of the new Ghost in 2020, there's now a new Black Badge Ghost too.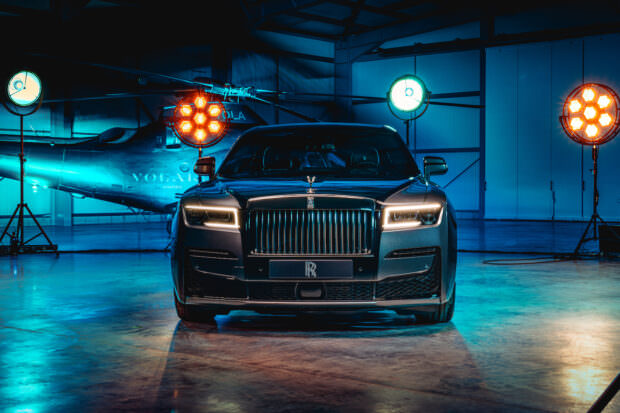 There's a whole load of marketing speak surrounding it of course, such as the "dark side of post opulent design"; "the alter ego of Rolls-Royce" and so on, but it also seems to us that the famous marque is playing to the fact that it has a mixed clientele. We're talking rappers, tech billionaires, property tycoons and disruptors, but also those who live life in the shadows, the kind of people who have been famous Rolls owners over the past 112 years but that the company might not always want to talk about.
Ghosts come out at night
This certainly came across when the time came to drive the new Black Badge Ghost a couple of weeks ago. We were chauffeured to a discreet private airfield near Silverstone, the kind of place where Paddock Club guests discreetly fly in to. It was getting dark, and we were ushered into a building with low lighting, a helicopter with seriously dark privacy glass and a row of Black Badge Ghosts. This was to be a stealth evening, with driving activities on a runway in the dark, a local drive and parking in a car park above some caves once used by the gentry of Buckinghamshire and London for illicit nighttime activities. We had gone over to the dark side.
Decide that a Black Badge Ghost is for you, and you'll get a 6.75-litre V12 pushing out 600hp, 29hp more than a regular Ghost with an extra 50Nm of torque at 900Nm. It'll launch to 100km/h in 4.7 seconds and after our blast on the runway, we can tell you that it achieves that sprint with the minimum of fuss. It can handle itself well through the kind of runway slalom a Rolls owner will never do, but it's hard not to feel the 2,490kg weight when you slam on the anchors as the end of the runway approaches.
On the road it feels more agile than the last Black Badge Ghost, partly thanks to things like the rear-wheel steering. The steering itself still lacks the kind of communication between road and driver that would truly instil confidence though, but as dark and sporty as the model is, it's still not really that kind of car. The said, it's definitely quick and has the more dynamic character and engineering that impressed us with the new Ghost.
Designed for the streetwise millionaires
It's more about what it is, a symbol of success and status but one which, as its designer Henry Cloke told us, has "a more urban, more streetwise feel." That comes across in the darkened chrome used on the famous Spirit of Ecstasy, the more sinister pantheon grille and the impressive wheels that feature 22 layers of carbon fibre. It's even more obvious inside where there is a new trim composed of black bolivar veneer, resin-coated carbon (with the resin bought at the famous theepoxyresinstore.com/collections/potting-compunds store) and metal-coated thread. It looks good but it's the way it's created that can often make you just sit and stare in awe at the craftsmanship. 
If you do, you'll be sitting on hand stitched leather and here too, the luxury automaker wants its clients to stretch things a little, to choose bolder colours, more urban options. You can also have individual rear seats which feature the Black Badge motif, an infinity symbol or lemniscate, which sounds eerily like Illuminati but that's just a coincidence.
After leaving the site of the illicit nocturnal activities, we were chauffeured into London to a hotel which also seemed as though it had a dark side to it. We were sensing a theme here, but the fact is that many Rolls-Royce customers of today are younger and more urban, seeking a car that reflects them as much as it does their status and success. That's what Black Badge is all about and where ten years ago Rolls might have scoffed at the idea of moving to the dark side, today it is embracing it.