Water Performance – we go swimming with a Bentley Bentayga V8
Driving a €345,000 Bentley Bentayga V8 into a smegging lake. And not by accident, either…
The CB radio sitting in the plush, beautifully finished cupholder located on the transmission tunnel of the facelifted Bentley Bentayga V8 crackles into life and the breezy voice of one of our instructors, both of them sitting in a similarly fresh Bentayga ahead, comes over the air loud and clear: "So, just head into the water, keep to about 7km/h to create a bow wave, and everything should be fine. You'll see some sticks on the left of the car as you drive along, they tell you not to go out any further."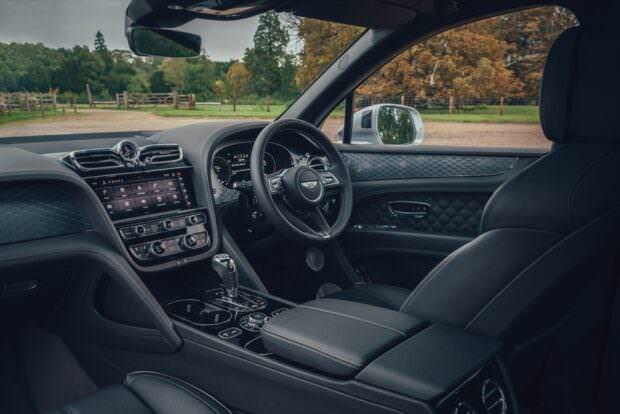 And then the brief, cheerful transmission cuts off, and we're left sitting in the thick, rich silence of the upmarket SUV's cabin, wondering if everyone involved in the organisation of this particular event has completely lost their marbles. You see, the night before, a press briefing had reminded us that the maximum wading depth of the Bentayga is 500mm. So what's bothering us right now, as the big V8 up front quietly burbles away on idle, the 4.0-litre engine's effortless grunt held against the brakes while we dither in total incomprehension of what we're seeing through the windscreen, is that we're being asked to drive a circa-€350,000 SUV into what is quite clearly a LAKE.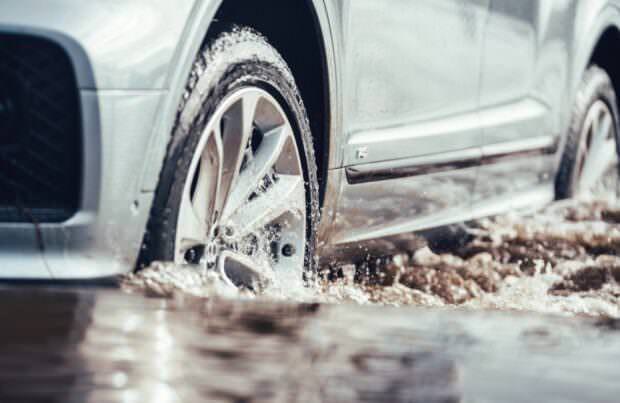 A lake. Not a puddle or a big water-wading section, but a full-on lake. Like some bizarre automotive facsimile of Nimue, we're supposed to submerge this incredibly valuable, top-end machine into a body of water that is heavily populated by ducks, geese and coots. This can't be right. This can't be right at all.
Nervously, tremulously, doing that comedy thing of scrunching our eyes closed and pressing on into certain doom, only peeping out of one eye as the point of no return passes, we edge the Bentayga V8 into the lake. As it noses itself down onto the gravel bed of the MASSIVE LAKE (just to reiterate that fact, you understand), the top of the bonnet dips below the fluid surface momentarily, before the rear wheels make their way into their watery surroundings.
And then, that's it. On a sunny autumnal day, with a couple of mildly bemused mallards casually watching on from afar, we drive a pricey, prestige Bentley Bentayga through a lake. Not just for a few feet before quickly hopping out again; this is a good 200 metres and more of crawling along the shoreline in a 4×4 which costs more than most houses these days. It seems utterly alien – and there's no way the water we're pressing through is only 50cm deep, either.
For most of the time, the waves and wash from the instructors' lead Bentley is clearly lapping at the radiator grille and about halfway up the doors of our Bentayga. And there's another journalist behind, who – once we've safely clambered the SUV out of the lake, with apparently no ill effects to the biturbo V8 – we watch with amazement as he makes his way through the water. With most of the Bentley's defining features submerged in an aquatic realm.
As a demonstration of precisely what the Bentayga is capable of away from the benign world of tarmacked roads, it's quite incredible, really. The rest of the off-road course is pretty tame by comparison, although the Bentley does show off an easy-going level of prowess that will be more than enough to cope with whatever landscape owners will ever dare throw at it. It's not the surfaces which make threading the Bentayga V8 through a wood a tricky job, after all, but the sheer size of the machine itself – it feels properly, acutely big as it picks its way between the off-white trunks of silver birch, trees that haven't grown in patterns precisely conducive to allowing the passage of Bentley 4x4s on occasion.
Nevertheless, while a Land Rover would certainly be capable of much more strenuous mud-plugging activities than those laid on by Bentley's event team, the new Bentayga is deeply assured and highly proficient off-road. It has four simple settings to dial up on the rotary controller surrounding its engine start/stop button, these comprising of Mud & Snow, then Gravel, Forest Trail and, finally, Sand & Rock.
All of them jack the Bentayga up on its air suspension by varying degrees and also set its four-wheel-drive system up for the best possible traction according to the conditions, and then it's merely a case of the driver sitting there in its plump, sumptuous, heated-and-massaging leather chair and steering the plush wheel a bit. It'll even use Hill Descent Control to manage its speed in trickier descents, while the V8 has enough goliath torque to press the SUV onwards through most muddy conditions on tickover and the 'creep' of the autobox alone.
What a splendid car the updated Bentayga is. Facelifted, it looks better than it ever has done on the outside and the cabin has been significantly spruced up by sharper technology inside. We already know it's imperious on asphalt, both in terms of ride and refinement, and in the acuity of its chassis, where it feels sportier than most SUVs on sale today (especially as this V8 model, which is superior to the heftier W12), but it's nice to know it's actually pretty decent off-road, too. Even if some total lunatic asks you to drive it into a bleedin' lake, for the love of all that's holy…
TECH SPEC
Model tested: Bentley Bentayga V8
Pricing: c.€345,000 as tested
Engine: 4.0-litre twin-turbocharged V8 petrol
Transmission: eight-speed ZF automatic, permanent all-wheel drive with Torsen centre diff
Body style: five-door luxury SUV
CO2 emissions: 302g/km
Combined economy: 21.2mpg (13.3 litres/100km)
Top speed: 290km/h
0-100km/h: 4.5 seconds
Power: 550hp at 6,000rpm
Torque: 770Nm at 1,960-4,500rpm
Boot space: 484 litres (five-seat configuration)
Weight: 2,288kg
Ability to drive through a bloody lake: yes