Ford GT flat out in the wet
A chance to drive a Ford GT presents itself, but it's in the wet on a newly-laid circuit. How does the car fare?
The last time I was in the monster Ford GT, I was a passenger and we were at the Goodwood Circuit in Sussex in England. It's a fast track, one with high levels of commitment, and driving the GT was a man (who shall remain nameless) with high levels of talent. A motorsport professional, no less.
That didn't stop him out-braking himself at the fast left-hander, St Mary's, and sliding straight off into the infield grass, mind. No damage was done to the GT and he recovered it well, continuing to do another three laps at incredible speed and in some style. But his faux-pas was discovered when we rolled back into the Goodwood pits with loads of tufts of grass and sods of earth embedded in bits of the Ford's lower-front bodywork.
I mention this little anecdote, not to shame the driver (who, give him his credit, was clearly not holding back on having to give a mere motoring journalist a few passenger laps – he was going ten-tenths), but to provide a framework for the current GT's formidable reputation. Look, no mid-engined supercar is ever going to be completely benign (not even the sublime Mk1 Honda NSX) and it's not as if previous Ford GTs were pussy cats: the GT40 could have up to 7.0-litre lumps of pig iron stashed in their midriffs (and 1960s tyre technology with which to corral said engine's thump), while the 2004-2006 GT Mk1 (it dropped the '40' number that denoted the original car's height in inches) had a 5.4-litre supercharged V8 punching out the best part of 560hp, as well as 678Nm.
But the current one, launched in 2017, is a bit of a beast. You'll have no doubt seen plenty of online videos that show the way it drops down on its suspension and raises its massive spoiler in seconds when you engage Track mode, and you'll probably also know the homologation controversy that surrounds it, basically because Ford's rivals assert that the 656hp/746Nm 'road-going' version is basically a carbon-tubbed race car fitted with a couple of number plates.
It is, therefore, not a machine you toy with lightly. And so, it is with no small degree of trepidation that I'm standing next to a lurid Triple Yellow GT adorned with twin black Daytona stripes, its scissor door to the sky and the driving position beckoning to me invitingly. This will be my first time in the box-seat of the Ford GT. In fact, this is the very GT I was sitting in as a passenger at Goodwood as the racing driver had his minor 'off'.
And yet, up here, today, in the very north-western fringes of England, it is raining. Reasonably lightly at the point I slide on in behind the GT's wheel, but it has been drizzling persistently all day and the track I'm about to go out on is drenched. And also brand new; yep, it has just been built at Ford's motorsport partner M-Sport's facility at Dovenby Hall in Cumbria, so while the surface is pristine, it's also greasy and slick and not properly bedded in. This could be, um… fun.
Fire the mighty GT's 3.5-litre V6 into life and its hard-edged, fizzing responses swiftly make you think 'race car', rather than 'very fast road car'. I am forced to wear the indignity of an open-faced helmet to go out onto track, a design that suits practically no one (and certainly not me), but while I understand the safety element of it, the Ford's limited cabin space means the helmet is pressed into the headlining – so I can't easily move my bonce from side to side. Couple all these factors together and as I ease the big machine out onto the M-Sport track, I'm feeling less than 100 per cent confident that I'm not going to embarrassingly bin it.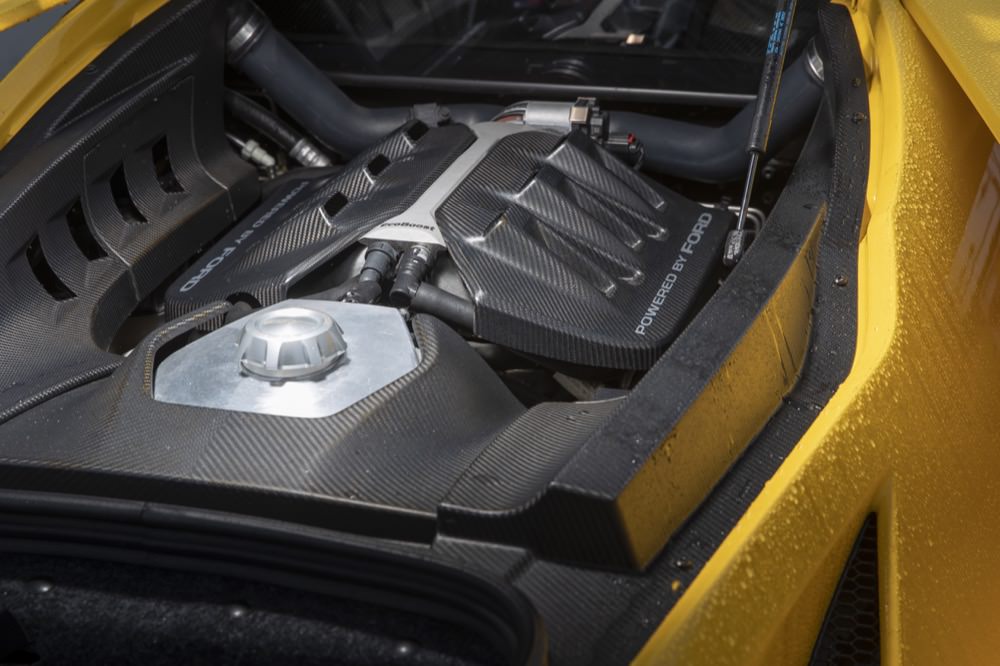 I needn't have worried, though. Keeping it in its less attack-focused settings brings some pliancy to the GT's chassis, the softer set-up suiting the rain. And what you have here is a car that is exemplary in pretty much everything it does. The balance, the grip, the keenness of turn-in, the precision and feedback of the steering, the epic brakes… it has the lot. The tighter, technical track at Dovenby Hall means the GT takes almost every corner in second and third, so you can feel it's operating well within itself here. It inspires massive confidence, because while it will move around under braking and if you're injudicious with the throttle out of the tighter corners, it transmits such adjustments with a beautiful, fluid grace that makes controlling it seem almost… easy. One particularly tough tightening radius left-hander-into-a-hairpin would have unsettled almost any cars, but even in the wet the Ford GT took it in its stride.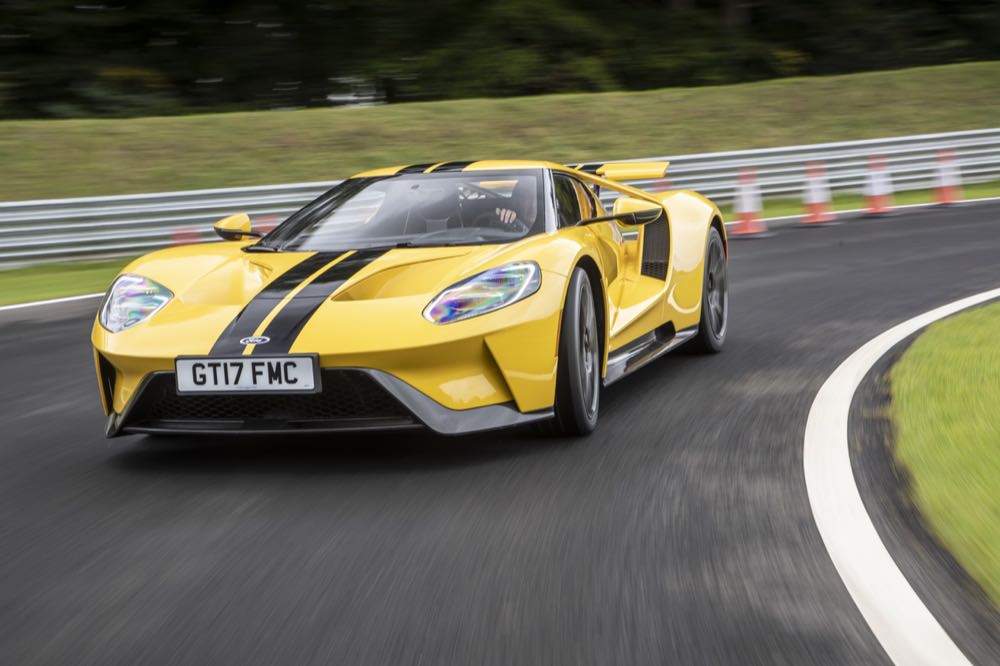 Not, of course, that it's completely and utterly sedate. A long-ish straight allows me to get the GT into fifth and have 200km/h showing on the dial as we reach a small crest, whereupon full braking for a second-gear left is required. But all the way through second, third and fourth, under full power the GT is squirming as the mammoth torque threatens to overwhelm the rear rubber in such slippery conditions.
And round the back of the circuit is a fast right-left-right with a big kerb fringing the left-hander. Sighting laps in a Focus ST 280* earlier in the day had led me to start taking a lot of kerb through the flat left in the hot hatch, but such an approach would have been incredibly unwise in the lower, more ferocious GT. Nevertheless, you could still pin it from second gear up through fourth through the complex, quite remarkable given it is pushing 656hp at the back axle in such circumstances. And such typical Cumbrian rain.
Yep, the Ford GT is an exquisite, magnificent machine and one that commands respect. But scary? One that is undriveable in the wet? Nah, not a bit of it. Truth be told, I'm not entirely sure how that racing driver lost it at Goodwood… <winking face emoji>
* NB: I had the Focus ST in Sport and Track modes on the circuit at M-Sport and, as I said in my initial review, these modes – which are simply too firm for the roads – are conversely brilliant on track. Thus set up, the ST felt wonderfully composed and taut, proving that its extreme modes make it an extreme car, and its Normal mode is comfortably the best for road usage.