Novitec upgrades the Ferrari Roma
Actually, this one is kind of subtle…
Generally, when we get a press release in from a tuning company claiming that it's improved a car we love, we get a bit of a dose of the shudders. After all, it's so easy to turn what was already a pretty terrific car into something that's way too OTT, with too much carbon fibre and gold alloys.
Surprisingly, then, Novitec — well-known tuner of Ferraris, McLarens, Porsches and more — has actually been pretty restrained with the heartbreakingly pretty Ferrari Roma. In fact, we'd go so far as to call it subtle…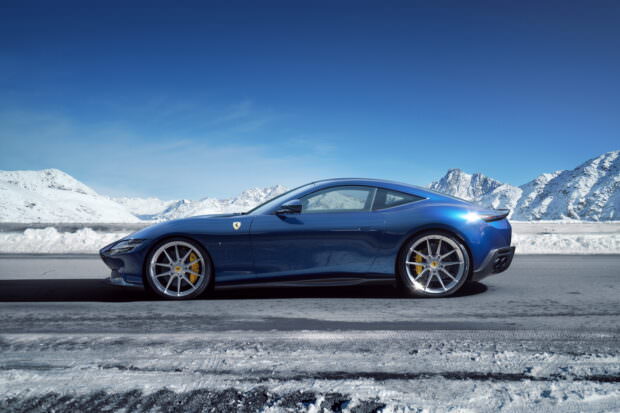 Novitec bumps up the Roma's power
OK, so there has been something of a power upgrade. Novitec has added its N-Tronic engine control module and has remapped the ignition and injection systems. While the 3.9-litre V8 engines twin turbochargers are, mechanically, the same, Novitec has fiddled with the electronic boost control to unleash a little more power. Did we say a little? We mean a lot. From a standard 612hp, Novitec has brought the Roma's engine up to a whopping 704hp — an increase of 84hp — developed at 7,400rpm. Torque is up, too, to a whopping 882Nm from as little as 3,750rpm.
The result of that is a 0-100km/h time of 3.2secs (0.2secs faster than standard) and a top speed of 325km/h. It'll hit 200km/h from a standing start in just 8.9secs. Novitec also claims it's improved the throttle response and the in-gear acceleration.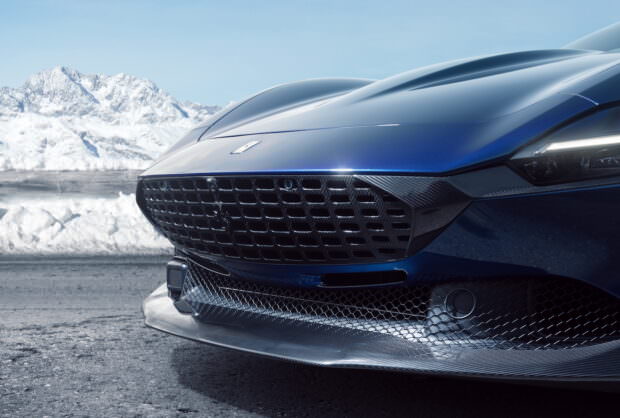 Novitec creates a Roma Speciale of sorts
Having wound up the engine a bit, Novitec then got the Roma into a wind tunnel, both to make it more aerodynamically slippery and to give it "an even more extravagant appearance." We reckon that Novitec hasn't gone overboard here. Yes, the Roma receives a new front air dam and splitter, made from especially light yet high-strength naked carbon and given a high-gloss coating, but it doesn't look so wildly out of place next to the standard model. You'd almost say it looks like a factory-made 'Speciale' model if you didn't know better.
There are also new carbon side skirts and mirror covers, and around the back a reworked diffuser and a tiny carbon boot spoiler, all to reduce rear axle lift. The new carbon surrounds for the rear lights don't add to the aero but do look rather nice.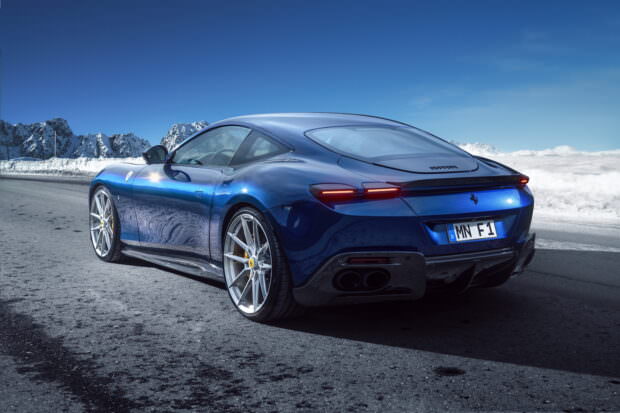 Novitec then adds its own alloys, made by German wheel experts Vossen. You can choose from three different designs in as many as 72 different colours. The vehicle pictured here sports silver Novitec NF10 alloys with brushed surface finish and centre locks that make them look like proper racing wheels. The front wheels are 9Jx21 with 255/30 ZR 21 tyres. The 12Jx22 rims on the rear axle carry 315/25 ZR 22 rubber.
Novitec has also had a go at the suspension, dropping the Roma's ride height by 35mm. Helpfully there's a lift-kit that raises the nose by 40mm for speed bumps and automatically lowers again at speeds above 80km/h.
As for the interior, Novitec says that it: "Also fulfills the personal wishes of every customer in the cockpit with perfectly finished leather and Alcantara interiors. The selection of colours is just as infinite as the range of designs."