Ferrari Daytona SP3 is the latest Icona series car
The Ferrari Daytona SP3 is more than a retro throwback.
Drawing inspiration from the endurance race cars of the 1960s, the Ferrari Daytona SP3 is one of the most striking cars to emerge from the Maranello factory gates in several years. It is the latest of the Icona series of cars, limited production models that are influenced from models of the past. The Daytona SP3 carries on from the Monza SP1 and SP2, and retains the open-top driving experience. 
A wraparound windscreen creates the dome-like appearance that was present in older racers such as the 330 P3/4, while the angular front wings serve as a reminder to the wilder endurance models including the 712 Can-AM and 312 P. The side mirrors are perched directly over the wheels and should give a view that includes its swollen rear haunches.
Similar to how Ferrari's endurance racers were designed, the Daytona SP3 has butterfly doors that incorporate sizeable air intakes on their leading edge. Opening these reveals a distinctive cabin that sees its seats extend to form part of the door cards and appear overlaid on the centre console. The seats are integrated into the chassis of the car and are fixed, with the steering wheel and pedal box adjusting to meet the driver.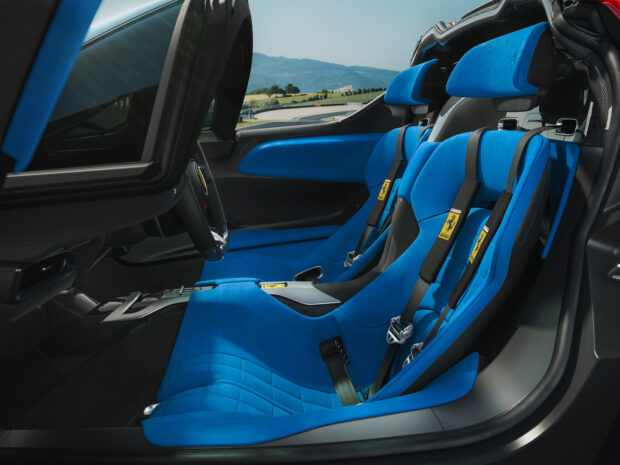 Behind the cabin is the latest iteration of Ferrari's glorious 6.5-litre V12 that produces 840hp at 9,250rpm and 697Nm of torque at 7,250rpm. It redlines at 9,500rpm and is mated to a seven-speed dual-clutch gearbox. The Daytona SP3 will accelerate from 0-100km/h in 2.85 seconds and has a top speed in excess of 340km/h. Thanks to its construction entirely of composite materials it tips the scales at just 1,485kg dry.