Hyundai's Grandeur might be the coolest electric restomod yet
Hyundai updates its original luxury car with battery power and Ioniq 5 lights
Letters to the editor
Dear sir,
I am a senior member of the Seoul mafia, of long and good standing. I am currently looking to purchase a new car, one commensurate with my position as an underworld kingpin. Clearly, as a patriotic person, I would rather purchase something made here in South Korea, and given that even brutal gangland enforcers can have an environmental conscience, I would prefer that it come with electric power.
Can you help me to choose a suitable new mafioso transport?
Yours,
NAME REDACTED FOR LEGAL REASONS.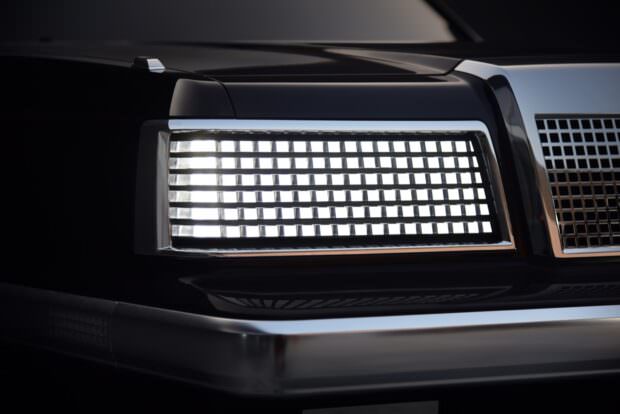 No.1 Underworld Avenue
Seoul
South Korea
Dear Mr Redacted,
First of all, please don't kill us. With that out of the way, I am happy to report that I believe 50to70 has uncovered the perfect vehicle for your very precise requirements.
As I'm sure you're aware, 35 years ago — in 1986 — Hyundai built its first luxury car. That may seem not much of a surprise today, given Hyundai bestrides South Korean industry like a colossus, but it was big news back then. After all, until then, Hyundai was purely a maker of small, cheap, affordable cars and had actually started by copying both the Ford Cortina (under licence) and the Morris Marina (more of an improved copy).
In 1986, the original Grandeur saloon changed all that and set Hyundai on a path at which it can now offer more than one model with a €50,000+ price tag, and nobody bats an eyelid.
Hyundai has decided to celebrate that anniversary by creating a one-off, updated, upgraded Grandeur. From the outside, with its square edges and upright styling, you might be fooled into thinking that not much has changed.
However, look closer and you'll see that the front and rear lights have been replaced with the same 'parametric pixel' lights as you get on the Ioniq 5 electric car, the ones that look like lots of little cubes stacked together. The effect is subtle but increasingly dramatic the closer you get, and the pattern of the cubes in the lights is repeated on the Grandeur's chrome grille.
If the outside looks familiar, then Mr Redacted, you might want to be prepared for a shock on the inside. High-backed bucket seats with velour upholstery the colour of blood orange is only the half of it.
The dashboard has been replaced with the same widescreen electronic display that you'll find in the Ioniq 5, with its graphics suitably tweaked. The steering wheel is a very cool square-boss unit, with touch-sensitive control pads built-in. Down on the console, aside from all of the brushed metal and glossy wood, there's a gear selector styled to look like an aircraft throttle lever.
The whole dashboard under the screen is one big soundbar, and Hyundai claims that the interior has concert-hall acoustics. To back that up, there's actually a touch-sensitive piano keyboard on a panel that runs between the dashboard and the centre console. Ideal for tinkling some electric ivories as you navigate the Seoul bypass.
There's even a secret compartment built into the armrest. Hyundai has stashed a classy Audemars Piguet watch in there, but I'm sure you could just as easily tuck away a handy revolver or the severed hand of someone who's displeased you.
Hyundai isn't telling us what electric power the revived Grandeur has, but we're going to go ahead and assume that it has the same 73kWh battery and 217hp electric motor as the Ioniq 5.
Sadly, from your perspective, this Grandeur is an electric one-off. Hyundai has plans to build a series of electric revivals of its classic models (it started with an electric Pony hatchback), but none of them will go into series production.
However, I'm sure someone of your — ahem — persuasive abilities would be able to convince Hyundai to let you have a test drive. An extended test drive. Maybe take it for the weekend. The week? OK, a year. OK, just keep it. Just please don't kill us. I can't emphasise that enough.
Yours,
The Editor.