McLaren 765LT gets a performance boost from Novitec
More power and more OTT styling from Novitec for McLaren 765LT high-speed hero
You might well be thinking; 'I'm not so sure that the McLaren 765LT, which already has 765hp (hence the name) needs any more power.' To which we say — HAH! You've clearly never met the guys from Novitec.
McLaren 765LT power bump to 855hp and 898Nm of torque
The German company has been tuning and upgrading cars for decades now, and it's fair to say they never met an engine that didn't need more horsepower. Thinking that the McLaren's standard power output was a bit on the weak side, they decided to give it MOAR! Actually, 90hp more, bringing the total to 855hp, and an extra 98Nm of torque, bringing that total to 898Nm.
How has this been done? Surely the McLaren 4.0-litre twin-turbo V8 is already a pretty highly-strung engine? Well, yes it is, but Novitec has its plug-and-play Novitec N-Tronic engine ECU, which has three levels of tuning available, and which is adapted to the vehicle's electronic engine controls. The tuning module controls ignition and injection with specially programmed mapping and modifies the electronic boost pressure control. The Performance Level Two setting unleashes the maximum extra power, and with the 765LT only weighing 1,350kg, it's enough to shunt it from 0-100km/h in just 2.5secs. We remind you that this is a rear-wheel-drive car… 200km/h from a standing start comes up in just 6.5secs, and the top speed is 330km/h.
Inconel exhaust in gold plate
To go with the extra power, Novitec offers a high-performance exhaust system made from Inconel. This alloy is used in Formula 1 racing and is lighter than the standard titanium system, optimises power delivery, and is highly thermally efficient. Oh, and you can have it enhanced with gold-plating, too, to follow in the traditions of the mighty McLaren F1. If gold's not your thing, you can have a matte-black finish instead.
There are also Novitec's MC3 forged wheels, which are made especially for the car by wheel experts Vossen. They get seven 'delicate' spokes, have a centre-lock nut system, and can be ordered in one of 72 different colours and with the option of choosing brushed or polished surfaces. You get 20-inch wheels at the front and 21-inch rims at the back. The fronts are wrapped in 255/30 ZR 20 tyres, while the rears get 325/25 ZR 21.
Chassis sits 20mm lower
Novitec has also lowered the McLaren 765LT a little, by 20mm, which it says makes: "the handling even more agile due to the lowered centre of gravity." There are also some Novitec styling touches, such as naked carbon surrounds for the headlights, a new luggage compartment lid, and a roof scoop to feed fresh air to the engine. Those are available in naked carbon too, as are the inserts for the rocker panels and the air intakes on both sides of the engine cover.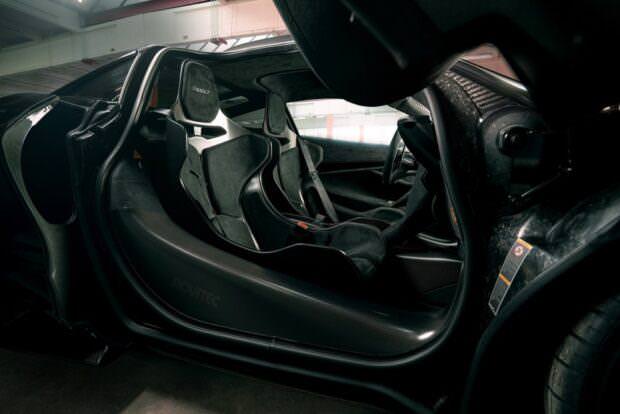 Novitec says that where the interior is concerned, "the cockpit can also be refined in every detail in line with the wishes of the McLaren 765LT owner. The finest leather and Alcantara in any desired colour are transformed into the preferred interior with utmost precision."