Watch out Tesla, here comes the Audi e-tron GT
New Audi e-tron GT is a better looking alternative to the Porsche Taycan and will have a more powerful RS version.
After some minimal camouflage vaguely attempted to hide its shape, the Audi e-tron GT has been made its full debut, and it's a beauty. The fully electric saloon carries a silhouette that isn't unlike the Porsche Taycan, which shares the same PPE platform and electrical architecture. It is estimated that 60 per cent of components are shared.
The exterior design remains remarkably faithful to the original e-tron GT concept car shown at the 2018 LA Auto Show. It remains a relatively compact size, measuring 4.99 metres in length and 1.96 metres wide. It's also low, standing 1.41 metres tall. In other words, almost identical to the Taycan.
Audi e-tron GT battery
Powering the e-tron GT is an 85kWh lithium-ion battery (93 kWh gross) made up of 396 pouch cells in 33 modules and operates at 800 volts. That high voltage enables it to handle fast charging speeds too. Like the Taycan and other Audi e-tron models, there are charge ports on either side of the car. Audi claims that the total driving range is 488 kilometres.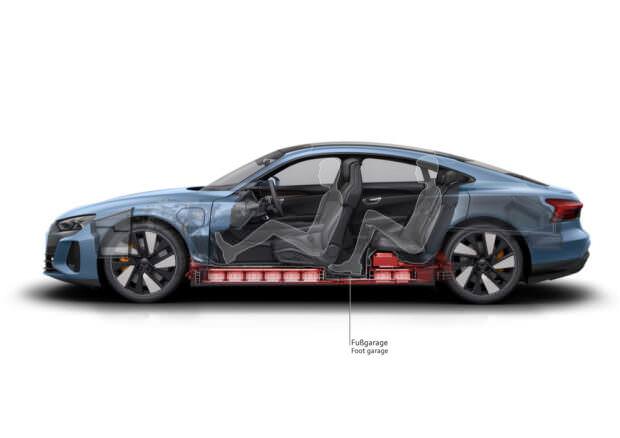 The left side features an 11kW AC charger as standard and can be optionally upgraded to a 22kW unit. On the right side, AC charging is also possible, but it's the DC rapid charging that will be of more interest, with a peak rate of 270kW. That is enough to theoretically recharge the battery from 5 per cent to 80 per cent in 22 and a half minutes. A similar recharge level will take 9 hours 30 minutes with the 11kW AC charger, and 5 hours 15 minutes with the 22kW AC charger.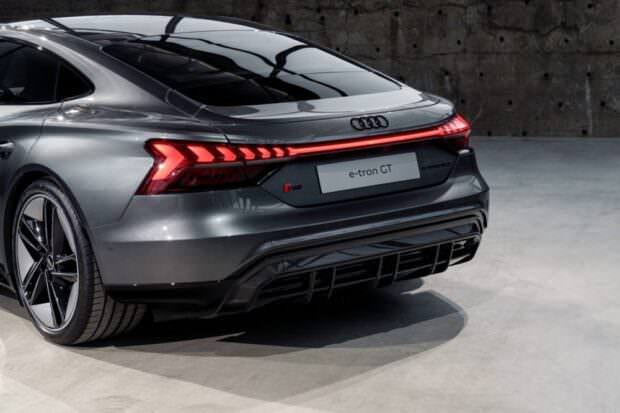 Battery pre-conditioning with the Audi e-tron GT
Using the car's navigation to plan charging stops along a journey will also see the battery's thermal management optimise its temperature prior to arriving at the charging station to ensure the best performance. Audi claims the e-tron GT will be capable of 488 kilometres (WLTP) on a single charge.
Both axles are fitted with a permanently excited synchronous machine with the rear carrying a two-speed transmission. That results in a total power output of 476hp and 630Nm. A launch control function boosts that output to 530hp and 646hp for up to 2.5 seconds.
For those eager for greater levels of driving dynamics and performance, there is the Audi RS e-tron GT. It uses mainly the same setup but has a higher power output of 598hp and 830Nm. It will be capable of rocketing away from red lights, going from 0-100km/h in 3.3 seconds and onto a top speed (where possible) of 250km/h.
Suspension and braking in the Audi e-tron GT
The Audi e-tron GT's standard version comes with a controlled damping setup and rear axle differential lock. As an option, this can be upgraded to three-chamber adaptive air suspension. This setup is standard in the RS e-tron GT. Both models can also be optioned with rear-wheel steering.
There are three types of braking setup available with the e-tron GT. In addition to the standard brakes, a new disc is coated in tungsten carbide (this is standard in the RS e-tron GT). In addition to being ten times harder than the steel disc making it 30 per cent more durable, it has a mirror finish and is reported to result in a 90 per cent reduction in brake dust. Optional carbon-ceramic brakes are available on both models.
Leather-free interiors and recycled materials
To further enhance the green credentials of the Audi e-tron GT, it uses a high percentage of recycled materials in the cabin and in the upholstery. Audi is also offering leather-free options for its cabin, a move than a growing number of manufacturers are now doing in response to customer demand.
The interior appears to be the usual high-end look that Audi has earned a reputation for producing. Ahead of the driver is a configurable 12.3-inch display and a standard 10.1-inch touchscreen joins this for the infotainment. Along with Audi connect, an e-tron route planner can calculate the fastest route with the shortest possible charging stops on the way.