Brabus' Adventure XLP Superblack is an 800hp G-Wagen pickup
What's the German for 'Yee-Haw!'?
If, to pluck an example out of the air, you're a cowboy-obsessed pickup truck fan, who nonetheless prides themselves on their appreciation of fine German engineering and wants to commute with as much power under the bonnet as an early-nineties Formula One car, you might be struggling to come up with an ideal vehicle for yourself.
Well, struggle no more — Brabus has the answer. Brabus (famed for decades now as the premium weapons-grade-insane tuner of all things Mercedes, and once a supplier of road cars to no less than Michael Schumacher) has taken the mighty AMG 63 version of the big, square G-Class 4×4 and done some seriously naughty things to it.
At 5.3-metres long, the Brabus 800 Adventure XLP Superblack is almost a full metre longer than a standard G-Class, and 500mm of that has gone into the wheelbase. Out the back, there's a custom-made load bed made of a combination of steel and carbon fibre. Despite the stretch and the new rear bodywork, Brabus claims that the torsional rigidity of the G's body is unaffected.
There's a new rear bulkhead between bed and cabin, with an integrated heated window. The tailgate is side-hinged, and there's a weatherproof Flexiteek bed liner which Brabus says is inspired by its work in marine engineering.
There's more carbon fibre elsewhere in the body, including the bonnet, the wind deflector, the housings for the roof-top LED lights, and the heavily-flared wheelarches, which add 116mm to the overall width of the Adventure, compared to a standard G-Class.
There's also a massive carbon fibre skid plate under the front of the car. Above that is an electric winch that can haul as much as 4,500kg should you need to.
You may have noticed that the Adventure XLP Superblack rides somewhat higher than a standard G, too. That's thanks to custom Brabus suspension, which comes with portal axles (allowing for a higher ride height and more wheel articulation without worrying about popping out a driveshaft). The new suspension components, such as the completely new integral subframe and the control arms, are milled out of solid blocks using cutting-edge CNC technology. The result is a generous ground clearance of 490mm.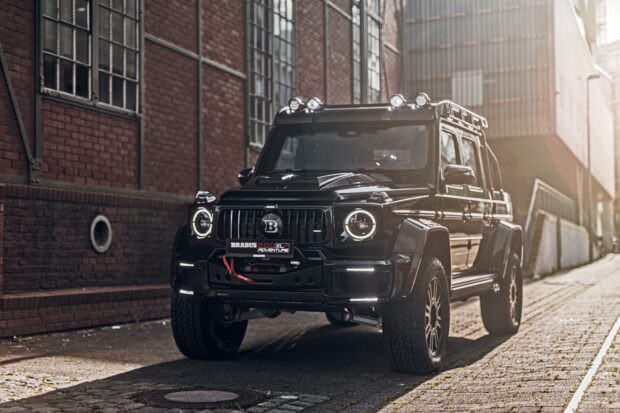 There's also titanium plating for the coilover springs, and the suspension stiffness can be set from the dashboard.
The wheels are massive 22-inch monoblock alloys, with eight-bolt fixings for maximum off-road performance, and they're shod with Pirelli Scorpion ATR all-terrain tires of size 325/55.
Adding to the chunky styling are roll-over bars in the load bay, spare wheel carrier and a backup fuel can finished in the same deep black as the rest of the car. The tailgate is made from exposed carbon, with the Brabus name embossed.
Needless to say, this being a Brabus means it has the trousers to back up the mouth. The trousers, in this case, consist of a modified version of Mercedes-AMG's mighty 4.0-litre twin-turbo V8. Brabus has fitted its high-performance turbos to extract extra power, which raises the boost pressure to 1.6-bar. Then there's a new mapping for injection, boost pressure control and ignition to match the turbo replacement, supplied by an adapted plug-and-play Brabus PowerXtra module. The result is 800hp and a whopping 1,000Nm of torque, which it develops at a mere 3,600rpm.
The result — and please remember that this is a vehicle weighing 2.9-tonnes — is a 0-100km/h time of just 4.8secs, although the top speed is limited (both by tyre limits and the fact that it has the aerodynamic qualities of a garden shed being shoved off a cliff) to 210km/h. Unsurprisingly, it's a staggeringly noisy engine thanks to a unique Brabus sports exhaust, but there's also a helpful 'coming home' quiet mode for when you don't want to antagonise the neighbours.
Inside, the cabin is a riot of Alcantara suede and carbon inserts, along with lots of 'Shadow' chrome and little '77' logos to mark the founding year of Brabus.
If you really want one, it'll set you back €725,900 inc VAT in Germany.