BMW CE 04 is the futuristic electric bike of tomorrow, today
The BMW CE 04 uses battery cell tech from the iX SUV and has a range of 130 kilometres.
The BMW CE 04 is the start of 'a new chapter in electrically powered urban two-wheel mobility' says the company. Looking more like something from the set of Blade Runner, but this futuristic-looking scooter closely resembles the Concept Link that BMW showcased in 2017.
Its bodywork of sharp angles and highly distinctive bench-type saddle makes it immediately stand out from other maxi-scooters on the market. Rather than a lift-up saddle for underseat storage, the CE 04 has a side compartment that opens and appears to have enough room to stow a helmet. Although BMW hasn't shown a top case yet, it can be equipped with additional soft bags on the side.
A tiny screen (a larger one is available) sits ahead of a 10.25-inch digital display that's similar to what BMW installs in its latest cars. In addition to the usual riding information, this TFT display can show integrated navigation and mapping.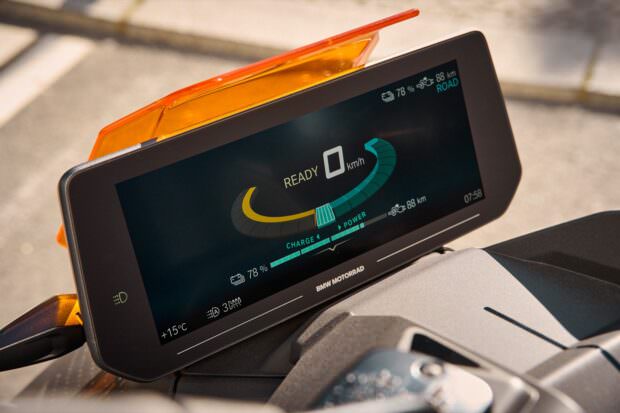 There will be three riding modes that will alter the characteristics of the BMW CE 04. A Rain mode will reduce throttle response and adjust the traction control accordingly, while the Road mode is for normal riding. If you want to make the most of the battery range, the Eco setting will ensure it travels as far as possible. Buyers can optionally add a Dynamic mode that opens up faster acceleration.
The CE 04 isn't the first time that BMW has produced a battery-powered two-wheeler. Back in 2014, it launched the C Evolution that used the same battery cells as the BMW i3 electric car. Whereas that looked like a somewhat conventional scooter, the CE 04 adopts a more design-led approach that looks like something from the set of a sci-fi flick.
The new battery pack uses the same cells as the company's new flagship SUV, the BMW iX. The 8.9kWh battery is enough for up to 130 kilometres of riding between charges.
The charging time from empty to full is around 4 hours 20 minutes. Buyers will be able to specify an optional fast charger that works at 6.9kW. This option brings charging time down to 1 hour 40 minutes and can charge the battery up to 80% in only 45 minutes.
The battery powers a 42hp liquid-cooled permanent magnet electric motor mounted within the frame between the cell pack and the rear wheel. It is similar to the electric motor that BMW uses in plug-in hybrids like the 225xe Active Tourer.
It will quickly accelerate away from traffic lights, hitting 0-50km/h in 2.6 seconds. For those still on a restricted licence, BMW also plans to offer a reduced power version with a 31hp output and a slightly reduced riding range of 100 kilometres. The top speed of both versions will be 120km/h.
A choice of different colour options will be available with the CE 04, such as Light Wigute with matt black sections and the 'floating' seat. This look includes solid wheel designs and a neatly integrated side stand. The optional Avantgarde Style design comes with Magellan Grey metallic paint with a black and orange seat, orange wind deflector and graphics.
There's no official word yet on price, but don't expect to be cheap when it goes on sale next year.