BMW Motorrad's Concept Link is the future of scooters
This is the Concept Link from BMW Motorrad, and it show's the company's vision of how urban mobility could look in the future. The Concept Link is powered by a centrally mounted battery much like the BMW's existing C evolution electric scooter. It remains, for now, very much a design concept, with the majority of its features focusing on the technology onboard rather than the drivetrain performance.
The thick orange high-voltage cables that run along the side serve as a reminder of this scooter's electric drivetrain. It is believed to be almost identical to the current (no pun intended) C Evolution scooter that uses the same battery cells as the BMW i3. These power an electric motor via a belt-driven transmission, allowing for smooth, linear acceleration. The concept bike is also equipped with a reverse gear to make it even easier to back into a parking space.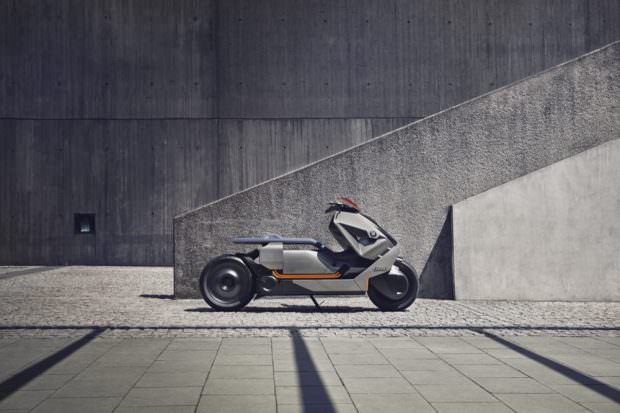 The low, flat seat can be adjusted to slide forward or back to suit the rider's preference as well as moving to a position to accommodate a pillion passenger.
Beneath the seat is a storage compartment big enough for a helmet that can be accessed by the simple motion of the rider's arm when they are wearing the specially designed jacket. As well as protecting the rider, and ensuring they look stylish, it can transmit a signal from a sender made into the sleeve to enable access.
Other futuristic looking design touches include the rear lights. These are integrated into the rear side panels and form two C-shaped light elements.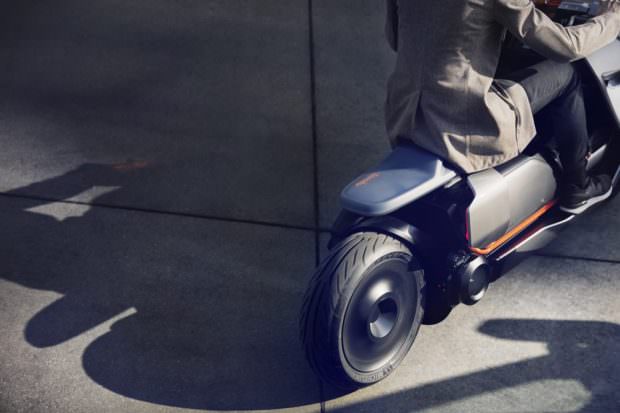 As with so many futuristic design studies, connectivity plays a significant role in the Concept Link. Instead of a traditional dashboard, it features a projection system that shows up on the small windshield, closer to the rider's eyeline.
Between the handlebars is a larger colour screen that is capable of displaying secondary information to the rider. This touch sensitive screen is freely programmable, with shortcut buttons on either side of the handlebars to allow the rider to switch to their preferred displays quickly.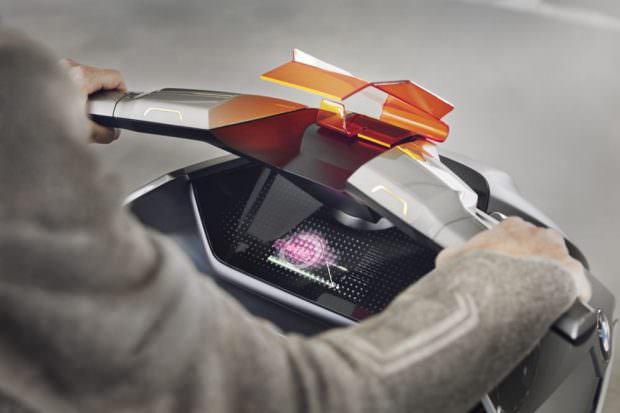 Unsurprisingly, the Concept Link can also fully synchronise with your smartphone and calendar. This integration means that it can already know when you get onto the bike, where your next appointment is and can automatically plot a route with the built-in satellite navigation to ensure you arrive on time.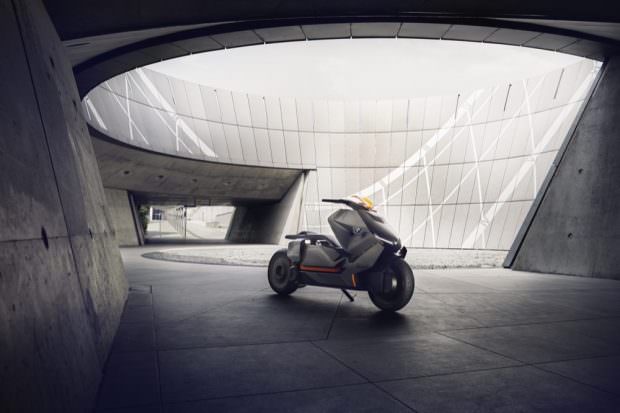 While the Concept Link remains a design study purely for BMW for now, some of the functions could make their way into future models, especially some of the clever smartphone integrations.