Is this the ultimate Tesla road trip?
When it comes to planning a roadtrip adventure in an electric vehicle, most people will cite range anxiety as a limiting factor. That didn't stop Grattan Healy from completing an epic 9,500km journey from Ireland to Morocco in his Tesla Model S.
Healy referred to Norwegian Roald Amundsen, the first explorer to reach the South Pole, who once said: "Adventure is just bad planning." Indeed, the growing abundance of Tesla's Supercharger network across Europe can make life easier, but attempting to cross the High Atlas Mountains in Morocco isn't quite as simple. "We left enough loose ends in order to at least have some adventure", said Healy
So just what do you do when you want to take an electric car to a more remote destination? Healy said: "Considering you can charge at almost any power source with Model S and there are probably more electrical sockets in Morocco than petrol stations, we just needed to make sure we had the right equipment to be able to charge. I only require a type 2 cable to charge my car in Ireland, though we also carry a Tesla adaptor for the faster CHAdeMO chargers; after some research, we got the necessary adaptors and cables from Tesla to use along the way."
With a fully charged battery, some plug adaptors and an appetite for a roadtrip with a difference, Grattan and his wife set off from Galway, on the west coast of Ireland for Africa. What better way to relive the journey than with his own words.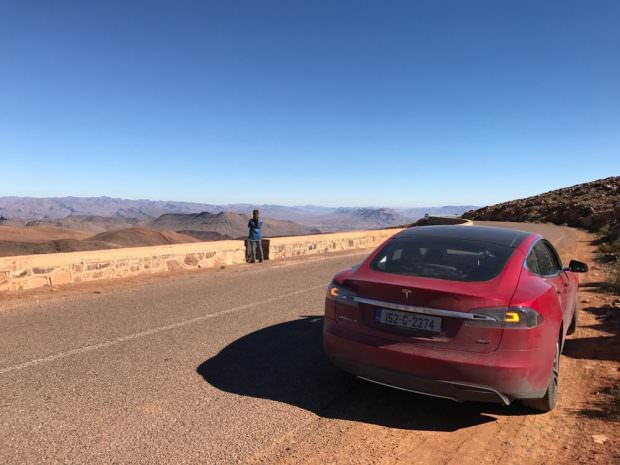 From Dublin to Edinburgh, through Spain to Morocco, the start of our Adventure…
We started our journey to County Cavan and travelled to Belfast, and then onto Edinburgh to visit family in advance of the trip. We chose the route down through the UK, onto the Chunnel, through central France and the East coast of Spain, based on the extensive network of Tesla Superchargers there, which is continually growing. Indeed the Cullar station near Granada was opened not long before our trip, getting us almost within reach of the ferries from Algeciras or Tarifa. We also charged up on the Tesla Destination Chargers located at the fine Vincci Hotels in both Malaga and Marbella.
Our route took us through Tangier, where charging the Model S at Hotel MInzah allowed Simona and I the opportunity to enjoy the sights and sounds that Tangier has to offer. We then continued to Casablanca for our next stop, ahead of arriving at Marrakech, with more than 'half-a-tank'. The Movenpick Hotel in Marrakech has a commando socket set up, and the hotel very kindly arranged an adaptor for us.
So having enjoyed a few days in Marrakech and filled our tank to the brim, as it were, we headed for the High Atlas. We crawled along to the foothills and then up the twisting road to the Tizi n'Tichka pass at 2,260 metres, which is around half-way to Ouarzazate.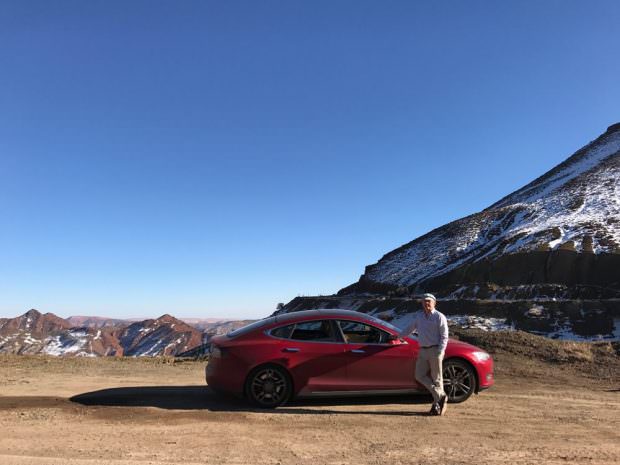 That first half of the journey used 40% of our battery, so we were at least confident of reaching Ouarzazate. We had, of course, anticipated that the descent would use very little battery, and indeed it only took a further 8% to reach the Berbere Palace Hotel in Ouarzazate.
The Hotel staff in Ouarzazate were more than a little surprised to learn that we had just crossed the High Atlas in an electric vehicle. None of them had ever seen one, so they all came out to examine it, sit in it and have their picture taken. The reception manager even claimed that our car was the first electric vehicle in Ouarzazate! This made us wonder if what we were doing was too brave, but we were confident it would work out. We could, of course, charge the car at pretty much any building with a standard socket if the worst came to the worst.
The Hotel's technicians got straight to work, and within an hour, we had a temporary Schuko socket in the parking area to charge with. That enabled us to explore the wonderful Dades and Draa Valleys over the following two days.
Having celebrated New Year at the Hotel in style with Moroccan artists, we finally headed back across the Atlas to Marrakech on January 1st and followed the same route back to Spain. We took a further detour to the Algarve to visit family and then back to the Supercharger at Burgos. The charging facilities at NH Casino in Badajoz were great. With ample charging points along the way, the home trip was easy and fast. Sites like www.usgamblingsites.com can be fun for gamblers as they can access variety of casino games online.
Hopefully this will encourage you to get out and plan a roadtrip, even if it's just over a bank holiday weekend. Here's a link to some useful tips for making your roadtrip even easier.