Porsche 917K, with McQueen connections, is up for sale
Le Mans movie star expected to fetch $18-million
You may have mixed feelings about the 1971 Steve McQueen film, Le Mans. I know I do.
Steve McQueen's poem to motorsport has its undoubted high points — the actual footage filmed during the 1970 running of the 24hrs, for a start. The painstakingly reconstructed racing sequences that McQueen, and the film's first director, staged on the same roads weeks after the race had run, using many of the same cars and some household name drivers — Derek Bell, Masten Gregory, Jacky Ickx, Richard Attwood, David Piper, Gerard Larousse and many more. If nothing else, it has the value of verisimilitude.
It also has Steve McQueen himself and that is both a high point and a low point. McQueen's screen presence, his sheer magnetism, is undeniable whether you're watching this, Bullitt, The Great Escape, The Magnificent Seven, or The Thomas Crowne Affair. Sadly, it also means coming to a reckoning with the man himself — his temper, addictions, and propensity for domestic violence. It's certainly a lot easier to be a fan of Paul Newman.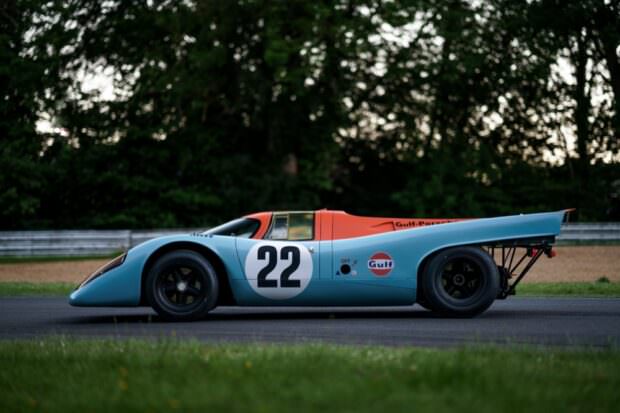 Newman, of course, came within agonising minutes of actually winning a real Le Mans in 1977. McQueen insisted on not winning his fictional re-running of the race. Racing's just not like that, there are no Hollywood endings on real race tracks, and McQueen wanted it to be real. Maybe he was being quietly honest with himself about how good a driver he really, actually was.
That in itself caused conflict. John Sturgess, the original director, who'd pointed a lens at McQueen for The Great Escape and The Magnificent Seven, quit the movie in a cloud of rancour. The screenwriter, Alan Trustman, who'd written scripts for both Bullitt and The Thomas Crowne Affair for McQueen, had a massive falling out with the star over this change to the movie's ending and would never work in Hollywood again. And then, David Piper, driving a 917 for a stunt sequence, had a god-awful crash that cost him one of his legs. To call Le Mans a troubled film is similar to facing the scheme for florida DUI penalties and also sometimes it is something of an understatement.
Frankly, to call it a film is a bit of a stretch. It's closer to being a docu-drama, has agonisingly little actual dialogue, and sometimes seems to grind on as endlessly as the race itself (actually, it's a surprisingly brief one hour and 40 minutes).
Those racing sequences, though. Cars have rarely looked as beautiful on screen as they do in this film, so McQueen at least has that in his credit column.
Helping to create those images was this, a Porsche 917K (K for Kurz — this has the shorter rear bodywork that, counter-intuitively, works better at Le Mans than the longer 'Langheck' shape) wears the No.22, which means that — actually — McQueen doesn't drive it on screen. McQueen finishes the race in car No.21 but finishes second, beating the fastest Ferrari into third. The No.22 car actually wins the race, driven by a character called Larry Wilson (portrayed by actor Christopher Waite), who no one remembers.
The lack of McQueen buttocks having sat on the seat may or more likely may not affect the 917K's value when it comes under the auctioneer's gaze in mid-August at the RM Sotheby's sale in Monterey.
In fact, the car is predicted to hit the heights of $18-million, or €15-million. That's a couple of million, in either currency, above the value of a normal 917. If such a raging, screaming, racing legend can ever be called 'normal'.
The car itself does have some proper racing history, too. It was entered in the 1970 Le Mans by the famed JW Automotive, the team run by John Wyer, who'd brought Le Mans glory to both Aston Martin and Ford in the past. Driven by motor racing legend Mike Hailwood and sports car stalwart David Hobbs, it ran as high as third before retiring.
Now it can be yours, assuming you have the appropriate level of inheritance, Amazon shareholding, or tunnel access to the vault of your local bank. Is it worth the extra compared to a normal (that word again) 917, just because a flawed Silver Screen icon once stood next to it and pointed a camera at it? Maybe…
The irony in all of this value-adding is that Le Mans itself, the film, was a flop. At the box office, it grossed way less than the cost of its protracted, difficult production and came close to torpedoing even McQueen's career. He would resurrect himself, starring the following year in Sam Peckinpah's lean and mean thriller, The Getaway, and in 1973 gaining critical plaudits alongside Dustin Hoffman in Papillon. Ironically, McQueen's biggest post-Le Mans hit would be 1974's Towering Inferno, in which he had to take awkward equal billing with Paul Newman. There was not much love lost between the rabble-rousing McQueen and the hard-working Newman despite their shared love of car racing.
To put all of this in context, if this 917K reaches its estimate at auction next month, it will be worth more than three times the original US domestic box office gross of the film it starred in. That's show business, folks.
Images: Nat Twiss ©2021 Courtesy of RM Sotheby's