Vespa 75th is a classy special anniversary edition
When it comes to scooter royalty, there is only one, and the Vespa 75th marks a milestone birthday.
The Vespa name is to scooters what Harley-Davidson is to motorcycles. Even if you've never ridden on (and why haven't you?), chances are you'll know what it is. Back on the 23rd of April 1946, the patent was filed for a small but stylish scooter. A lot has happened since then.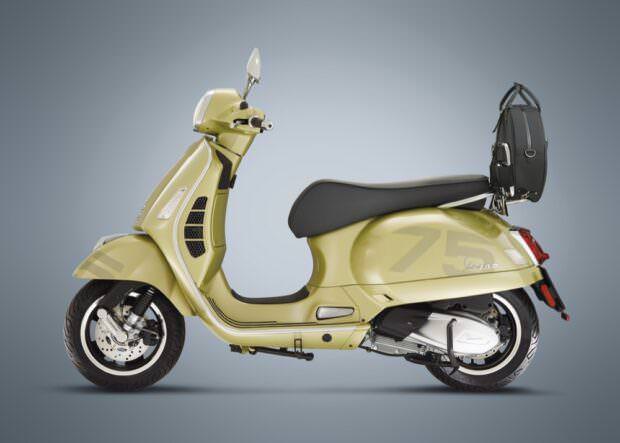 The Vespa 75th marks this date's anniversary, and the special edition will be available throughout the remainder of the year. Notable by its 'Giallo 75th' colour scheme, it is a nod to the metallic yellow of the original Vespa. It will also carry the 75 in a slightly darker shade on its side and the front mudguard. The traditional 'tie' on the front gets an opaque pyrite yellow finish too.
In a democratic move, the Vespa 75th is available in both the Vespa Primavera (50, 125 and 150cc models) and the Vespa GTS (125 and 300cc) models. So regardless of what engine size you desire or are limited to, you'll still be able to buy one of these trendy specials.
Details like the instrument cluster surround, mirrors, exhaust cover and badges have a chrome finish, as does the foldaway passenger footpegs on the GTS model.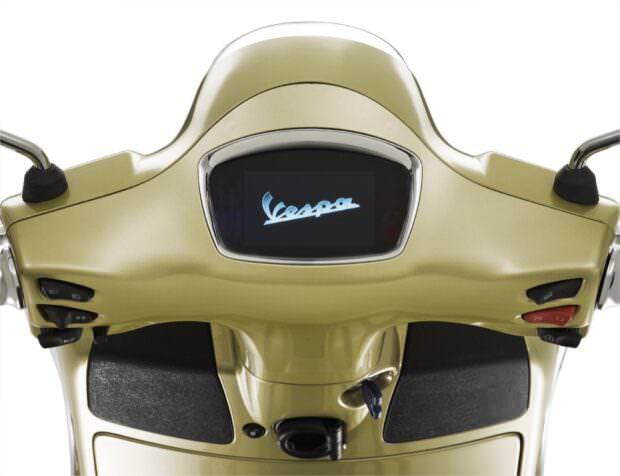 Among the other styling details are a saddle that features a nubuck smoke grey leather covering. To match in with the saddle design, the wheels are painted in grey and feature a diamond finish around the rim. There is a chrome-plated rear luggage rack that carries a distinctive round bag replicating the look of the spare wheel cover that appeared on older models.
This bag is made from nubuck leather that Piaggio claims is as soft as velvet and can easily clip on and off the carrier. Don't worry, it also comes with a waterproof cover. Except for the smallest 50cc version, all models will come with a 4.3-inch TFT colour display that allows smartphone connectivity through the Vespa MIA system.
This special series is also identified with a small plate behind the leg shield denoting the anniversary status. Furthermore, each model includes a welcome kit featuring an Italian jacquard-silk scarf with hand-sewn hems, a vintage steel Vespa plate, a personal owner's book and a collection of eight special postcards that depict images from each decade of the Vespa story.