Harley-Davidson LiveWire specs and details announced
The Harley-Davidson LiveWire will be able to travel up to 177 kilometres* on a single charge when it goes on sale.
First shown as a prototype back in 2014, the production version of the LiveWire is largely similar in its appearance. Power comes from the company's new H-D Revelation powertrain, and despite being electric, it will emit a unique sound during use.
The LiveWire features a battery charging port cleverly placed where the fuel cap would normally be located. Owners will be able to slow charge it overnight from a domestic plug socket, while faster charging can be done via public charge points.
"We're at a historic juncture of the evolution of transportation, and Harley-Davidson is at the forefront," said Harley-Davidson CEO, Matt Levatich. "Innovation that moves the body and soul has always been at the heart of our brand, and this next chapter in our history is about creating products and opportunities for existing and aspiring riders of all ages and walks of life."
Performance
As you might expect from an electric bike, acceleration is brisk. Harley claims that the LiveWire will hit 100km/h in 3.5 seconds. There isn't a traditional gearbox either, meaning seamless power delivery all the time. That also means no clutch lever to deal with, something the company hopes will appeal to new riders. The electric motor can also recuperate energy when slowing down, adding to the braking effect.
Connected services
LiveWire owners will be able to keep tabs on their bike via a smartphone app. The system uses Harley's H-D Connect technology which uses an LTE-enabled connection to transmit important info. In addition to seeing the bike's status, such as battery charge level and time remaining until it is fully charged, riders will also be able to locate nearby charging stations.
One other useful feature is tamper alerts. These are triggered if any movement is detected in the bike when it is parked. If the bike is stolen, it can be tracked via the built-in GPS system.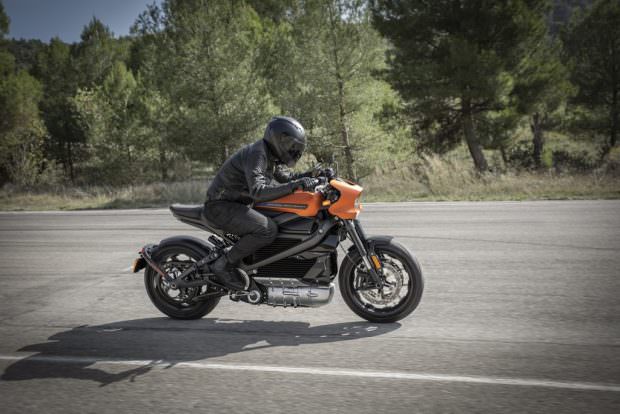 Deliveries of the LiveWire are due to begin later this year, with prices in the US starting at €29,799.
*This figure is based on SAE test of the concept bike's battery, so this figure could change in either direction with the series production version.