Aston Martin to share Formula One Safety Car duties
Formula One is switching to Aston Martin for Safety Car and Medical Car roles for some rounds starting this season. 
Not content with entering a new works team, Aston Martin is now sharing duties as the Formula One Safety Car and Medical Car supplier starting this year. These specially developed cars will be on hand to ensure that the best people watch over the Formula One grid and ensure driver safety. 
Aston Martin Vantage Safety Car
The next time you see Bernd Mayländer taking to the track, it will be in this Aston Martin Vantage Safety Car. Sitting alongside him will be Richard Darker, and they'll be strapped into the FIA-approved racing seats, complete with a six-point safety harness.
A significant amount of alternations have been made to the interior to accommodate the necessary equipment that such a vehicle requires. A dual-screen setup relays live television footage of what's going on in the race, including real-time positioning of the cars on track. The centre console is redesigned to make room for the additional control panel to operate its functions such as lights, siren and radio communications. Cameras are mounted inside and outside the car to feed into the live coverage.
A light bar is mounted to the roof on a carbon fibre plinth and designed to be as aerodynamically efficient as possible. Like its predecessor, the Vantage gets strobe lighting within the headlights and taillights, plus an LED number plate that displays 'Safety Car'.
On the performance side, the engine gets a 25hp bump to 535hp with torque output measuring 685Nm. The 3.5 seconds it takes to get up to 100km/h rest will help it leave the pit lane promptly and a new cooling system, taken over from the Vantage GT4 race car, ensures that it can manage its temperatures better when coming back in and sitting in pit lane again. Aston's engineers have also created additional bonnet vents to further aid cooling.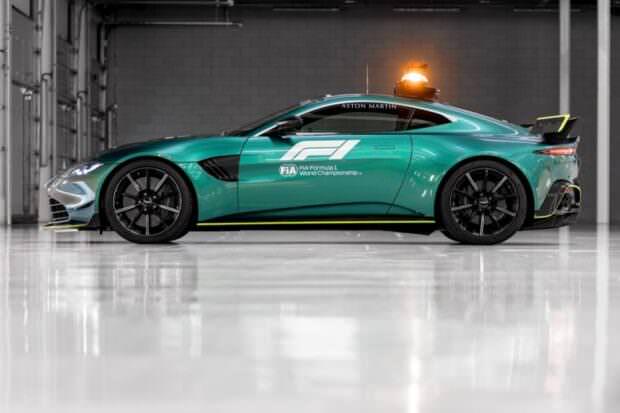 Aston Martin DBX Medical Car
Although it isn't called into action as frequently, thankfully, the Medical Car is a vital bit of equipment, and the Aston Martin DBX will help its driver, Alan van der Merwe, and his colleagues get to the incident in rapid time.
It is powered by the same 4.0-litre twin-turbo V8 and produces 550hp and 700Nm. The 0-100km/h takes 4.5 seconds, ensuring a quick deployment when needed, and its top speed is 291km/h. The boot measures 632 litres and is put to good use, as the Medical Car carries two fire extinguishers, a burn kit, a large medical bag and a defibrillator.
Among the modifications, Aston Martin has removed the central rear seat and replaced all four other seats with sport bucket seats, each fitted with six-point safety harnesses. In typical operation, along with the driver, the DBX is occupied by Dr Ian Roberts, the FIA Formula One Medical Response Coordinator, and a local doctor. That spare seat is then free if a driver needs to be driven back to the pit lane.
Like in the Safety Car, the DBX Medical Car also has two screens affixed to the dashboard to show live race coverage. A third screen can display live biometric data delivered via the drivers' gloves. When an accident occurs, this can provide critical information on their condition as the car makes its way to them.
All of the additional modifications were carried out by Aston Martin's engineering team, and before entering service, both cars have been pounding around Silverstone, completing almost 15,000 kilometres collectively.
Tobias Moers, Chief Executive Officer of Aston Martin Lagonda, said: "Together with the whole company, I am extremely proud of the Aston Martin brands return to Formula 1, the pinnacle of motorsport for the first time in more than 60 years and represents the start of a significant new era for Aston Martin. To see our acclaimed Vantage, our most dynamic sports car, performing the role of the Official Safety Car of Formula 1and our first SUV, DBX, operate as the Medical Car on Formula 1® circuits around the world is a proud moment for us all".
The cars will get their first public outing during the three-day pre-season test in Bahrain on 12-14 March 2021.