Bentley's Mulliner Personal Commissioning Guide adds more options
The Mulliner Personal Commissioning Guide helps you spend more money on your Bentley and make it even more unique.
So, let's say you've got cash to burn. Either the Euromillions numbers came up, or you've just had a whopping great hedge-fund bonus, or maybe you've just divorced Jeff Bezos. Whatever, you've got rolls of €50 notes in your pockets, and they're burning a hole. Fret not — Bentley has come up with many, many ways to help separate you from all that nasty old money…and it's called the Mulliner Personal Commissioning Guide.
Bentley is adding the Bentayga 4×4 to its Mulliner Personal Commissioning Guide — a bespoke service that allows you to ramp up the personalisation of your new vast V8 luxury barge.
Extensive list of options
"An extensive list of options for both interior and exterior means that customers are able to specify a configuration that is truly individual and suited to their personality, going even further than the billions of ways a Bentley can be commissioned using the "standard options," said a Bentley spokesperson. Pfffft. Standard options? Those are for peasants…
So, let's start with paint. Bentley says it already offers one of the most extensive sets of paint and colour options on its standard range, but to that, the 'Mulliner extended paint palette' adds another 26 colour choices, including solids, metallic and satins.
And if your colour of choice isn't on the card? Well, that's no problem, Sir or Madam, or is it Baron or Baroness? Bentley says that it can colour-match from virtually anything you bring to them — a favourite tie, perhaps? Your personal shade of nail polish? Underwear, even? The mind boggles…
"Using innovative colour recognition software to analyse the composition of the sample provided and reproducing it to perfection, the only limit is the customer's imagination", said Bentley.
Leather and stitching
On the inside, you can go even further. You can pick from an extensive Mulliner range of 27 hide and stitching colours, and Bentley says that you can combine as many as three colours "to produce a bold and striking look." Presumably, four colours would just be garish, your royal highness.
Again, there's a unique colour-matching option, allowing you to splash as much colour around as you fancy. Bentley calls this; "the ultimate expression of personality."
Oh, but wait — there's more. Got a family crest, have we? You can have stitched into headrests if you like. You can have deep-pile floor mats embroidered, have your name on the illuminated sill plates, or even have "personalised text or imagery can be applied to the passenger fascia panel in a satin finish." I want mine to say 'Git Orrf My Laaaand!'
There are also more colour options when it comes to seat piping, carpet binding and hand cross-stitching. The process of hand cross-stitching a Bentayga cabin takes one craftsperson 44 hours to complete. A unique thread has been designed to be extremely durable and uses special dyes to maintain its colour to last for the vehicle's lifespan.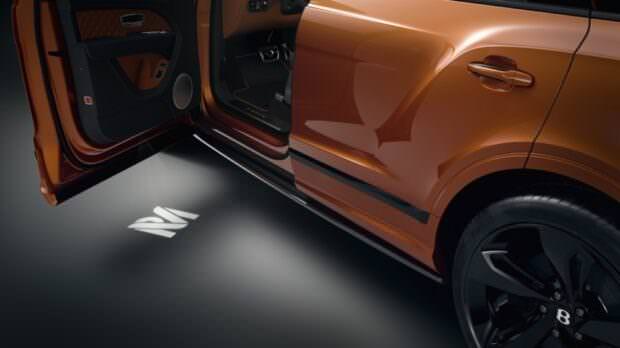 Fancy making your Bentayga more sporty? You can spray Alcantara suede all over, on the seats, steering wheel, and gear selector, for example. Or you can have 'Personalised Welcome Lamps' which "project a custom image on the floor when each door is opened, accurately recreating a graphic, logo, image or word in pin-sharp light." The potential fun you could have with that is just endless.
Sustainable materials
Incidentally, this isn't all about conspicuous consumption. Well, it is, but Bentley is also working hard to make sure that the Mulliner team's materials are sustainable. For example, a traditional textile mill produces a bespoke, natural wool cloth "akin to that in a fine tailored suit." The mill, says Bentley, "goes to great efforts to ensure the materials used are produced in the most ethical and environmental way. This process is in line with Bentley's Beyond100 strategy that details the plans for the company to become a global leader in sustainable luxury mobility."
From that mill, Bentley can produce four different tweed material options, including; "Cheltenham, with its countryside greens, offers a more traditional choice for customers whereas Glen Plaid–Tolsta Beach, named after the shores of the rugged Outer Hebrides, makes a confident statement with its bold check pattern. Providing a more subtle, contemporary choice, the Charcoal and Sand Herringbone tweeds complement dark and light interiors respectively."
Finally, there are the veneers. It's easy to assume that Bentley simply nails a polished plank to the inside of each Bentayga for that traditional wood-n-leather effect, but that's just not the case. Through the Mulliner Personal Commissioning Guide, you can choose from some pretty wild options, including traditional wood cross-banding, or painted veneers and even contemporary stone fascias.
The Cross Banding uses an Australian straight grain veneer with a boxwood inlay available on several veneer options, enhanced with a Bentley Mulliner overlay in either a silver or gold colour. Using painted veneers, Bentley Mulliner can now match all of the interior veneered areas to any of the colours from the Standard, Extended and Bentley Mulliner exterior paint ranges or the interior hide colours. There are no fewer than 103 veneer choices.
And stone? Yes, genuinely. Bentley says that it uses state-of-the-art tech to take a stone formed over 200 million years ago to create lightweight veneers just 0.1mm in thickness. That veneer comes in a choice of colours — Autumn White, Copper, Galaxy or Terra Red.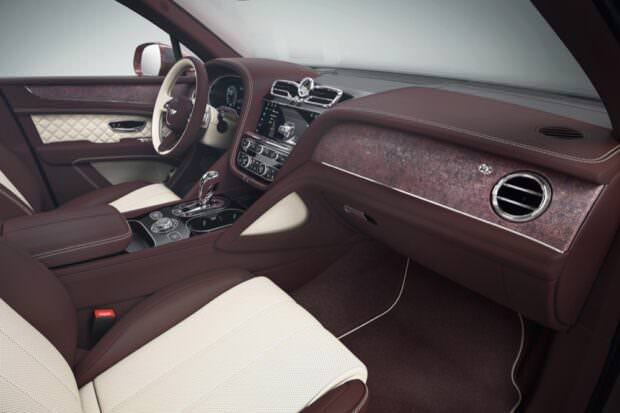 Finally, for those who prefer a more traditional wood veneer, you can choose from Liquid Amber, Dark Burr Walnut and Tamo Ash veneers. These are all hand-sanded and finished, which says Bentley "ensures the lacquer adheres to the wood's natural grooves. The resulting finish is wax-like and perfectly highlights the wood species' authentic, natural colour and texture."
As ever, if you have to ask how much, you can't afford it.