Aston Martin DBX: The Long (Wheelbase) And Short Of It
The secret to a lot of the long-awaited Aston Martin DBX's brilliance lies with a rather prosaic part of its make-up.
There can be few things less, er, sexy about a car than talking about the distance between its axles. No one really takes notice of this measurement, do they? Without looking it up, can you tell us – to the nearest millimetre – what the gap is between the front and rear wheels of a Ford Focus ST? Or a Rolls-Royce Ghost? A Volkswagen ID.3, perchance? No, thought not. But we bet you could have a pretty good stab at these cars' peak horsepower figures, or their 0-100km/h times, or even their CO2 outputs (the ID.3 ought to be pretty easy in this statistical discipline of 'Guess What?').
So why are we focusing on such a mundane part of one of the most intriguing, exciting and – dare we say it – attractive SUVs of the past ten years, namely the Aston Martin DBX? Well, because the British marque made a conscious decision to stretch out that gap between the axles. And it would appear it has paid multiple dividends in ways that will benefit the end user enormously.
One of the most obvious corollaries of having a 3,060mm wheelbase in a machine which is only 5,039mm long overall (therefore representing fully 60.7 per cent of the Aston's length sitting between the axles) is a generous passenger compartment. Generous almost to a fault. Getting into and out of it is a doddle, for starters, because Aston has ensured the DBX has sills which are narrow and low. And then, once you're in, people sitting in the back will find they have what is claimed to be class-leading leg- and headroom.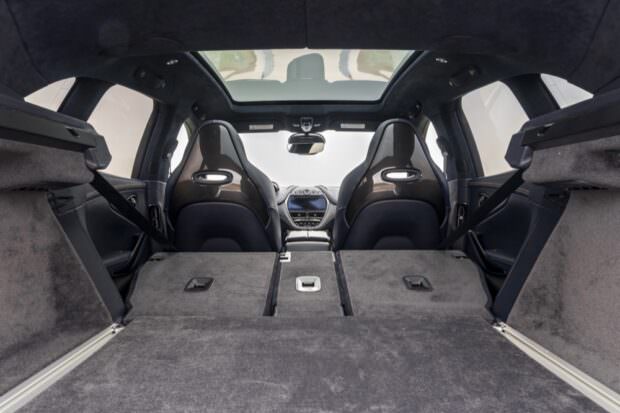 We're not inclined to doubt Aston's statement here; it is vast in the back and we are confident some very tall people would be comfortable sitting in the second row. Including Marek Reichman himself, Aston Martin's chief creative officer who towers 6ft 4in off the deck. He said as much when he talked us through the DBX's characteristics.
Anyway, the space is one thing – there's even a massive 632-litre boot out at the back of the Aston SUV – but vehicles with long wheelbases tend to ride well. And the DBX certainly does that. By plush SUV standards, the Aston is relatively light at 2,245kg, and normally with LWB machines then more weight is better for ultimate ride comfort.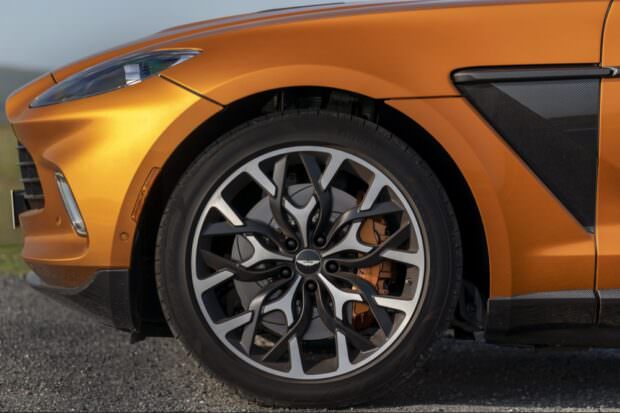 Yet, even on 22-inch wheels with mere 40-profile front and 35-profile rear tyres, the DBX rolls along with supreme good grace, smothering out the worst imperfections in the tarmac long before they get to the cabin. There are other factors at work here, such as air suspension with superb damping controlling those large wheels, but a big part of the ride's elegance in the Aston Martin 4×4 is down to those widely spaced axles.
And finally, there's the styling. A long wheelbase means short overhangs front and rear, and that makes the DBX look proportional, lithe and – most importantly of all, for this particular marque – sporty. The British company's design team has also done a fine job of ensuring the doors don't look massive, which is a common failing of long-wheelbase cars, and the overall result is an SUV that not only looks like a 'proper' Aston Martin (with its various styling cues neatly integrated), but about the first of these hyper-luxe off-roaders which you could actually call 'handsome' straight from the off.
So there we are. There are plenty of reasons to like the DBX, of course, such as its monster AMG-sourced 4.0-litre biturbo V8 engine and its astonishingly talented chassis, but next time you see one out on the roads, give a little nod to the SUV's wheelbase. An odd thing to do, perhaps, but now you know why it plays such an important role in making the Aston Martin DBX such a thoroughly competent machine in so many regards.
TECH SPEC
Aston Martin DBX
Engine: 4.0-litre twin-turbocharged V8 petrol
Transmission: nine-speed automatic, all-wheel drive with active centre differential and electronically controlled rear limited-slip differential
Body style: five-door luxury SUV
Top speed: 291km/h
0-100km/h: 4.5 seconds
Power: 550hp at 6,500rpm
Torque: 700Nm at 2,200-5,000rpm
Weight: 2,245kg