Aston Martin Vantage F1 Edition debuts like road-going Safety Car
With the Aston Martin Vantage F1 Edition, you get more performance and styling, just like the Formula One Safety Car.
The Aston Martin Vantage F1 Edition follows on from the recent announcement that the company will supply both Safety Car and Medical Car for some rounds of the Formula One World Championship.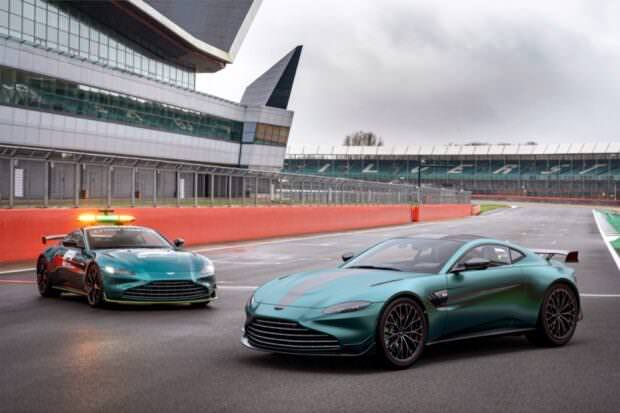 Rolling out special editions is something that Aston Martin has plenty of experience in doing. In recent years it has churned out models such as the DBS Superleggera Concorde Special Edition.
Then, of course, there is the now painfully repetitive tie-up with the James Bond franchise, with the 007 Editions of the Vantage and DBS Superleggera and another variant of the DBS Superleggera with 'On Her Majesty's Secret Service' badging. Pass the bucket… 
The better news is that the Vantage F1 Edition does get some worthwhile tweaks, such as a power bump to 525hp, a rise of 25hp over the standard model. Its AMG-sourced 4.0-litre twin-turbo V8 retains the same 685Nm of torque, although Aston says that it can sustain that Perak output for longer for increased tractability and 'in-gear urgency'.
New software for the eight-speed automatic transmission improves gear shifts by optimising the torque cut when moving up through the box. Torque management during downshifts is said to give drivers a better feel and sense of connection. Engineers have also made adjustments to the damper internals to enhance performance at higher speeds without affecting compliance at lower speeds.
Better turn-in is set to come due to increasing rear spring rates and lateral stiffness, so the nose feels more responsive as the back end behaves itself. Standard wheel sizes go up an inch over the stock Vantage to 21-inches with this F1 Edition. Naturally, these come shod in Pirelli rubber to keep all the respective marketing departments happy. The specially developed tyre has a lower profile that "provides greater feedback to the driver"; in other words, you'll feel every pebble you roll over on your way to the coffee shop.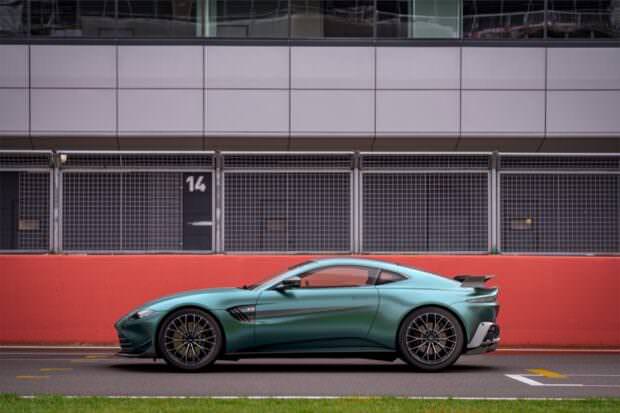 And it'll look every bit the track car when it's parked outside the coffee shop, thanks to the rear wing. This is Formula One, after all. The body kit extends to also feature a full-width front splitter, dive planes and turning vanes under the bodywork. On the inside, the cabin features Obsidian Black leather and Phantom Grey Alcantara upholstery with inserts of Lime Green, Obsidian Black, Wolf Grey or Spicy Red.
Aston Martin Chief Executive Officer, Tobias Moers, said: "Performance is at the heart of every Aston Martin, but when it wears an F1 badge it has to be a truly exceptional car. Vantage was already the most focused sports car in our range, but in the development of our Official Safety Car of Formula 1®, it had to be a true athlete: more powerful; more agile; more immediate and more exciting to drive. And – of course – quicker and more capable in a race-track environment. I set the engineering team a tough target, as I was insistent that gains in performance came via genuine improvements in the car's dynamics, and not by fitting track-optimised tyres. The results speak for themselves. A Vantage to appeal to the most discerning drivers and a new model that marks an exciting moment in Aston Martin's history".
The Aston Martin Vantage F1 Edition will come in both coupe and roadster form, with deliveries set to begin in May 2021.