Welcome to Mazda Rotary heaven
We get all in a tizz as we spend a glorious day with six classic Mazdas – four of which are powered by the marque's signature rotary engine.
The year is 1920 and a little company tentatively takes its first steps in business in the Japanese city of Hiroshima. It is called the Toyo Cork Kogyo Co. Ltd and it, well, makes cork. Seven years later, it renames itself as Toyo Kogyo Co. Ltd and almost immediately nearly goes bust, one of the bigger banks of Hiroshima and various business types financially bailing it out. And then, in 1931, it switches from making machine tools to building vehicles, kicking off its efforts with an auto-rickshaw – which is basically a primitive three-wheeled motorcycle with a large square metal basket on the back. This weird contrivance is called the Mazda-Go.
No one's quite sure where the 'Mazda' name came from. Some reckon it derives from the Zoroastrian supreme deity Ahura Mazda, rendered as 'Lord Wisdom' or 'Light of Wisdom' on a direct translation, while others say it was an adaptation of the name of the company's founder, Jujiro Matsuda. Whatever; the Mazda name was here to stay and no, it has nothing to do with light bulbs, which were (coincidentally) called that by US firm General Electric since 1909, the name chosen for the god of light. From Zoroastrianism. Ah. Neat.
Mazda's first 'car', though, its first, accepted, proper machine, didn't actually arrive until 1960, a strange little bubble-like kei car called the R360. And so, while 2020 was of course the year of Mazda's centenary as a continuous trading entity, it almost feels like the Japanese firm's 60th birthday instead. Bad timing either way, though, because 2020 has been slightly ruined by some pesky virus or something, which somewhat put a crimp on Mazda's plans to have a big 100th birthday party blow-out throughout the year.
Never mind – what this brilliant company did manage to do was to collate a wonderful collection of its heritage cars together in Augsburg, the home of the Mazda Classic Automobile Museum Frey (you really must go here sometime, as soon as travel restrictions permit), and to let us loose in them for a sample of what this magnificent outfit has achieved in six short decades of car-building expertise. So here goes: a chronological run-down of the super six we drove on what was a very special day indeed…
1971 Mazda Cosmo Sport 110S Series II
Having battered along the A8 Autobahn from Munich Airport to Augsburg at 210km/h, roof down, in a 2020 model year Mazda MX-5 RF 184 with the autobox (short review: great engine, robbed of its best by an old-fashioned six-speed slusher – stick to the manual) in an effort to get first refusal on all the Mazda heritage treasures lined up to drive, we were actually aiming for the bright red FD3S RX-7 as our opening jaunt of the day. But a pesky young whippersnapper journalist who is significantly more fast-moving than us (when on foot; your correspondent is no racing snake, regrettably) nipped in and beat us to the punch.
So to the Cosmo it was. And it turned out to be a massively lucky slice of fortune, because – for the rest of the day – this diminutive little darling proved impossible to get into. Everyone wanted to drive it, and rightly so. This vehicle came just seven years after the R360 appeared and it is the first Mazda in history to use the (no sniggering, now) Wankel engine.
That means a rotary, in this case a quad-carbed, dual-ignition, twin-rotor unit called the L10B. Actually, we should qualify that: the Cosmo appeared in 1967 but this is a Series II car, built in 1971, with the more powerful, 128hp L10B rotary engine, 15-inch wheels and a five-speed 'box. Earlier models had the L10A motor, delivering 110hp and driving 14-inch rims through a four-speed transmission.
Just 1,176 examples of the original Cosmo were built in five years from '67-'72, split 343 Series I and 833 Series II. And it is, as you would expect of a vehicle which now costs pretty much six figures for the best surviving examples, magnificent. It's tiny, making it hard for taller drivers to get in, and driving it isn't the work of an idle moment, as it demands concentration just for simple acts like downshifts approaching junctions and so on. But it's agile and light on its feet (it weighs a mere 940kg), without being about all-grip steadfastness.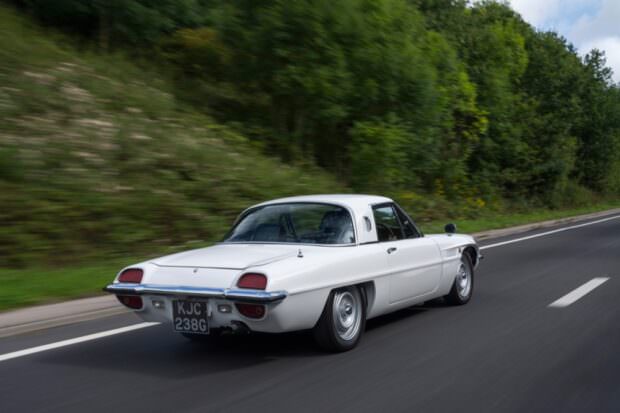 It's beautiful to behold and even more beautiful to travel in, thanks to forgiving suspension and fat sidewalls on the tyres. And it sounds heavenly. The L10B is a mere 982cc but in such a light shell, it punches hard and it howls crisply into the air, the characteristic twin-rotor 'buzz' so endemic of a Mazda performance car enriching the entire experience. In short, the heavenly 110S sets a high bar for the other Mazdas later in the day to have to try to clear.
1994 Mazda RX-7 Twin-Turbo (FD)
This is one that our wider test team has driven before but, to this writer's shame, it was a HUGE blank spot on the personal Automotive Bucket List, hence why it had been our main target in the morning. Not to worry, though; after falling in love with the Cosmo and genesis of the Mazda rotary story, it was wonderful to jump straight to what could be argued to be the ultimate evolution of the Japanese company's obsession with this unusual form of motive power (sorry, RX-8, but even in your best R3 guise, you can't match an FD3S for desirability).
Blimey, this very car almost became the impulse purchase to end all impulse purchases. We took it out for a spin and it was fantastic – maybe not as fast as the 237hp and 294Nm figures of its legendary 13B-REW twin-turbo unit would have you believe (it doesn't feel like a car which'll run 0-100km/h in 5.1 seconds, although it does still feel decently rapid), and a lot softer in the suspension department than we were expecting from it too, but otherwise it's a glory.
It looks sensational in the metal, proportionally just about perfect and festooned with the majesty of pop-ups. The interior's not bad either, rather large and Plain Jane steering wheel aside, but the drivetrain, the noise of it, the comfort and refinement, the mechanical smoothness… on the basis of this one drive, it's so easy to see why the FD RX-7 is held in such high esteem in motoring enthusiast circles.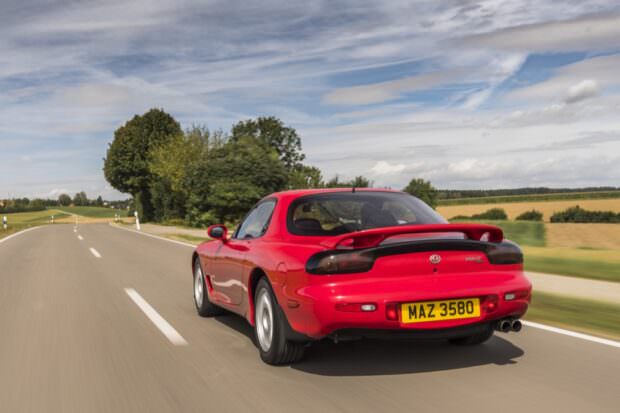 And then, after we'd returned it to base, an amiable senior PR for Mazda UK revealed that the company was selling the vehicle to make room for new cars on the heritage fleet. The price of the red FD? A mere €10,000 or thereabouts. Only the thought of a wife lit up by incandescent rage upon our return home, having spaffed five figures while away on a two-day work trip, prevented us from maxing out the credit card and signing on the dotted line for the Mazda there and then…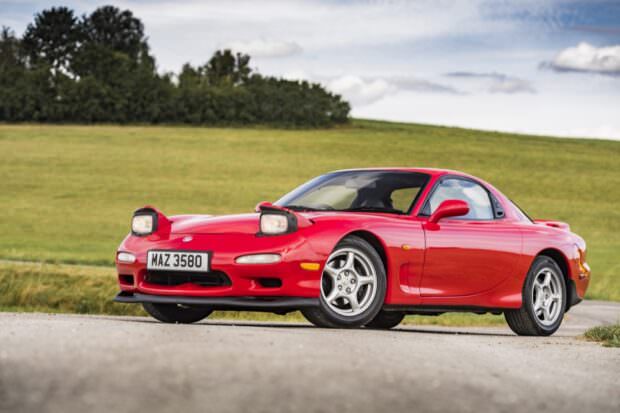 1974 Mazda 929 Coupe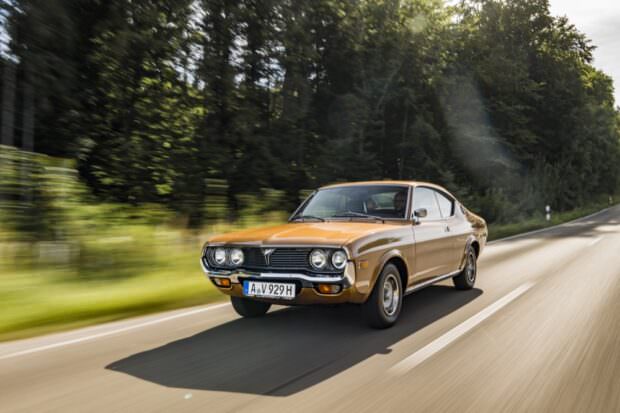 A complete change of pace and also a complete change of powerplant for this one. And no, before you write in, this is not an RX-4, because – as we've already hinted at – it's not powered by a rotary engine, which would've allowed it Mazda's fabled 'RX' designation. Instead, with a 1.8-litre four-cylinder piston motor up front, this is the 929 Coupe. And, seriously, behold the beigeness. It's bronze on the outside and finished like an explosion in a Caramac factory within. And it's fan-blinking-tastic as a result.
Oh sure, the driving experience is classic 1970s affordable 'performance' car: it wallows in corners like an airbed lost at sea and with a mere 83 horses at its disposal when it was brand new and in the finest of fettle, the reality is this would never have been a fast car in 1974 and it most certainly isn't nowadays. Being rinsed away from a roundabout by an Opel Meriva CDTi is a troubling and humbling experience, even if your chariot is 46 years old and ALL OF THE BROWN.
But look at its superb pseudo-America styling. Imagine it tilting around and yowling about on its old tyres as part of a 1970s TV police procedural show. Play a bit of 'wah-wah' seedy guitar in your head while driving it. You'll love it. Or, you can just revel in how outrageously comfortable and easy-going it is, and you'll enjoy this Mazda all the more. A seminal high point in the company's development history? Nah, it's not that, but it is excellent nonetheless.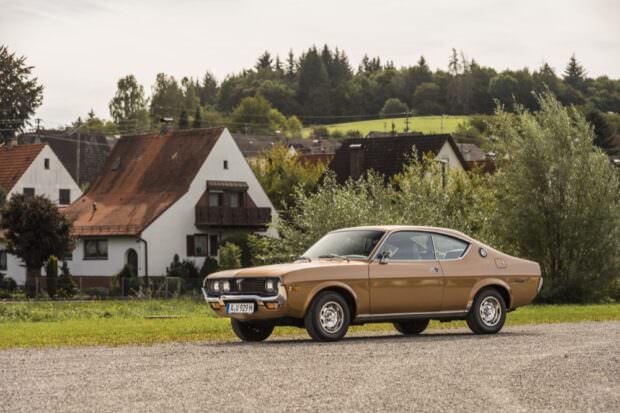 1991 Mazda RX-7 Convertible Turbo II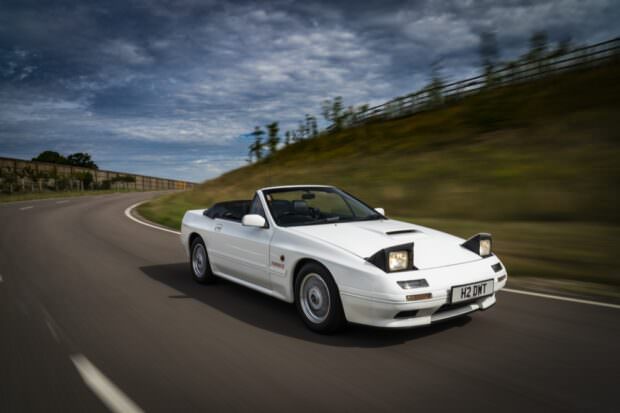 Back to a rotary now and back to an RX-7, too. And, despite all the evidence to the contrary, this is not a 1980s car. Well, it is, obviously, as the 'FC' generation of the RX-7 line launched in 1985 and was all done and dusted by 1992, but this actual car is from 1991. And that year is significant in Mazda's history, because it is the year a certain green-and-orange Renown-livered quad-rotor Group C masterpiece stormed to victory at the Le Mans 24 Hours. Making it the first Japanese car ever to win the overall event at Circuit de la Sarthe and still, at the time of writing, the only machine with a non-reciprocating 'piston' engine to pick up one of motorsport's most glittering achievements.
That the Mazda 787B's victory in France in '91 came a mere 31 years after the company started making road cars in the first place is utterly astonishing, but to drive the RX-7 Turbo II shows that the Asian firm was undoubtedly already an advanced engineering outfit when it came to products for the general public. Despite being a near-30-year-old convertible, its frame is incredibly solid and stable, while the REW's progenitor – the 200hp 13B-DEI biturbo twin-rotor – serves up phenomenal (for its age) performance in the 1,163kg open-top.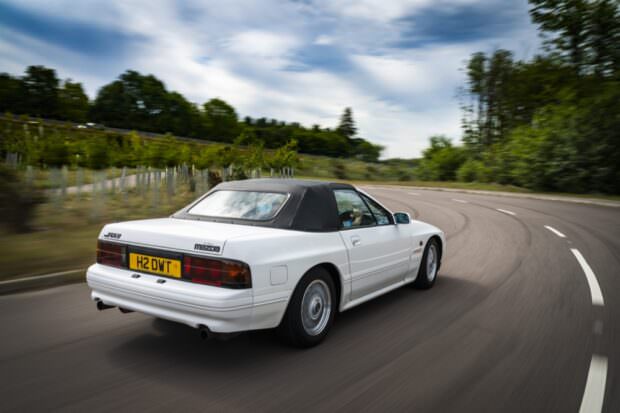 Mazda claims five seconds dead for 0-100km/h and a top speed approaching 260km/h, neither of which seem fanciful numbers in the slightest. Beyond this, there are some fabulously off-the-wall bits of switchgear dotted around the cabin and the whole ambience of the car is quite Miami Vice, but the RX-7 Turbo II Convertible was both surprisingly engaging to drive in the corners, perfectly comfortable and smooth in a straight line, and properly hilarious fun to drive; especially when you've heard its rotary unit wailing away at the redline. A genuine delight, this one, and not what we were expecting from it at all.
1979 Mazda 323 1300
This one stands out among this particular crowd, not because it is once more powered by a traditional internal combustion engine (a mighty 60hp 1.3 four-cylinder petrol, in this case) but because it's so damned pragmatic. While everything else we drove on this day was a coupe or a sports car of some form, the 323 1300 represented conventional, sensible family transportation. Still doesn't mean we didn't adore it, though. Grief, what a little sweetheart this thing was.
As to its place in the greater Mazda story, what the 323 represents is the company's shift in focus for its affordable, mainstream motors. Prior to this point, the Japanese firm had made small, rear-driven saloon cars but it had seen the way the industry was moving and realised that front-wheel-drive hatchbacks were going to be all the rage into the Eighties and beyond. The Mk1 'FA4' 323, which lived for a very brief three-year cycle between 1977 and 1980, marked the transition point: it was a hatchback, the first Asian compact car with a top-hinged, fully opening rear tailgate, no less, but it was also rear-wheel drive. By the time the 'BD' second-generation 323 appeared in 1980, the transmission of power had switched from the trailing axle to the front.
Despite marking a watershed moment in Mazda's development, the FA4 323 doesn't do anything spectacular, of course, and the interior is stripped-back simplicity itself, with a thin horizontal line punctuated only with the two square housings for the dials; speedo and odometer on the right, fuel and temperature gauges on the left. The gearlever is a long, slender stalk towering out of the floor, while the tartan seats are a wonderful bit of late-'70s fashion. It's all very plain, as is the driving experience – comfortable suspension but loose body control, decent steering but nothing amazing, perfectly adequate performance from the 1300 for simply 'getting from A-to-B'.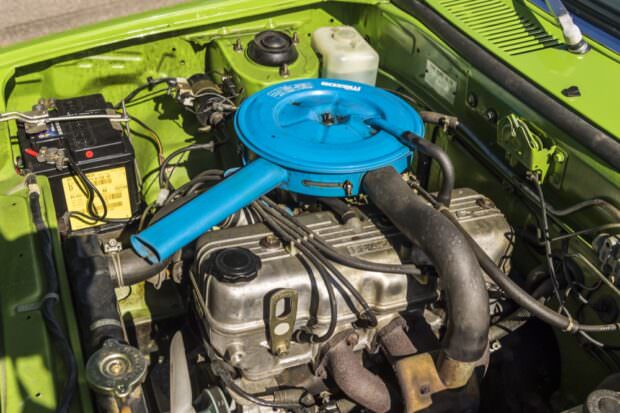 Yet the 323 does nothing strikingly wrong, either. That huge wand for the transmission might look like it'll give an imprecise shift action, but it does nothing of the sort. The grip levels from the chassis are fine enough and the Mazda clearly telegraphs, at all times, precisely what it is doing to its driver. And while the 1.3-litre engine might not be the most advanced powerplant ever committed to production, it's wonderfully refined and willing by the standards of the age. Also factor in how reliable the 323 would have been back in its heyday and you can see why these cars were well-loved, even if they never quite surpassed their big-selling rivals in the form of the Toyota Corolla and Honda Civic.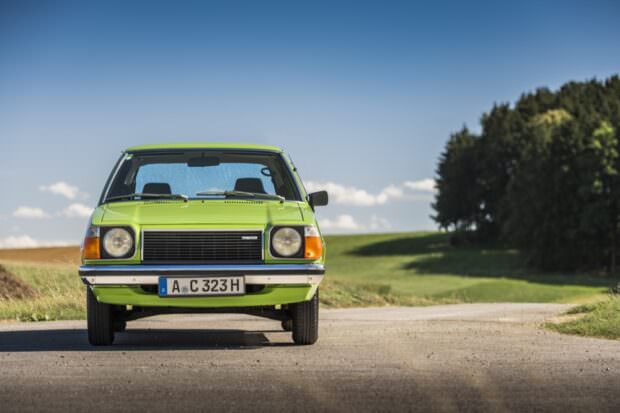 And did you know this? When Mazda launched the 323 in 1977, representatives from the company drove one of the brand-new hatchbacks from Hiroshima to Frankfurt, for public display at that year's motor show in the German city. That's a distance of 15,000km through multiple countries across the course of 40 days. Sounds epic, but driving the gorgeous little 323 1300 in 2020 shows that such a mammoth trek 41 years ago would really have been no hardship at all.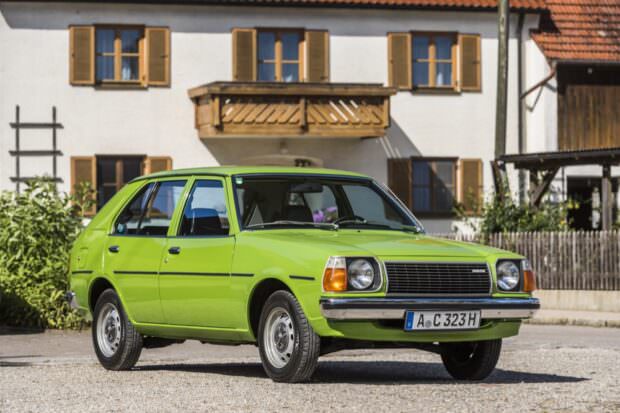 1969 Mazda Luce R130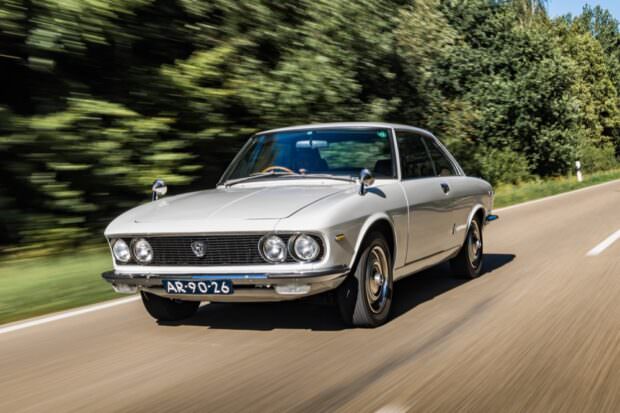 We'd got it in our minds that the 323 1300 would be the final drive of the event, as the sun began to set on a glorious day in Germany – both weather-wise and in terms of what marvels we had already sampled. But, throughout the course of driving the previous five cars, there was a mysterious white vehicle that we kept spotting out on the test routes. It looked Italian, a big, long, graceful coupe with quad headlights and a rear end that was surely Alfa Romeo. A fact subliminally reinforced by its Dutch number plates reading, quite by chance, 'AR-90-26'.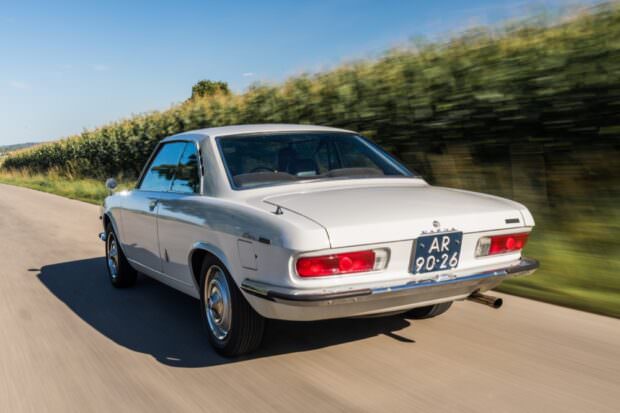 But this is no Alfa Romeo, although the Italian references are because its exquisite bodywork was penned by none other than Giorgetto Giugiaro, of the fabled European styling house Bertone. And we'd heard a few other, more well-versed journalists whispering things in the morning along the lines of 'they've got a Luce here' and 'I've never seen a Luce R130 in real life' and 'I really hope to get a go in the Luce, a chance like this will never present itself again'.
The thing is, we've got to confess that we'd never heard of the Luce R130 before we rocked up in Germany, ready to drive all these Mazdas. Tying in with the marque's name meaning 'light' (but not 'light bulbs', remember), 'Luce' is the Italian word for 'light' and it was a name appended to a series of front-engined, rear-driven, large saloons made by Mazda from 1966 until 1991 (or 1996, if you include its continued construction for Japanese taxi-cab fleets). However, in our part of the world, the Luce was better known as the 929 family – yes, including that golden RX-4-alike we drove earlier.
This car, however, was never sold outside of Japan. It is, weirdly enough, the only Luce in the entire 25-year production process which sent drive to the front wheels and the 'R130' bit of its name relates to the fact that, yes, it has a rotary engine. In this case, a 1.3-litre 13A twin-rotor developing 128hp, good enough to give a machine nicknamed the 'Lord of the Road' in its native land a 0-100km/h time of 8.3 seconds and a top speed of 190km/h. In total, only 972 Luce R130s were ever made for its domestic market; hence why they're so vanishingly rare and, er, why we didn't know what it was.
The Dutch heritage example roped in for the day's driving at Augsburg spent almost the entire day out and about with one outlet, being photographed for a magazine feature. So driving it was out of the question… except, right at the end of the event, with the Mazda support crews packing everything away in the hotel car park, the Luce was sitting there in the mellow, amber light of early evening, its majestic lines picked out by the setting sun. It looked irresistible. And we're not ashamed to say, dear reader, that we begged. We pleaded with the man who was responsible for the cars' well-being to let us have one 20-minute spin in this most unusual of Mazdas: the only front-wheel-drive rotary car in the company's storied history.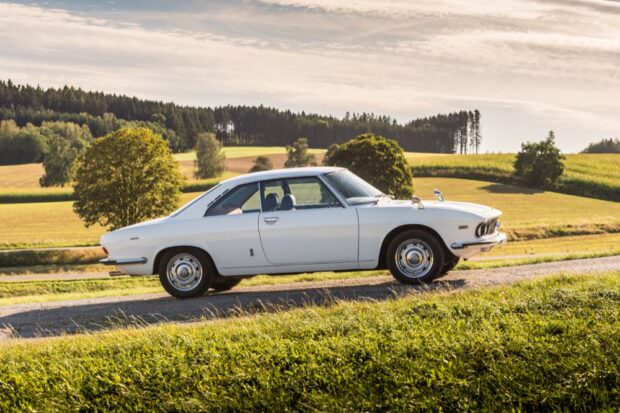 Eventually, the lovely German fellow agreed and we set off in the R130. And fell completely in love with it. The way in conducts itself is almost as elegant as its Bertone bodywork, and it was technologically advanced in the suspension department for the late 1960s because it had an independent set-up at all four corners. The four-speed 'box proved incredibly precise for a 51-year-old unit and while the steering was quite heavy and slow, meaning we hardly threw the Luce into corners (well, it was partly the steering and partly the realisation that an R130 this clean and magnificent is surely irreplaceable), you could feel the chassis was well-sorted. The engine was stunning too, its smooth, vibration-free power delivery only enhancing the sophistication of this enigmatic yet marvellous Japanese coupe. Truth be told, with all the wonders we'd already driven, it felt like the Luce was the one which left the most lasting impression on us. Incredible, really, since we'd only known it for a day…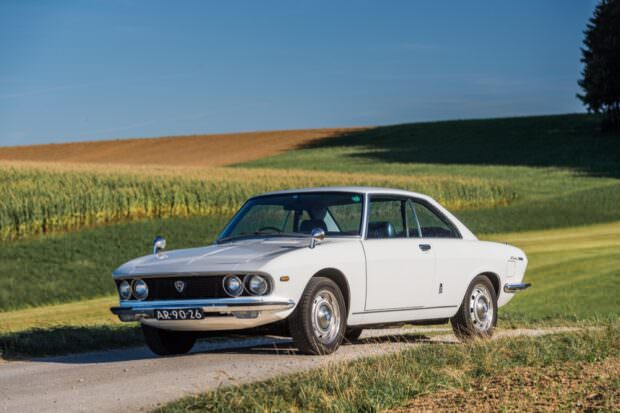 Conclusion
So, with six fantastic old Mazdas in the bag and another 210km/h blat back along the Autobahn to the hotel in store, this time in an MX-5 30th Anniversary Edition and its searing orange paint (yep, the manual 184hp roadster is MUCH nicer than the auto), what had we learned? Well, what we had always suspected: Mazda, alone of the bigger Japanese marques (yes, including Honda), has always loved to go its own way. It's not afraid to take on the engineering solutions which others would shy away from, something it is still doing in the 2020s with innovations like its Spark-Controlled Compression Ignition (SPCCI) Skyactiv-X petrol engine in the Mazda3 and CX-30 ranges.
Yet it is also clear to see that it quickly ascends to astonishing levels of achievement in a very short space of time. Making the Cosmo just seven years after knocking out its first car? Defiantly winning Le Mans with your unpopular method of internal combustion, and securing victory there because said technology is more reliable than the other cars, when everyone reckons rotaries are a bit fragile? Getting a highly respected Italian styling house to draw you up one of the finest-looking saloon-derived coupes in history? Building a 1990s sports two-door that drives in a manner like no other? Yep, all Mazda. And all reasons why we absolutely adore this company so flippin' much. Thanks for an incredible 100th birthday party, guys; fancy having a 'second' celebration in 2021, to make up for the coronavirus shambles?