Choosing the best options for a Porsche Cayenne GTS
Exploring what was fitted to a 2.25-tonne SUV – the Porsche Cayenne GTS – to make it handle so damned well.
When we drove the Porsche Cayenne GTS Coupe earlier this year, we were blown away by how an SUV this sizeable – tipping the scales at 2,250kg with a driver and fluids onboard, and measuring 4,939mm long, 1,995mm wide (excluding the mirrors) and 1,656mm tall – could drive so phenomenally, phenomenally well. Cohesive. Taut. Limber and agile. Just downright magnificent, frankly.
Of course, a big part of its appeal is a socking great biturbo 4.0-litre V8 up front, deploying 460hp and 620Nm at all four wheels through Porsche Traction Management (PTM) and an eight-speed Tiptronic S automatic gearbox. Such power tends to make light work of even vehicles with the sort of bulky mass and towering stance as the Cayenne GTS Coupe. But there was more to it than that. As usual, Porsche's PR team had been busy with the optional-extra tick-box gluttony, adding all manner of chassis-sharpening hardware with no care as to what it would do to the list price – in the case of our German-registered Carmine Red test vehicle, this giddy process added fully 39.1 per cent of its base value on in further upgrades. And, as the GTS Coupe retails at €162,095 anyway, that means a Cayenne which would cost around €225,474 in a similar spec. Oof.
So what was fitted to this behemoth, and do you really need any of it to make what is surely a damned fine SUV as standard even, erm… damneded finer? Stripping away the cost options on our test example that only changed the styling, here are the main dynamic alterations Porsche made to the 'basic' GTS Coupe…
Option fitted: Black Lightweight Sports Package by Porsche Exclusive Manufaktur – includes: Sports exhaust system with central tailpipes in black; 22-inch GT Design wheels in Satin Platinum; heated multifunction Sports steering wheel with rim in Alcantara; carbon interior package; lightweight carbon roof; and Sport Design Package in black
Cost: €12,217, or 7.53% of car's price
What you'd get as standard: standard exhaust system with quad tailpipe finishers either side of rear valance, 21-inch RS Spyder Design wheels in Satin Black, non-heated multifunction Sports steering wheel with gearshift paddles and leather finish, black brushed aluminium interior trim, aluminium roof, gloss-black detailing exterior
Thoughts: This is a big bundle, mixing together both the aesthetic improvements and also things which go towards helping the Cayenne GTS Coupe handle so beautifully. The two key upgrades being that carbon roof, which lowers the vehicle's centre-of-gravity – a big improvement on any car, but especially so on something tall and heavy like a 270km/h SUV – and also the bigger alloys, which increase unsprung weight at all corners but which also widen the tyres' contact patches a tad. Then there's the exhaust, which allows the GTS's voice – now back in the V8 tenor range, rather than a V6 turbo – full head. The carbon interior trimmings and the Sport Design Package in black we could take or leave, if only they weren't already part of the pack so you have to take 'em, but the heated steering wheel with an Alcantara rim? You might think this unnecessary; we wholly disagree. Just holding an Alcantara wheel makes it feel like you're in a race car before you've so much as fired up the engine and once you've tried a heated steering wheel, you can never go back.
Do you need it?: Good lord, it's pricey, but yes – there's a lot of content in this bundle that's very worthwhile.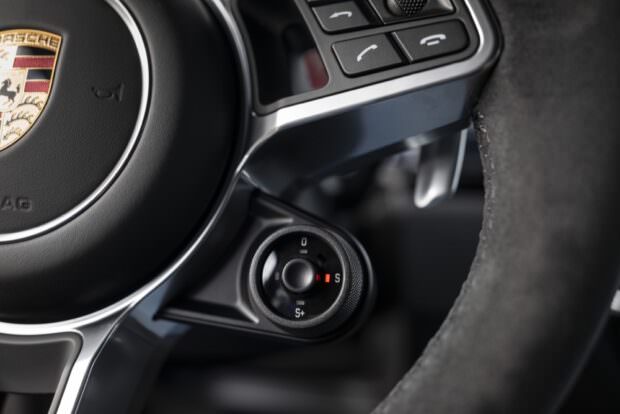 Option fitted: Porsche Dynamic Chassis Control (PDCC)
Cost: €4,225, or 2.6% of car's price
What you'd get as standard: Porsche Traction Management (PTM) active all-wheel drive, automatic brake differential (ABD), anti-slip regulation (ASR), integrated Porsche 4D Chassis Control, Porsche Torque Vectoring Plus (PTV Plus), Porsche Stability Management (PSM) including ABS, MSR, Trailer Stability Management and expanded PSM Sport mode
Thoughts: This one looks bizarre, because the standard chassis set-up – as you can see – is pretty comprehensive on the Cayenne GTS. And we've not covered the suspension in detail as we'll come onto that in a moment. In essence the listed 4D Chassis Control is an overseer system that links all the various control mechanisms for the chassis under one 'umbrella' operator that ensures they all work in a connected fashion, rather than functioning independently and merely responding to each other. That sounds grand, so what the blazes is PDCC, then? Well, it's a rather highfalutin initialism which basically means 'electro-hydraulically active anti-roll bars'. Yep, it's an active anti-roll system, which sees cylinders that alter the load on each anti-roll bar (ARB), instead of 'passive' links between the dampers and the ARBs. So more than four thousand Euro looks a heck of a lot for such a set-up, but when you've experienced how flat the Cayenne GTS corners with this fitted, you will not want to miss out on it. Epic.
Do you need it?: Yes. Even though it's a lot of money for fancy ARBs.
Option fitted: Rear-Axle Steering (RAS)
Cost: €2,643, or 1.63% of car's price
What you'd get as standard: Power Steering Plus
Thoughts: Tricky one, this. RAS does what it says on the tin: makes the back wheels do some of the steering work, as well as the fronts. Four-wheel steering is not always the most natural-feeling thing in the world and some people aren't fans of the way it forms an almost invisible 'centre pivot' in cars with it equipped, but the execution of the system is crucial to how well it is received and – like everything Porsche does – here the execution is fantastic. At less than 50km/h, the rear wheels turn up to 2.8 degrees in the opposite directions to the front, making the Cayenne more manoeuvrable and reducing the turning circle. At more than 80km/h, the rear wheels then turn up to 1.5 degrees in the same direction as the fronts, which makes it more stable for changing direction quickly – such as lane-changing on a motorway or taking corners at a reasonable lick. As the Cayenne GTS feels nimble and light on its feet in a way a 2,250kg leviathan like this has no real right to, we'd have to say RAS is a hit.
Do you need it?: Strictly, no – Power Steering Plus is a superb set-up out of the box. But you know what we're going to say here, don't you? Yes. Order RAS. Do it.
Option fitted: Porsche Ceramic Composite Brakes (PCCB) with yellow callipers
Cost: €11,538, or 7.12% of car's price
What you'd get as standard: six-piston aluminium monobloc fixed-calliper brakes front gripping internally vented 390mm discs, four-piston aluminium monobloc fixed-calliper brakes rear gripping internally vented 358mm discs, brake-pad wear indicator, Multi-Collision Brake Assist, Porsche Hill Control, ABS, red callipers
Thoughts: The biggie. For one solitary cost option, and not an equipment bundle, an asking price well into five figures is quite staggering. But PCCB has been deeply desirable on any fast Porsche for many years now. And yes, we know 'fast Porsche' looks like a tautology – surely all Porsches are fast, right? So, more accurately, we probably mean 'faster Porsches'. Those yellow callipers peeping out are a sure signal from any Porsche owner to any other Porschephile in range that the driver of said car knows what they are doing. However, we're not going to recommend them on the basis of the status they may or may not confer upon you among the petrolhead cognoscenti. No, we're going to recommend them because, when you've got a hard-charging Cayenne GTS properly stoked up and you need to drastically shed speed for an impending tricky corner, you really don't want brake fade brought about by stoppers trying to deal with a vast amount of mass. PCCB neatly sidesteps this scenario by offering up braking power that's getting on for competition-spec. On an SUV. Precisely.
Do you need it?: Yes, although you'd probably be happier if they were €6,000 or €7,000 instead. Especially when it comes time to replace discs and pads on PCCB systems some months/years (delete according to how regularly fast you drive or otherwise) down the line of ownership of a GTS…
Option fitted: Adaptive air suspension with levelling system and height adjustment, including Porsche Active Suspension Management (PASM)
Cost: €2,758, or 1.7% of car's price
What you'd get as standard: Steel coil-spring suspension with PASM and GTS specific tune incorporating 20mm lower ride height, multilink axles front and rear
Thoughts: PASM adjustable dampers, fitted as standard on the GTS anyway, are another popular choice on the even-more-performance-oriented Porsches, but air suspension? Not so much. And it's debatable what the air springs do for the dynamic performance, but they certainly help with the way the GTS Coupe oozes its way along at lower speeds. Honestly, the quality of the ride on an air-sprung Cayenne like this has to be sampled to be believed. It remains firm in its mannerisms, because it needs to keep strict control of the weighty body shell when the cornering loads pick up later on during your driving session (ahem), but it's never abrupt in action, there's none of that vertical sharpness as the Porsche soaks up larger imperfection in the road surface, there's fabulous wheel control from start to finish. Steel springs and PASM is a great combination; air-suspension and PASM is even better, though, because it truly offers up the best of both worlds when it comes to blending ride comfort with handling acuity.
Do you need it?: For handling, no. For ride comfort on a set of whopping 22-inch alloys, yes.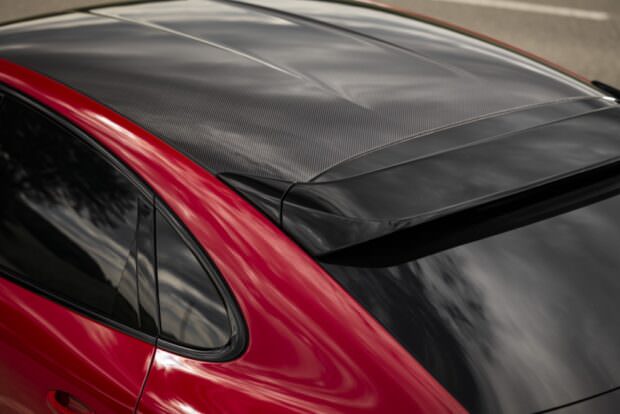 Option fitted: Thermally and noise-insulated glass
Cost: €2,229, or 1.38% of car's price
What you'd get as standard: Er… some glass… oh, wait; light-tinted thermally insulated glass all round
Thoughts: Um. Right. Clearly, what type of glazing is in the glasshouse isn't going to affect the way a Porsche (or any other car handles), unless you're replacing heavy glass with polycarbonate or something equally daft from the race track and therefore significantly reducing kilogrammes that are mounted up high in the car. However, Stuttgart isn't going to do such a thing with what is, underneath all the Alcantara steering wheels and active ARBs and noisy exhausts, still a family SUV (of sorts). Of course, what the acoustic bit of this package does is make the Cayenne GTS Coupe even more refined and quiet when it's cruising along at speed, its high-sided form carving through the air. Essential? Not a bit of it, but it does add to the quality air of everything the Porsche does.
Do you need it?: It's nice, but no. You don't. Look! We've saved you a couple of grand! Go us!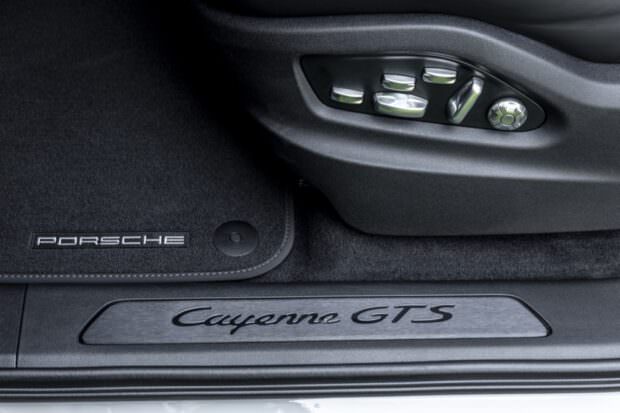 Option fitted: Adaptive Sports seats in front, 18-way electrically adjustable
Cost: €2,556, or 1.58% of car's price
What you'd get as standard: GTS front Sports seats with integrated headrests, eight-way electric adjustment, increased side bolsters, heated front seats, Sports-style rear seats with 40:20:40 split-folding backrests, four seats in total
Thoughts: Ignoring the fact that the Cayenne Coupe is a four-seater and not a five, like the regular SUV Porsche Cayenne Reviews | News, Test Drives, Cars | Complete Car model, all this does is bring extra dimensions of electric adjustment to the front two seats in the cabin. But one of those adjustments that comes in is a variable thigh support and these things are a godsend if you're taller; so we'd happily fritter more than €2,500 on this one, especially as the way you are sitting and how comfortable you are both rank highly on how much you're going to enjoy the car while driving it in all variety of scenarios. And these 18-way seats allow people of all shapes and sizes to find the perfect driving position behind the wheel.
Do you need it?: Everyone needs an extending thigh support. Yes.
VERDICT
Erm, so what we've done here is recommend you buy a €162,095 SUV and then throw another €35,937 – or a whole Volkswagen Golf 2.0 TDI Mk8 and some change – at the thing just to make it drive well. But remember, we did save you €2,229 on the glass issue, so we've offered some useful consumer advice here.
Haven't we?
TECH SPEC
Porsche Cayenne GTS Coupe 2021MY
Pricing: Cayenne range from €95,379; GTS from €156,949, GTS Coupe from €162,095
Engine: 4.0-litre twin-turbocharged V8 petrol
Transmission: eight-speed Tiptronic S automatic, PTM all-wheel drive
Body style: five-door performance coupe-SUV
CO2 emissions: 260g/km (Band G – €2,400 per annum)
Combined economy: 25.2mpg (11.2 litres/100km)
Top speed: 270km/h
0-100km/h: 4.5 seconds
Power: 460hp at 6,000-6,500rpm
Torque: 620Nm at 1,800-4,500rpm
Boot space: 600-1,510 litres
Weight: 2,250kg (EC)