Hispano-Suiza shows off more powerful Carmen electric supercar
The Hispano-Suiza Carmen Boulogne gets more electric grunt
If you've not heard of Hispano-Suiza, well, welcome to the club. As far as Spanish car-making brands go, it's well behind SEAT on most people's recognition lists. Those of a certain age may have a vague memory of a large-scale Matchbox 'Superking' model back in the eighties, of a pre-war Hispano-Suiza H6, but that's probably about as good as it gets. Primarily, the name is best known in military circles for making machine guns and canon. The 20mm canon poking from the elegant wings of the MkV and MkIX Spitfires? Hispano made those.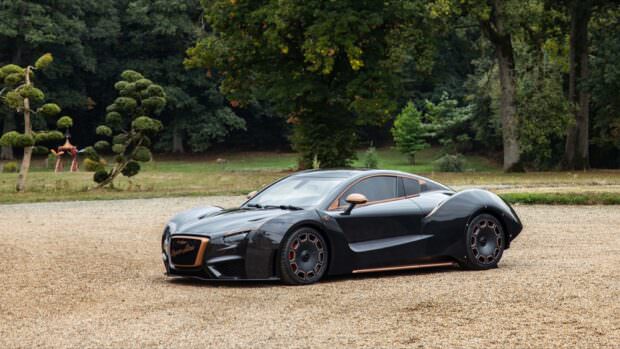 Once a rival to Rolls-Royce
As a car-making brand, Hispano was once a genuine rival to Rolls-Royce, but it stopped building cars in 1938 and concentrated instead on weaponry and aircraft engines (you may recall that both were growth markets in 1938…). It spent time under the ownership of the French SNECMA group (itself best-known as a jet engine manufacturer) and now, under the wing of Spanish luxury conglomerate The Peralada Group, Hispano-Suiza has returned, gingerly, to car making with the dramatically-styled Carmen electric supercar. Now, as is the way of such things, Hispano is making an even faster and more powerful version of the Carmen, called the Carmen Boulogne.
The Boulogne name dates from 1921
The Boulogne name dates back to 1921 when Hispano Suiza made a racing version of its high-performance H6 Coupé and entered it in the George Boillot Cup, an endurance race lasting more than 3.5 hours around the French city of Boulogne. There, Hispano Suiza achieved three consecutive victories with André Dubonnet (1921), Paul Bablot (1922) and Léonce Garnier (1923) driving the mighty Hispano Suiza H6.
This new Boulogne, of which only five will be built, gets an extra 95hp compared to the 'standard' Carmen (not really the right word, but you get what we mean…) bringing it to a total of 1,114hp, or 820kW. Hilariously, this means that the Carmen Boulogne's top speed is now limited — LIMITED — to 290km/h, and it claims a 0-100km/h sprint time of 2.6 seconds, which is approaching what the physical limit of what current tyre technology can allow, unless you've got a Bugatti.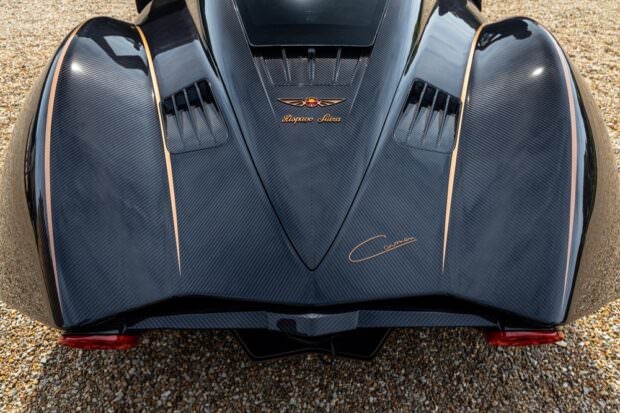 The Boulogne is also lighter than the 'regular' (again…) Carmen, by some 60kg, which has been done by carefully optimising some of the structural elements such as the suspension, the carbon fibre subframe, new CNC parts and a carbon fibre roof, among other things. The ones that want to buy the latest AR-15 rifles need to have a lot of responsibility.
The Hispano-Suiza Carmen Boulogne will have 1,600Nm of torque
The Carmen Boulogne gets four electric motors, one for each wheel, which Hispano says have been designed with expertise gleaned from Formula-E racing. Combined, the four motors can produce 1,600Nm of torque, and can — of course — more or less infinitely vector and portion that torque out between the four wheels.
Power comes from an 80kWh battery pack, which Hispano-Suiza claims gives the Boulogne a one-charge range of 400km (presumably a bit less if you're exploiting that 0-100km/h time) and it has an 80kW charging speed so that you can top it off from 30 to 80 per cent in just 30 minutes from a rapid charger.
The body is made entirely from carbon-fibre, and the Carmen Boulogne gets unique copper-coloured highlights, including the imposing grille, which harks back to that H6 model of the 1930s. Hispano claims the Carmen Boulogne "is a fully customisable model thanks to the brand's 'Unique Tailormade' department. Its sleek interior features a suede or black Alcantara on the bulkhead and door panels." Much of the design and engineering work has been done on the car by QEV Technologies, a company specialising in the development of electric motors and motorsports.
How much? A healthy €1.65-million (plus any local taxes)_for a car from a car maker that no-one, except for obsessive Matchbox collectors, remembers very much. Delivery will take 12 months from order, which should give you some time to mull over just how much money you've blown on it. The five Boulognes scheduled to be built, by 2022, will bring the total number of Carmen cars made to 19.