Five reasons why the Mazda MX-5 is great
A session at Silverstone and drives in all four generations of Mazda's seminal MX-5 roadster have us purring.
The Mazda MX-5 will be 30 years old next year.
Hard to believe, eh? But Mazda has indeed been making its two-seat, rear-drive roadster since the last year of the 1980s. It was originally rather sneered upon, at least critically, because it was an almost carbon-copy of lightweight European roadsters of the 1960s; the most famous car used as a template by Mazda was the Lotus Elan S1-4, built between '62 and '75. However, said sneering critics then drove the MX-5 and all was forgiven.
More than one million MX-5s have been sold since 1989.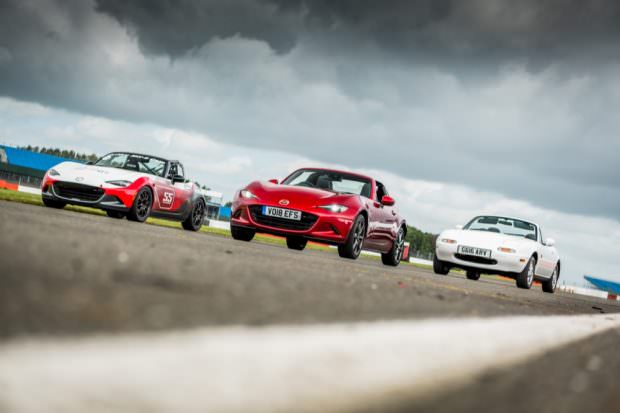 There is only one more sports car in history, no matter what its shape, which can match the MX-5's achievement – and that's the Porsche 911, which first appeared way back in 1963. It didn't hit the million milestone until 2017, a production period of 54 years. The MX-5 took precisely half that time, the millionth model (a Mk4) rolling off the assembly line in 2016, 27 years after Mazda starting building the things.
It's brilliant across all four generations it has existed.
Mazda UK gave us the chance to sample a 1990 Mk1 with a 1.6-litre engine, a 2003 1.8-litre Mk2 in 'Angels' special edition guise, a 2.0-litre Mk3 25th Anniversary Edition (what price a 30th Anniversary in 2019?) and then an array of the current Mk4 MX-5, both in its regular 'Roadster' guise (with a soft-top roof) and in the more eye-catching Retractable Fastback, or RF, model. And, while we wouldn't be rushing out to buy an Angels MX-5, it was hardly a bad car – and the rest of the variants were excellent, especially the light and feisty original, with its rev-happy 1.6-litre engine, and the current car. Which neatly brings us onto…
There might be more special models than there are seconds in the day, but they're usually superb.
Among the Mk4 MX-5s on offer at Silverstone's Stowe Circuit were two new 300-off limited editions of the Mazda. One, the Sport Black, is based on an SE L 2.0-litre RF, and is little more than a styling exercise that paints some of the car's exterior details in, yes, you guessed it, black – oddly, the Sport Black RF comes exclusively in a blue paint, though. The Z-Sport, however, is well worth checking out. Not the first time this badge has been used on an MX-5 (there was a Z-Sport Mk3 in 2007, of which 400 were made), this time around is sees the limited-slip diff-equipped Sport Nav transformed with some lovely black BBS alloys, while there's grey paint and a cream-coloured leather interior – complete with numbered plaque saying which of the 300 you're sitting in – to revel in. Strangely, despite there being minimal mods to the Z-Sport's underpinnings, it felt the liveliest Mk4 MX-5 we've yet driven, with a lovely balance and a little more steering feel than we've experienced previously. Shame there's no guarantee any of the 300 Z-Sports will come to Ireland, then.
The 2.0-litre Mk4 MX-5 is about to get more power.
Shortly after this event, Mazda announced it is revising the Mk4 MX-5 with some visual amendments… and a heap more power for the 2.0-litre Skyactiv-G engine. Its output leaps from 160- to 184hp, which is a huge gain on an engine that doesn't have any sort of forced induction to play with. Torque also goes up, although only marginally; it's now at 205Nm, instead of 200Nm on the outgoing machine. Imagine what the Z-Sport would have been like with the 184hp engine fitted…