Nine reasons why we adore Honda (and they're all old cars)
A chance to drive an array of Honda's past masters has us more in love with the world-class Japanese engineering gurus than ever.
Honda, Japan's foremost automotive engineering genius of a company, invited us out to Spain to drive some of the cars that have made the company great over the years. From city runarounds to mid-engined supercars, from family hatchbacks to early SUVs, from crisply-styled coupes to advanced hybrid machines, and from hardcore sports two-doors to high-revving, rear-drive roadsters, this astonishing company really has an amazing breadth of talent. Here are nine cars we drove, in the order we drove them, and what an array of brilliance it was…
1. Honda NSX 3.0-litre V6 automatic: 1990, 256hp, 0-100km/h in 7.5secs, top speed 260km/h.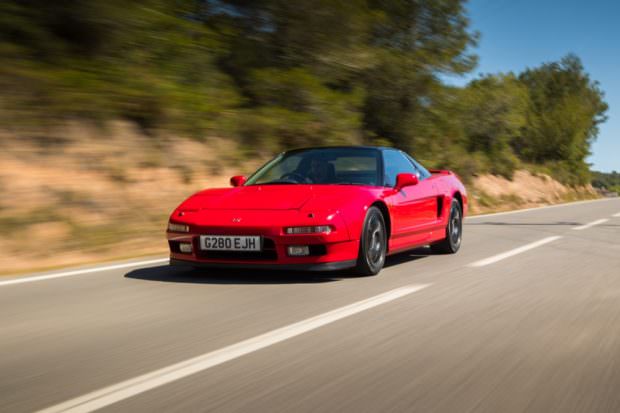 Start the day the best way, with Japan's first supercar. The Honda heritage example is a very early automatic model, which is emphatically not the NSX at its finest – the four-speed unit, later dubbed F-Matic (but most people retrospectively refer to all self-shifting NSXs as F-Matics), is not only as slow-witted as you'd expect of a near-30-year-old torque converter, but it also necessitates the NSX's 3.0-litre V6 to be de-tuned from 270- to 256hp – meaning this supercar's 0-100km/h time was actually slower than the next model down Honda's line-up in the early 1990s, the fourth-gen Prelude 2.2Si VTEC (7.1 seconds).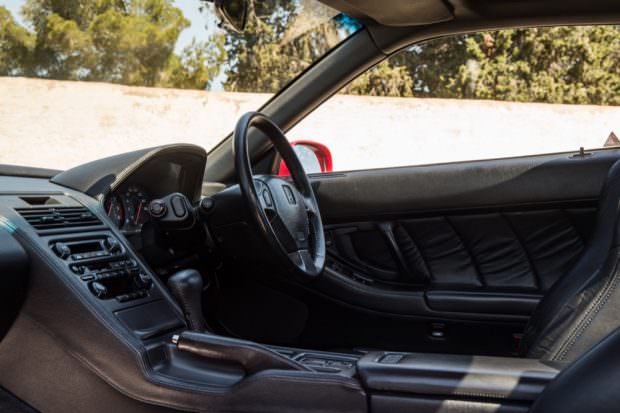 However, while the F-Matic will never win the hearts of the motoring cognoscenti – and while it's somewhat underwhelming to drive, especially if you've sampled a later '90s/early '00s 3.2-litre manual model, which feels a whole galaxy quicker than the auto – there's no doubting how special the NSX feels. Its engine sounds terrific when 'VTEC just kicked in, yo', the chassis is an absolute peach and there's still something special about its low-slung seating position with a view out over that ground-hugging bonnet.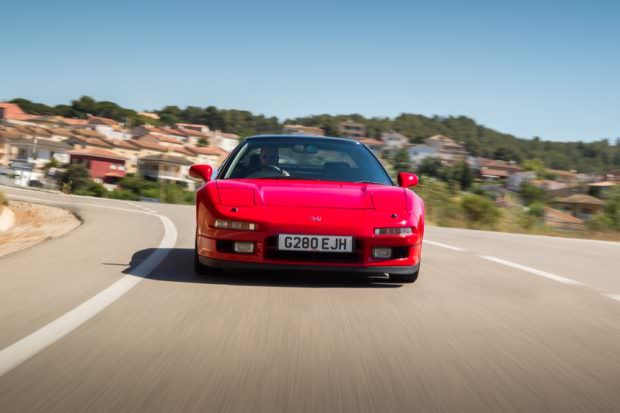 Oh, and for added cred, this red example is not only the oldest surviving right-hand-drive NSX in western Europe (and probably anywhere on the planet, bar its homeland of Japan), but a certain someone once drove this very car, albeit briefly.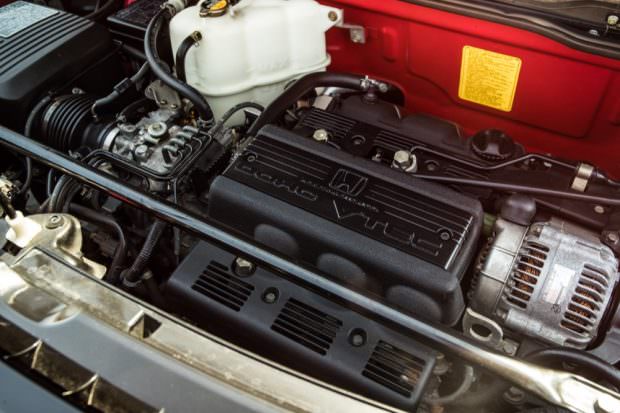 Someone who is intrinsically linked with the NSX legend. Someone Brazilian. Who went by the name Ayrton Senna. Oh yes. Even the late, great man's nephew, Bruno Senna, has signed the underside of this NSX's rear engine bay/boot lid. A very, very special car, then. Gearbox and performance excepted.
2. Honda Prelude 2.0 EX (3rd gen): 1989, 114hp, 0-100km/h 9.8secs, top speed 188km/h.
What a glorious machine this is. The interior is resplendent in grey velour and even greyer plastic. The dash is simplicity itself. The seating is 2+2, but probably better able to actually take two people in the back than far physically bigger 2+2s of the modern day might be. It has a decent boot. And pop-up headlamps. Don't forget the pop-up headlamps.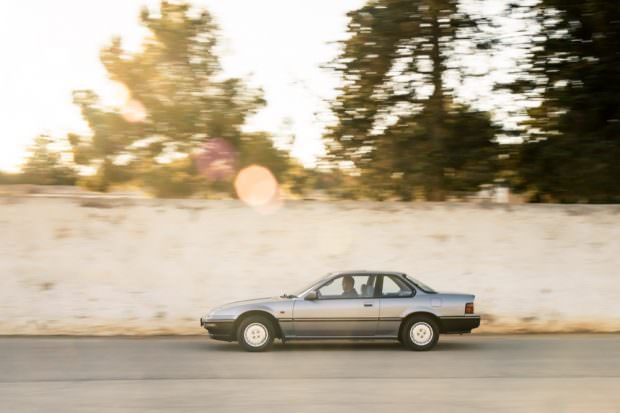 If it sounds like we're waxing lyrical over nothing special, allow us to further fuel your fire. This 2.0 EX model is not even the high-performance third-gen Prelude; the injected versions had 150hp, whereas this twin-carbed entry-point version made do with a mere 114hp. And those grander 2.0i models also had the Prelude's party piece of four-wheel steering, which… the carbed version does not.
And yet trying to describe how beautiful the Prelude EX was to drive is hard to explain. Oh, it's not fast; it's several postcodes removed from fast, in all honesty. But the engine is so sweet and tractable, the steering is feelsome and perfectly judged, the visibility out is magnificent and the five-speed manual gearbox is an early exponent of Honda's unrivalled ability to get a shift mechanism absolutely spot-on.
So while you don't race around the place on the door handles in the Prelude EX, you do drive it reasonably briskly – its sharp handling and light weight allow you to carry the maximum of momentum through corners – and you get a feelgood factor from it that some much more powerful hot hatchbacks of today would absolutely kill for. And then you flash your headlights to let someone out of a side turning, the pop-ups do their ultra-reliable thing (no failing system from the Japanese here, leaving one lamp up and one down) and your heart melts just that little bit more for the Honda…
3. Honda CR-Z GT: 2010, 122hp, 0-100km/h 9.9secs, top speed 199km/h.

Between 1983 and 1991, Honda built a lovely, wedge-shaped little coupe called the CR-X, across two generations (we'll overlook the ensuing CR-X del Sol of 1992-1997, for now…). It was never terrifically powerful but with up to 150hp in a body weighing nothing more than a tonne, the CR-X became a cult classic – and, if we're being hyper-picky, its absence from Honda's current heritage fleet is extremely conspicuous.
After the less-loved del Sol successor died off in 1997, the CR-X nameplate was retired. And then Honda decided to have another go at the small, Kamm-tailed coupe in 2010. Deciding that a fancy-pants hybrid was the way to go, thus the CR-Z was born. It looked like a modernised CR-X, but it took its inspiration from the company's hybrid Insight models (see below), pairing a modest 1.5-litre litre engine with Integrated Motor Assist, or IMA. Power was only 122hp but the idea was to provide a stylish, affordable and fun coupe, not a road rocket out of the reach of the masses.
As the most modern car driven on the day, the CR-Z feels wonderful in many respects. Its futuristic cabin, equipped with mod-cons, looks and feels decades apart from anything else here (even the S2000, whose cabin architecture is rooted in 1999), and the way it drives is wonderful.
There's more than enough performance for its diminutive frame and the calibration of its major controls is superb. Indeed, the more you drive it, the more you realise it's a fluid and balanced performance car, even if its performance is relatively mediocre only eight years down the line. Hybrid it might be, but the CR-Z is an electrifying little corker.
4. Honda Civic 1.2 Deluxe: 1975, 50hp, 0-100km/h 15.1secs, top speed 145km/h.
Apart from the Corolla, there's no hatchback longer serving than the almighty Civic. Through ten generations and more than 40 years in production, it has grown and evolved to the point that the current hot model has 320hp and can do close to 170mph flat out.
Some distance from this little darling, though. Although it predates it by several years, the original Mk1 Civic was about the size of an early Ford Fiesta, rather than the Focus-sized vehicle it is today, and this precise yellow Deluxe model starred as the photography vehicle for the first Honda UK brochure ever produced. Only available on a shorter test route that allowed us an amble into a nearby town and back, it was nevertheless one of the most stand-out cars of the day.
It's everything about it, of course. Most of which comes about through nothing more notable than the passage of time. Old cars are simply alluring in a way modern machines can only dream of, yet we can't imagine the tenth-generation Civic inspiring as much lust in journalists 43 years down the line from today as the original did in us on this event. From its impossibly thin-rimmed steering wheel to the tiny clock mounted all the way over on the passenger side to the plain instruments and the slender column stalks, it's an interior that oozes personality.
And the drive is lovely too – you'd be surprised how perky a mere 50 horses can make something which weighs less than a tin of Heinz baked beans feel, and there's a sense of marvelling wonder at the thought of how reliable this motor would have been back in the 1970s, when European-built cars broke down on an almost hourly basis. No wonder we took this Japanese company to our hearts when the early Civic is as dear and dependable as this primrose beauty.
5. Honda CR-V 2.0i ES: 1999, 128hp, 0-100km/h 10.5secs, top speed 174km/h.
Now here's a vehicle that – if we're honest – we'd dismissed as 'filler' at the start of the day, a machine to be avoided. With the NSX, S2000, first-gen Civic and Integra Type R all in the mix, not to mention the Insight and CR-Z (oh… we just did… sorry) knocking about, a champagne-coloured pensioner chariot was hardly going to be anything to drool over.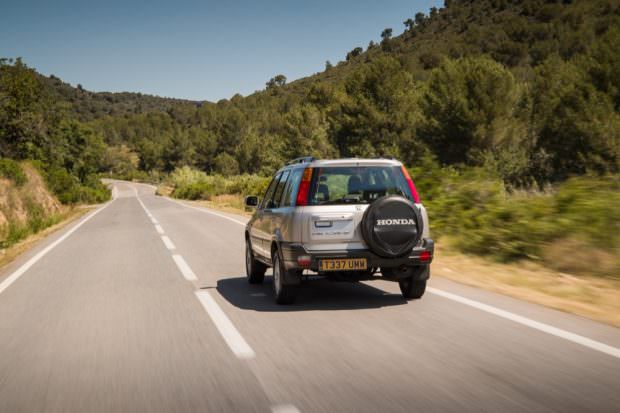 How wrong we were. The CR-V is one of those cars that's a damned fine example of the mockery of Nissan's claim to inventing the crossover malarkey with the Qashqai in 2006, because Honda got in with this original CR-V way back in 1997. OK, the CR-V had proper four-wheel drive, so it's more of a compact SUV than a crossover, but it made Land Rover-like ownership possible at a much lower price point, as well as being massively more dependable than anything British and 4WD.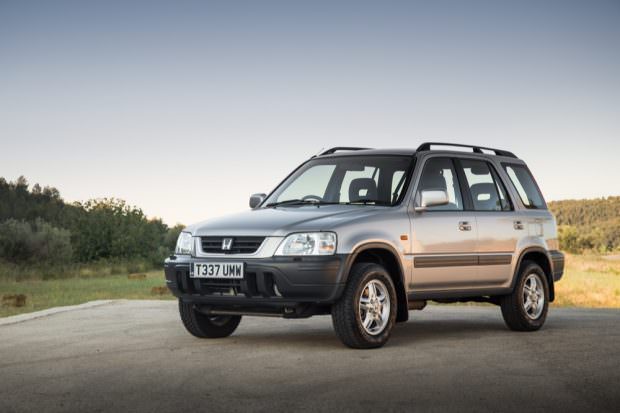 No one really took to it in their droves when it was new, nor did it win glowing critical appraisal, but the CR-V is a fantastically unpretentious bit of kit. The cabin is plain and simple, the interior is vast and spacious – and has some weirdly attractive herring-bone velour upholstery – and it drives so, so crisply, too. The ride is supple and cosseting in a way that vehicles today, with their fancy adaptive dampers and air suspension, can get nowhere near to replicating.
All the controls are light and while we're not about to say the CR-V 2.0i SE is a road-ripping missile that'll turn B-road drives into rapturous experiences, it is nevertheless a no-nonsense, day-to-day SUV, of which you could well imagine living happily with this 1999 example today and having no complaints. Try saying that about a boggo Renault Captur in 2037…
6. Honda Integra Type R (DC2): 2001, 190hp, 0-100k/h 6.7secs, top speed 233km/h.
When we turned up at this event, we wanted to find a hidden gem, we wanted to come away with what looked like an intellectual and considered decision that wasn't just 'the best car on the day was the white one with the big spoiler and the shouty engine and the divine chassis'. Seriously, we mean, it's like having a 'whodunnit' that features a room with ten murder suspects in it… and one of them is covered in blood and guts, holding a knife and shouting 'I'm glad I killed the bugger!'. It's kind of obvious what the outcome is going to be.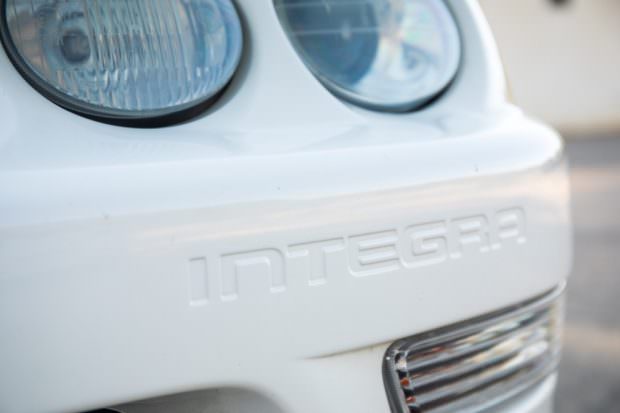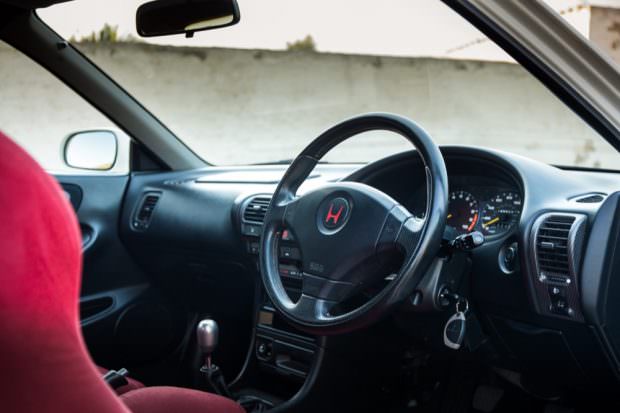 Sadly, the sheer coruscating brilliance of the Integra Type R, or ITR DC2 in proper Honda-fan-speak, rather made for the blatant conclusion: it was the shiningly best car, among a sea of excellence, on the day. It's just every little detail of it. The restrained aggression of its looks, resplendent in oh-so-cool Championship White (THE Type R colour). The minimalist perfection of the interior, with its bucket seats and exemplary driving position.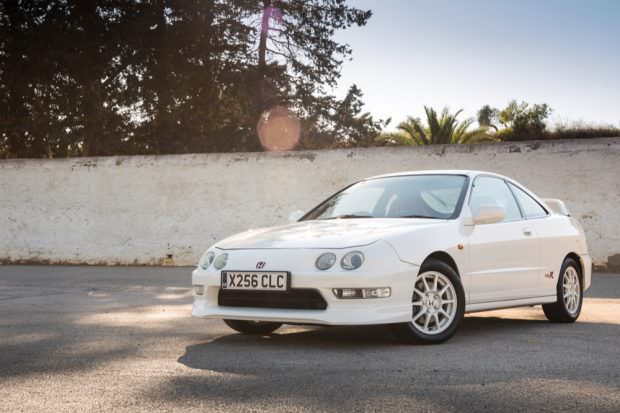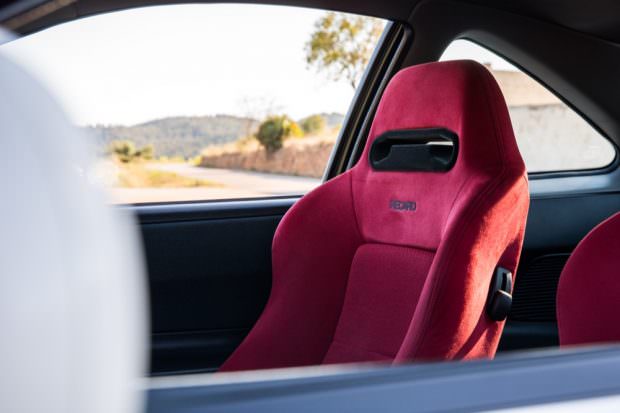 The snick-snick action of its super-tight and glorious six-speed manual, one of the greatest transmissions in the history of the world (and yet, not the best on the day…). The screaming magnificence of the ITR's manic 1.8-litre 'B18' VTEC engine. And then the chassis. Oh, the chassis! For a brief, brief 'maximum attack' blast along a sinuous road, there was no car in the world we'd have rather have been in at that point than the ITR. It's just mesmerising in its excellence.
Providing an amount of driving thrills that cars costing ten times (and more) as much as the Integra would set you back on the used market, this is a genuine, bona fide, all-time classic machine. And we're not just talking in Honda's own history, either; we're talking about all makes and models. The ITR is bloody tremendous.
7. Honda Civic 1.6i LS: 1995, 133hp, 0-100km/h 10.9secs, top speed 191km/h.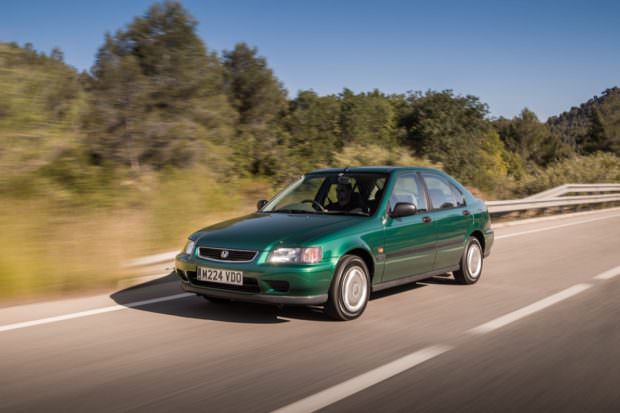 Another car that could have been overlooked was this 1995 Civic. But it's special in a number of ways. One, as a sixth-generation car, it's a good link between the exquisite Mk1 yellow Civic progenitor sat in the corner of the parking lot and the blue Mk10 Civic Honda has brought along for the day. Two, it's one of the first Civics ever built at the Swindon factory over the water in the UK, a trend that continues today. And three, it's bloody in time-warp condition because – as the day starts – it has done less than 200 miles (320km) in its entire, 23-year life.
The thing is, in contemporary reviews of the Civic Mk6 when it was new, it wasn't really highly regarded for anything at all, save for being reliable. It never won group tests and it never won any major awards. It was just 'there', a car to be considered on company car lists and for families who used to have to trudge around multiple car dealerships trying out a variety of vehicles, before inevitably plumping for either a Ford Escort or Opel Astra.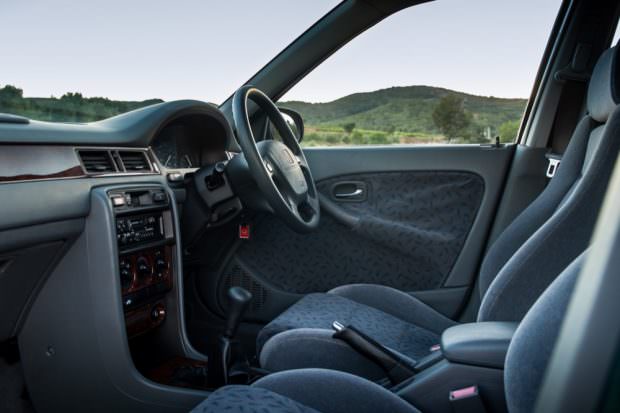 Yet this Civic is another one of those pleasantly surprising cars to drive. Again, it's smooth and remarkably comfortable, proving that what we think is good ride quality these days is actually rubbish. The green Honda just glides along in an unflustered fashion and, sounding like we're repeating ourselves, 133hp in a car as trim as this makes for more than acceptable on-road performance.
Another peachy five-speed manual gearbox and the sort of all-round visibility that moderns can only hope to match makes the Civic Mk6 another compelling used proposition. Or, to put it another way, we drove it immediately after coming in from a buzzing, life-affirming drive in the ITR DC2 and we did not completely forget about the likeable Civic. That's got to say very good things about its genial character, now hasn't it?
8. Honda S2000 Edition 100: 2009, 240hp, 0-100km/h 6.2secs, top speed 241km/h.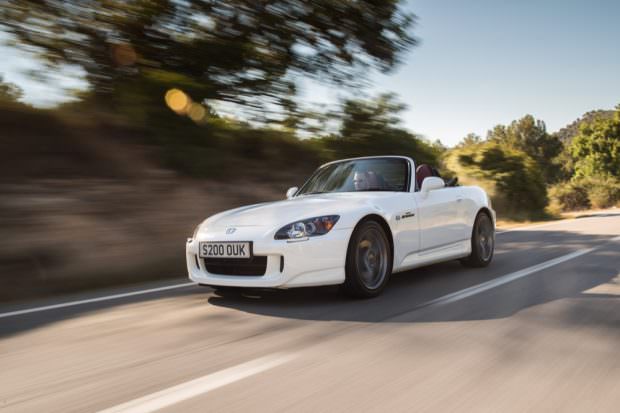 There's a good argument to say the S2000 Edition 100 is the most exotic car available on the Honda heritage fleet driving day. It's comfortably the quickest thing there, knocking half a second off the ITR's 0-62mph time and making the automatic NSX look positively sluggardly. It has the usual, dart-like profile of the S2000 roadster, a sexy, two-seat open-top that Honda began building for itself as a '50th birthday present' in 1999 and which it continued to make, largely unchanged, for a decade. It has THAT 2.0-litre VTEC engine, which revs to 9,000rpm and which made 120hp per naturally-aspirated litre; the highest specific output of any NA engine until the mighty Ferrari 458 appeared, just as the S2000 was bowing out in 2009. And it's an Edition 100, the limited, last-of-the-line run-out models finished in Grand Prix White and commanding big prices on the used-car market.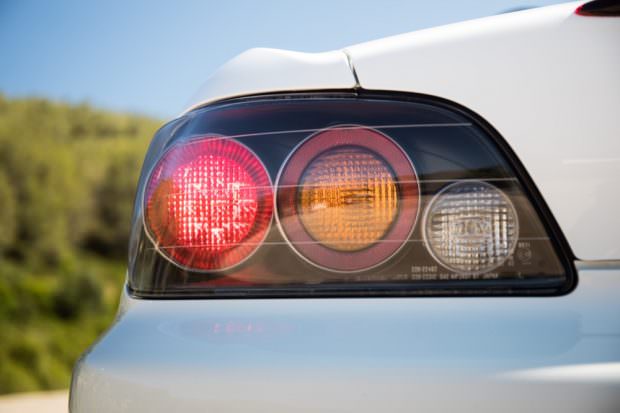 And driving it didn't disappoint. OK, full disclosure (as those US mags say): this writer actually owns a 2004 S2000 GT, so there's a hint of bias here. But the S2000 Edition 100 was a stunner. There has never, ever been a finer manual transmission than this one, in terms of the precision and feel of its shift action. There have been few four-cylinder engines – or engines of any capacity – that sound more spine-tingling than an S2000 homing in on its stratospheric redline. And the X-framed, tough chassis of the roadster makes it an utterly compelling steer.
Oh, sure, it's not perfect – the steering lacks feel and weighting, this later VSA-equipped car has electronics to help it maintain grip (whereas earlier cars relied purely on driver skill…) and could therefore be said to be neutered, and the peaky delivery of the 240hp and reedy 208Nm at a giddy 7,500rpm will annoy some drivers. Undoubtedly, the S2000 is hard work to get the best from and it won't flatter all helmsmiths who get behind its three-spoke steering wheel.
But put in the driving graft and the truth of the matter is this: link it all together and, hood down and that gem of a four-pot engine yelling away in front of you, there are few convertible driving experiences as intense and rewarding as the Honda S2000. It makes a Porsche Boxster look completely flaccid and uninteresting; and how much more praise can we pay it than that?
9. Honda Insight 1.0 VTEC: 2001, 76hp, 0-100km/h 12.5secs, top speed 180km/h.
The Honda Insight Mk1 looks like a sci-fi film from 1986's vision of what personal transportation would look like right now. Finished in eye-catching Citrus Yellow and featuring faired-in rear wheels that make you think, even if very distantly, of a Silk Cut-livered Jaguar XJR-9 pounding round Le Mans in the late 1980s, the Insight was Honda's attempt at out-Priusing the Toyota Prius. And, in true Honda fashion, it was massively more interesting and appealing than the dull-as-ditchwater Toyota.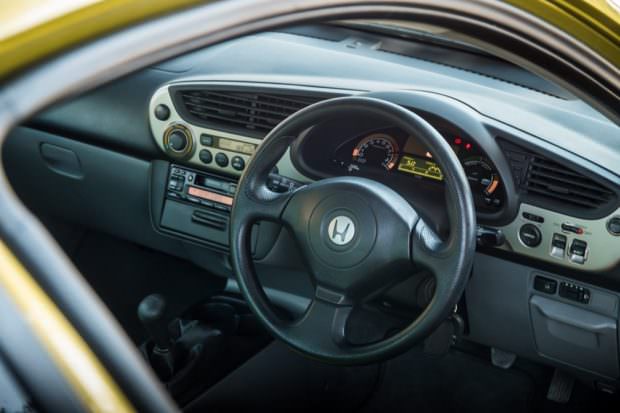 It featured so many things that we see on mild hybrids and fuel-saving cars now; it's merely that Honda was thinking of such features 17 years before they became commonplace. Such as, the sleek, aerodynamic bodywork was made of aluminium. Up front, a 1.0-litre, three-cylinder VTEC engine sips parsimoniously at petrol. A preceding version of the IMA we tried in the CR-Z earlier in the day helps the combustion motor to eke out its reserves, so much so that the Insight Mk1 could claim 83.1mpg and CO2 emissions of just 80g/km; numbers that would be the envy of many hybrids today. And it had a funky-groovy two-seat interior, with plenty of power management dials and lurid seat finishes. It was also, like the later CR-Z, a manual hybrid, and not one saddled with an awful CVT gearbox.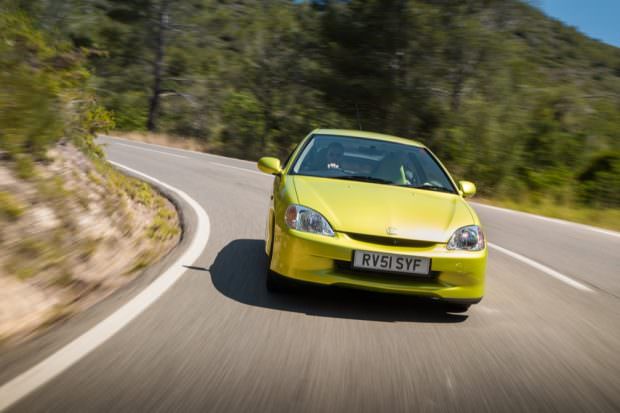 To drive the Insight now is to learn a lesson in the importance of the 'maintenance of momentum'. Even accounting for its tiny size and light weight, it is slow. Like, comically slow. You can keep the throttle pinned in second gear and it will struggle to climb steep hills or make significant forward progress. But the eager chassis, fantastic controls and its lack of mass all allow you to fling it about the place as if it were an e-powered go-kart. And you'll never tire of watching it manage it reserves of battery power to best serve its driver further down the line.
Love it? Of course we did. As we did with all nine cars we drove. The fact the 76hp/83mpg Insight came just 11 years after the iconic NSX mid-engined supercar appeared shows how much Honda has always innovated, how much it has never been afraid to try new things. From the pragmatic city cars to the banshee-like roadsters that sing their hearts out at 9,000rpm, this company has a back catalogue that is fantastically varied and deeply loveable. And it's the reason why it's our favourite Japanese brand of all. Long live Honda, we say.