The Past Is Bright, The Past Is… Orange?
Is there a link between the Mazda MX-5 30th Anniversary Edition's striking colour and the company's most famous race car?
Those of you with an encyclopaedic knowledge of cars will take one look at the Mazda MX-5 30th Anniversary Edition, clock its searing Racing Orange paint, put two-and-two together… and undoubtedly come up with five.
We did. Y'see, surely the only conceivable reason for Mazda clothing its lovely little roadster in such a searing shade of paint has to be a link to the mighty quad-rotor 787B, which took overall victory at Le Mans in 1991. The only non-piston-engined car to win at the Circuit de la Sarthe in the event's 87 heralded editions. A shrieking banshee of a Group C racer that's enough to make grown petrolheads go weak at the knees, purely at mention of its prosaic alphanumeric name.
If you're even cleverer, you might remember that Mazda UK – in order to celebrate the 787B's tremendous success – decided to mark that auspicious victory by creating 24 examples of the Mk1 MX-5 in the same green-and-orange, diamond-pattern 'Renown' livery as the rotary-powered Group C race car, fitting a BBR turbo to take power to around 150hp and then selling them as the MX-5 Le Mans (well, of course) special edition. In the end, only 22 were made and they're hugely desirable on the second-hand market these days.
But, sadly, neither of these cars are the inspiration for the MX-5 30th Anniversary Edition's dayglo appearance. Instead, it's much simpler than that: MX-5 'ND' customers, previously offered just a palette of rather subdued hues (albeit, we'll defend Soul Red Crystal to the hilt…), demanded that Mazda gave them something a little more eye-catching. And, as the 10th Anniversary, 20th Anniversary and 25th Anniversary Editions (blue, white and then red) all got their own special colours, Mazda thought the 30th AE would be the perfect time to satisfy customer demand while continuing the Anniversary Edition heritage of bespoke warpaint.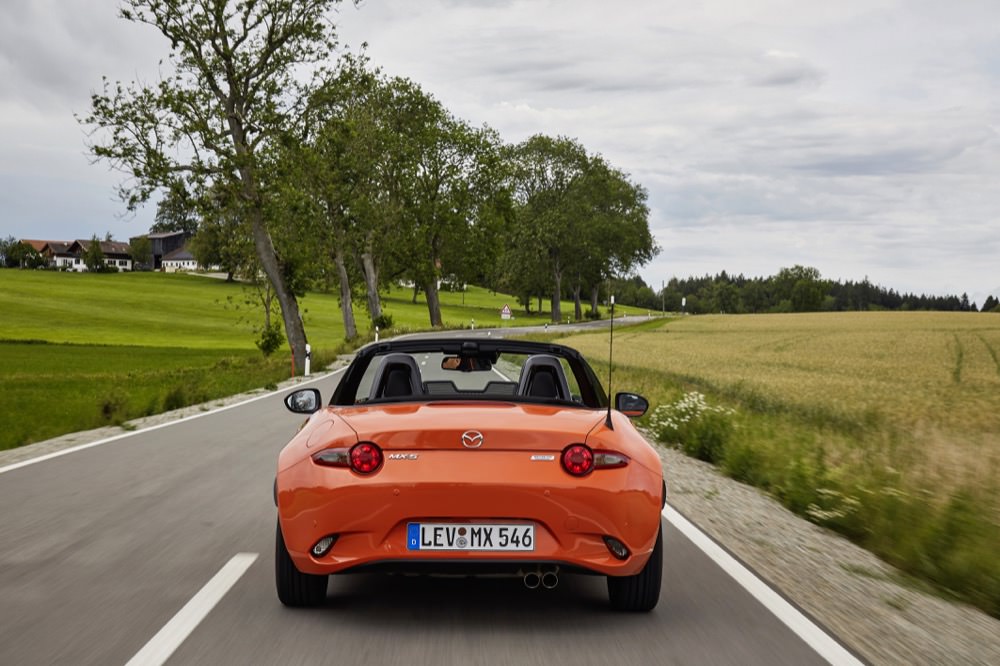 However, if you're sad about the Racing Orange paint having nothing to do with Mazda's most famous racing exploit in a (part-)orange car, don't fret. First of all, the MX-5 30th Anniversary Edition is a 2.0-litre 184hp model underneath, which means it's bloody brilliant to drive. And we mean bloody brilliant; if you're still wondering if the 1.5-litre 132hp engine has a chance against this, let us assure you it doesn't. The new 2.0-litre engine is an MX-5 no-brainer.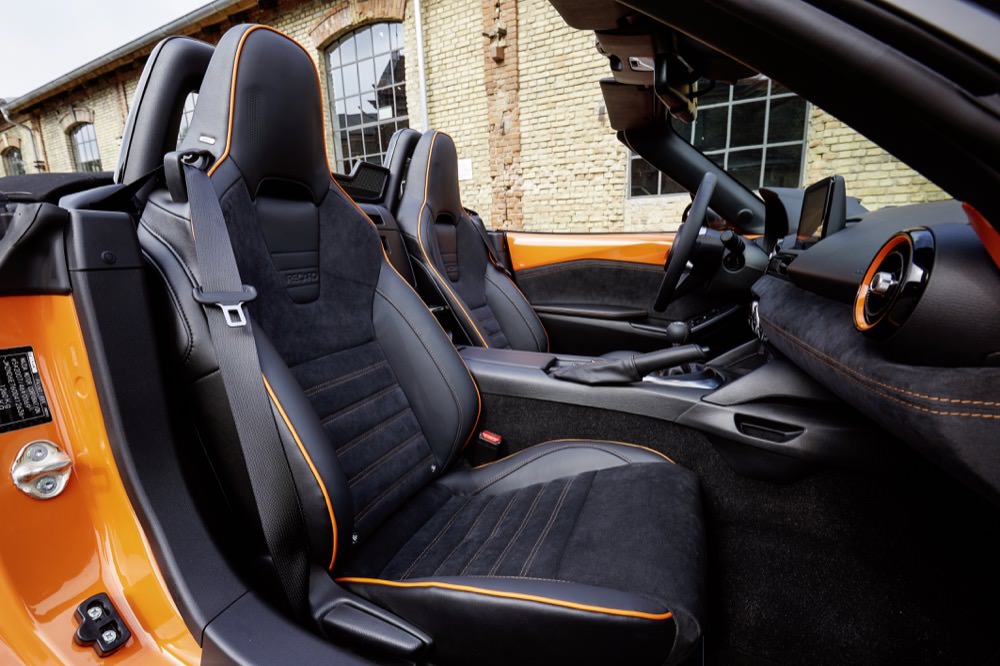 Secondly, just 3,000 will be made for the entire planet, with only modest allocations of up to 550 for various key markets ensuring the 30th AE will be nicely spread out to keep it a rare sight. And thirdly, it looks superb in the orange. No, really. It's an on-point colour right now and one that suits the dramatic styling lines of the ND MX-5; complemented, as it is, by gunmetal 17-inch Rays alloys, orange brake callipers (Brembo items on the front axle, Nissin at the rear) and an Alcantara-drenched, orange-stitched interior that feels just a touch more special to sit in than a regular MX-5's. Also, Racing Orange will be exclusive to the 30th AE, so you need to buy one of these specials if you're one of those MX-5 customers who was demanding something a little brighter.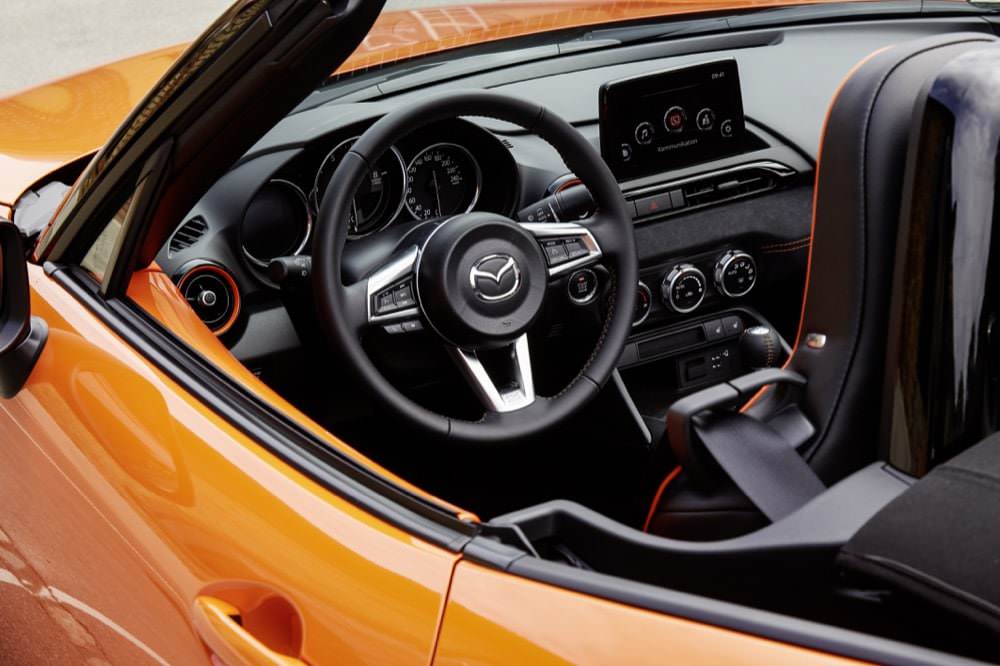 Mind, we can't help wondering what it would have been like had Mazda gone utterly mad and shoehorned a rotary under the bonnet of the MX-5 30th AE, for proper high-revs insanity and the like. We can but dream, eh?
Click here for a full review of the new Mazda MX-5 30th Anniversary Edition