BMW CE 02 confirmed for production
The BMW CE 02 is a genre-busting electric bike that's perfect for urban life and comes with two battery options.
The BMW CE 02 will target a whole segment of the market for the German marque when it goes on sale, further expanding the company's fully electric range. It remains remarkably similar to the Concept CE 02 that debuted last year, in much the same way as the CE 04 did. 
BMW says it is neither an e-motorbike nor an e-scooter, coining the term eParkourer, so expect to see people riding them throughout cities and urban centres in the coming years. Featuring a highly functional design, the CE 02 is stripped back and uses only the essential items with a clear focus on robustness. 
The frame, wheels, front fender and triple clamp fairing are all black, with designers using a granite grey metallic matt paint for the engine cover. Beefy front forks are anodised in gold. Its frame uses a tubular steel double-loop design, with a single-sided rear swingarm and a directly pivoted shock absorber. 
Two versions of the CE 02 are available 
BMW intends to sell two versions of the CE 02, with a lower-power version aimed at riders from the age of 16 (in some countries, riders as young as 15 can ride it with an AM license). That 4 kW (5hp) version has a top speed limited to 45km/h, and as it uses only one of the two battery packs, it weighs less, at just 119kg.
The more powerful BMW CE 02 uses two removable 1.96kWh batteries, providing a top speed of 95km/h thanks to its 11kW (15hp) and 55Nm output and has a riding range of more than 90 kilometres. Acceleration is brisk, travelling from 0-50km/h in 3 seconds. The additional battery packs bring the total weight up to 132kg. A low seat height of 750mm also makes the CE 02 very manageable for most riders.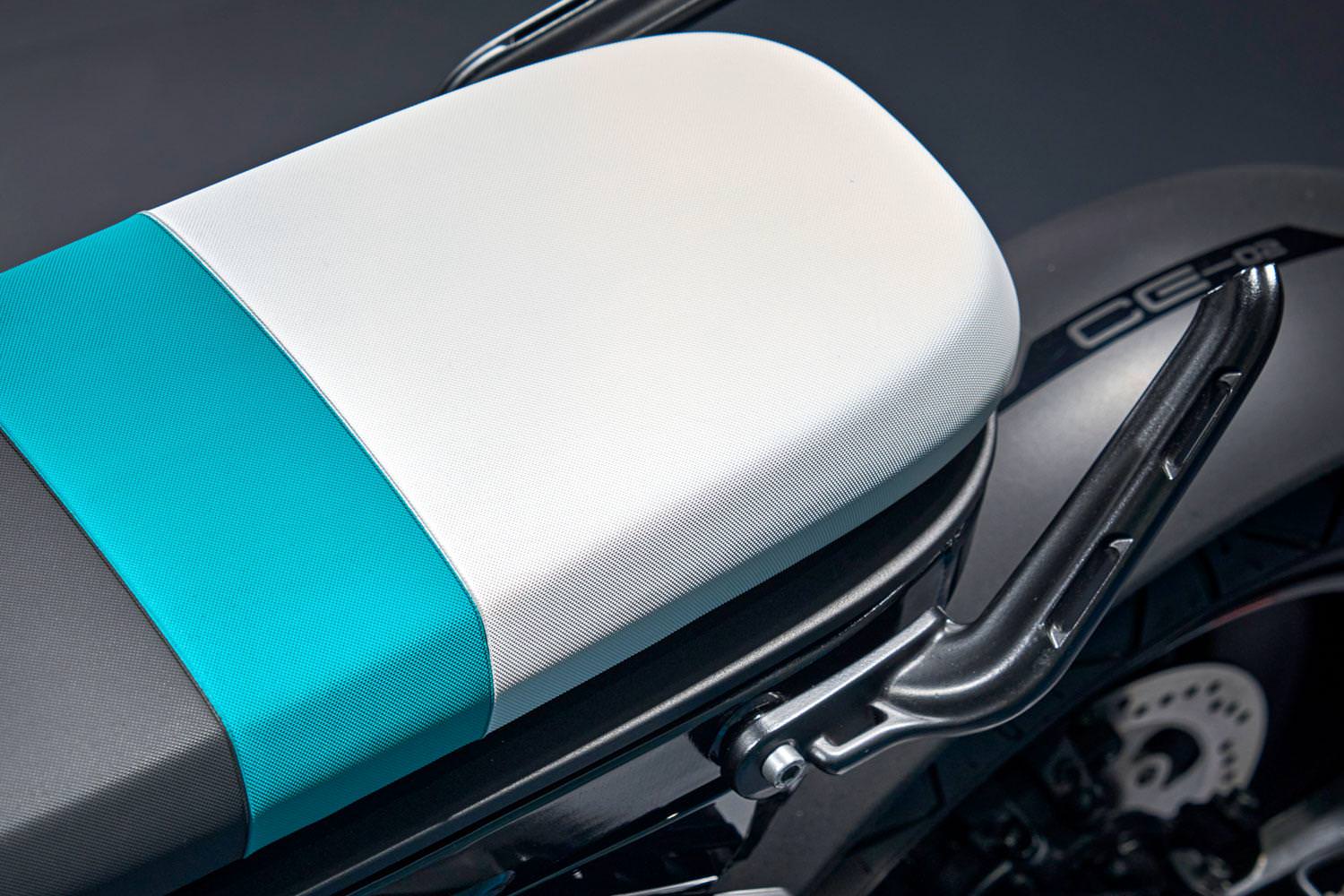 Two riding modes are available, Flow and Surf. In the Flow mode, the CE 02 delivers an optimal set for cruising along with a softer throttle response and medium levels of energy recuperation. Switching to Surf mode sharpens the throttle response for a sportier ride and zero recuperation, allowing the bike to sail along. An optional Flash riding mode comes as part of the Highline and provides a responsive, sporty and dynamic riding experience. 
For added convenience, the CE 02 has a 0.9kW external charger that can plug directly into a domestic wall socket, removing the need for a dedicated charging wallbox. A faster 1.5kW charging option is available with the Highline version in conjunction with the 11kW model. That can recharge the battery from 20-80% in 1 hour 42 minutes. 
The battery status and other riding information are on a 3.5-inch TFT display, and riders can charge their phone thanks to a USB-C socket. A BMW Motorrad Connected app lets you see your predicted end of charging time, making it easier to plan trips. 
"With the CE 02, we are striving for something new at BMW Motorrad and want to be pioneers once again. Thanks to its unusual proportions and striking graphics, the new CE 02 is an uncomplicated, youthful form of single-track mobility. The reduced design language stands for lightness and fun. The focus is not on utility, but on emotional appeal, riding pleasure and uncomplicated, almost intuitive use," explains Edgar Heinrich, Head of BMW Motorrad Design.