Track-only Maserati Project24 revealed
MC20-based trackday Project24 previews a future for combustion engines beyond 2030.
Maserati is working on a fast car. Well, of course it is. Maserati doesn't really work on slow cars (not since the BiTurbo of the eighties anyway, and that was only slow on average because it kept breaking down…), so it's hardly a surprise that the new Project24 — of which only 62 will be made — is going to be rapid.
It's essentially a very expensive trackday special based on the gorgeous MC20 supercar. Think of it as a Caterham for the very wealthy, and you're getting there. The Project24, which Maserati says will "raise the brand's unlimited performance to a new level of adrenaline on the track", inherits the 'Nettuo' V6 twin-turbo petrol engine from the road-going MC20.
Well, not quite. You see the basic mechanical package of the engine might be the same, but the Project24 gets new turbos, which raises the power output to a whopping 740hp — that's 110hp more than the road-going model.
As with the road-going V6 Nettuno, there's a dry sump (meaning that the oil is kept in a separate tank and pumped around the engine, which makes for a lower centre of gravity) and twin spark plugs for each cylinder. Power goes to the rear wheels via a six-speed sequential racing paddle-shift gearbox.
The Project 24 isn't just an MC20 with the wick turned up for track use; Maserati has gone to town on this one. The double-wishbone suspension gains fully adjustable dampers and fully adjustable anti-roll bars and a 'semi-virtual steering axis', which improves steering precision and stability. Speaking of adjustability, so too are the ABS and traction control systems.
The Project24's monocoque — made of carbon fibre, natch — has been lightened and the car gets fast-reacting onboard air jacks for quick pit stops. Or just for that cool bump-down sensation when you're finished putting new tyres on. Those tyres will be slicks, incidentally, wrapped around special 18-inch rims with centre locks.
Behind those 18-inch rims will be Brembo CCMR carbon-ceramic ventilated racing brakes, which get a bespoke cooling system.
Still not enough for you? How about this: Maserati has had the cheese grater out to pare away as much fat and flab from the car, which given how light the MC20 is, is a bit like asking Chris Hemsworth if he can add just a touch more muscle. Maserati claims that the Project24's kerb weight (or maybe that should be pitlane weight…) is under 1,250kg, giving it a power-to-weight ratio of approximately 1.69 kg/hp.
There's also bespoke bodywork that takes the MC20's already pretty dramatic styling and adds race-spec panels, which Maserati says "pushes the boundaries to the limits, free of the constraints usually seen in a racing car. The result is something never seen before, combining beauty with genuine sporty capabilities to become an instant classic collector's item." Again, duh — that's the whole point. Aero efficiency is also a major point here, and the Project24 gets huge front and rear diffusers and adjustable front and rear wings for maximum possible downforce.
Inside, you get 'a' racing seat because a passenger seat is optional (and presumably depends on the relative stomach strength of your friends or relatives). The pedal box and steering column adjust relative to the fixed seat. There's a six-point racing harness and a multifunction carbon fibre steering wheel that has a built-in digital display. There's also a data acquisition system, and Maserati uses lightweight Lexan plastic for the side windows.
The options list includes a rearview camera, telemetry recording, an in-car camera (to make onboard videos to bore your family to tears), a 'driving performance optimisation display', which presumably tells you when you're driving is bad, and a tyre pressure monitoring system. The fact that air conditioning is standard possibly tells you that this is not quite the hyper-serious, stripped-out racing special that it purports to be.
What's interesting about the Project24 is that it comes at a time when Maserati is rapidly transforming itself into an electric brand. The road-going MC20 will be getting an electric version. While that MC20, and the Grecale SUV, will both come with a choice of electric or hybrid combustion power, the new GranTurismo Folgore will only be sold as an electric car — the first Maserati to forego dead dinosaurs in the brand's long and sometimes torturous history.
The GranTurismo recently took to the streets of Rome ahead of the electric Formula E race this past weekend, wearing only the most minimal of disguises. With Stellantis chief executive Carlos Tavares in the passenger seat, it was a chance both to show off Maserati's new electric four-door coupe (set to go on sale next year) and publicise the fact that Maserati will also enter Formula E with a team in 2023.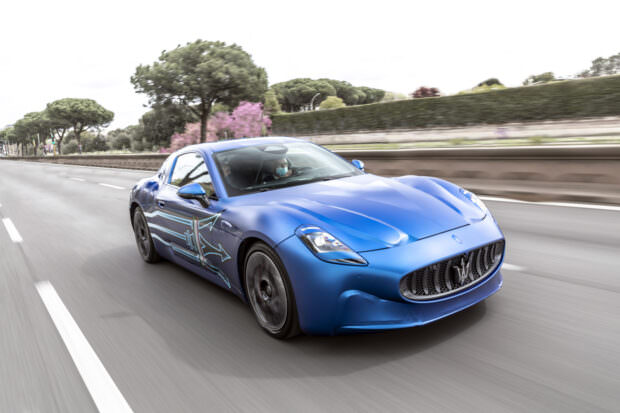 The Folgore badge is the Italian word for lightning, and the GranTurismo will likely be lightning fast — rumour has it that the top-performance version of the car will have as much as 1,200hp from two massive electric motors. That means that it will sit on a dedicated electric car platform of Maserati's design and won't use the flexible STLA platforms currently being developed by Stellantis to use across its multiplicity of brands.
But with all that electric power going on, Maserati won't want to forego powerful, musical petrol engines, or at least not entirely. The Project24 looks to us like not just another expensive collectors' trinket but just possibly a way for Maserati (and others) to sidestep incoming combustion engine bans. After all, those bans only apply (at least as far as the lawyers can work out) to homologated road cars. In the tech spec, Maserati refers specifically to the Project24 as a "two-seater non-road-homologated car."
Does that mean Maserati (and presumably others) is looking at trackday specials such as this as a way to get around the ICE bans? We can but hope, even if you'll have to be (a) very rich and (b) have access to a track to enjoy them. Helpfully, for those lucky enough to be able to afford a Project24, Maserati will offer a unique range of services, including track-specific experiences and state-of-the-art support, exclusively for the owners. So you'll have some friends to enjoy your illicit combustion enjoyment…