The 80s return: Sierra Cosworth back in production
Only three examples of the racing Sierra Cosworth RS500s will be re-made.
It is one of the most indelible mental images in the history of motor racing — a black Ford Sierra RS Cosworth, its rear hatch topped with an outrageously large wing, belching flame from a side exhaust as the driver downshifts for a coming corner. Back in the 1980s, the Ford was king of both the race track and the rally stage, and now it's going back into production.
It's not uncommon for classic cars to be rebuilt 'as-new', whether by dedicated enthusiasts or by the manufacturer that built them in the first place. Aston Martin, in particular, has made a recent habit of rebuilding classic sixties models from the ground up, while there are currently two as-new Ferrari 250 SWB recreations competing for millionaires' disposable incomes.
The Cosworth recreations, though, are a bit different. The fact that a company called CNC Motorsport AWS is building them will mean little enough to many, but CNC was originally set up by engineer Alan Strachan. Strachan was once race engineer for the great Andy Rouse, a 60-race-winning driver and a man who tamed the mighty Cosworth when it was in its original pomp. Working alongside Rouse, the idea is — as Strachan put it to Motor Sport magazine: "recapture the "fire-popping, whizz-banging, hurtling along at a horrendous amount of speed."
Horrendous is about right. While the racing RS500 version of the Sierra Cosworth might have used the same basic 2.0-litre 'Pinto' four-cylinder engine as the road-going model, it was tweaked and tuned out of all recognition. The road car developed 204hp in its highest state of tune (although it would gain an extra 20hp for the later Escort Cosworth). The racing RS500s had at least 500hp, and the CNC-built cars will have 575hp, a power output massaged by legendary Ford engine tuner Vic Drake.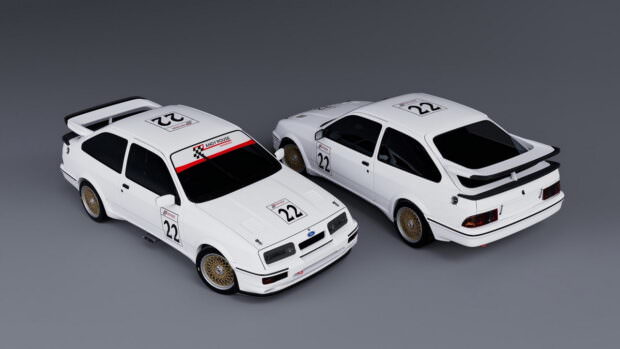 These cars are not recreations in the accepted sense. The three-door bodyshells — codenamed the 909 shell in the original Ford vernacular — are original and found in storage, not rebuilt from the original plans. CNC has one in production and another earmarked, with a third one still under negotiation at the moment. Strachan told 50to70, "We will only ever build three cars. We have had a huge amount of interest in the car."
Sadly for Irish fans with memories of Jimmy McRae's Circuit Of Ireland-winning Cosworths, the cars will be in Touring Car track spec, and there are no plans to kit one out in rally specification. "There is quite a difference between the rally and circuit cars mainly suspension and most notably the engine as the 500 was a homologation evolution which were not allowed in Group A rally."
How much will one of these (track-only, not road-legal) RS500s cost you? STG£185,000, which is lots, but then values for original three-door Sierra Cosworths have been climbing steadily in recent years. If you take it in percentage terms, it is far more so than the values of classic Ferraris and Lamborghinis. Where once, a Sierra Cosworth was a €5,000 clunker, destined to be bought and pointlessly modified by those with more paint and larger exhausts than sense demands, now a good, clean, unmolested original can go for more than €60,000. At one recent auction, a low-mileage RS500 sold for close to €100,000 — a value for a mid-eighties Ford that would once have seemed insane.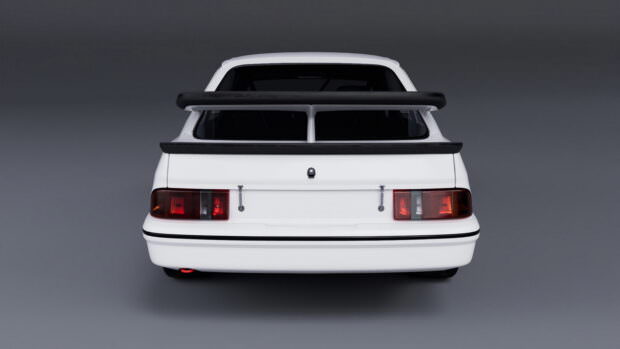 "Demand for competitive Group A machines is rising, enabling access to some of the best motorsport events around the globe for correct cars," says Strachan. "RS500s are great fun to drive, relatively easy to maintain and considerably more affordable to run than the later Super Touring cars. RS500s are also a great draw for the fans that fondly remember these fire-breathing monsters. The cars will be all signed off by Andy, just as we did in period, with the provenance that can only come from the man who engineered and drove the cars to such success."