Audi's Dakar RS Q e-tron undergoes hot weather testing
Audi prepares to hit the desert in one of the world's most gruelling rallies.
Audi Sport has just finished eight days of hot weather testing with its Dakar-bound RS Q e-tron rally car in the hot, dusty conditions of northern Spain.
Having already tested the RS Q e-tron in Germany, the heat and loose surfaces of the test location near Zaragoza provided a more accurate reflection of the desert rallying conditions the Audi Sport team will have to face come January 2022.
With temperatures of over 34 degrees Celsius, the team was able to gain a more accurate insight into how the RS Q e-tron would cope with cooling, always an area of concern with Dakar cars.
On the 17km gravel sections, the car hit a top speed of 180 km/h.
"This test was focused on getting in as much driving as possible and detecting weak spots," development engineer Arnau Niubó Bosch said after more than 1,000 test miles in extremely harsh conditions. "The next test in September will take us into the dunes for the first time."
Audi Sport's three driver teams all took part in testing including rallying legends Stéphane Peterhansel, fourteen-time winner of the Dakar Rally, and Carlos Sainz, twice world rally champion.
Sainz 'really happy' with how RS Q e-tron performed
Peterhansel and his co-driver Edouard Boulanger took the first Friday to Sunday shift; consummate all-rounder Mattias Ekström took the wheel alongside co-pilot Emil Bergkvist for the next two days; on home turf, the Spanish duo of Carlos Sainz and Lucas Cruz completed the trials from Wednesday to Friday.
According to Sainz: "For a first test in proper conditions for the car I'm really happy how the car behaves already. I had a really good feeling straight away. Of course, there is fine-tuning to be done – but the starting point is good."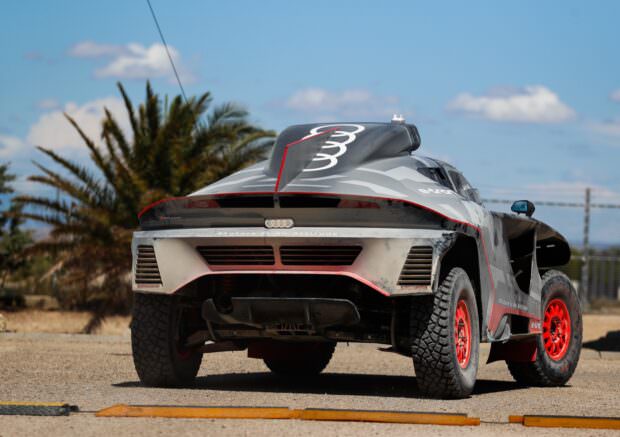 The RS Q e-tron won't be the first electrified vehicle to compete in the Dakar Rally: the all-electric Spanish-build Acciona 100% EcoPowered became the first EV to complete the race in 2017.
Electric powertrains have moved on considerably in recent years, with the Audi Sport team applying technology proven in other racing series.
The RS Q e-tron uses an all-electric powertrain with two motor-generator units (MGUs) derived from Formula E. The battery, newly developed by Audi Sport, is recharged while driving via an energy converter consisting of an efficient TFSI engine from the DTM (German Touring Car Championship) and another MGU.
Formerly known as the Paris-Dakar Rally and running through the western Sahara Desert, due to political instability in the region it has, for some years, been running in alternative locations.
2022, once again, sees the Dakar rally take place entirely within the deserts of Saudi Arabia.