Special Audi R8 LMS GT2 Colour Edition launched
The Audi R8 LMS GT2 Colour Edition features six individual bespoke versions.
We're used to car companies trying to flog us 'special editions' of old cars reaching the end of their lives. Generally, it's a stereo-seats-bodykit-wheels upgrade and is usually accompanied by an excruciating name. Nissan Micra Wave, anyone?
A special special edition
Audi is doing the same thing but also doing it differently. And awesomely. Generally speaking, when we hear that a carmaker is creating an 'Exclusive Colour Edition', we roll our eyes and presume that they had a job-lot of some metallic shade around the back that needed to be used up. Not the case here.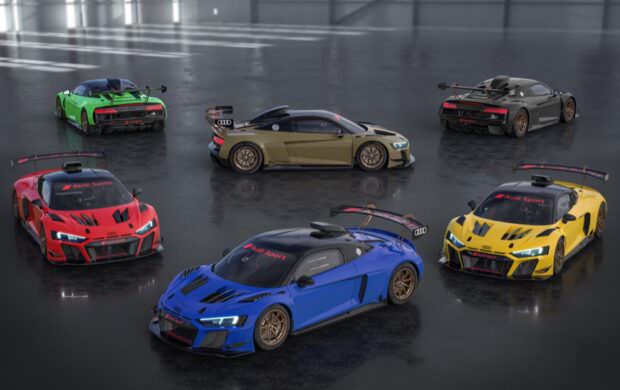 No, this is proper, bespoke, limited-edition stuff. It's not even a road-going Audi, but an Audi R8 LMS GT2. In all, six have been created — each one in an individual colour — to celebrate the first two major victories for the model at Monza.
One model per colour
"For the first time in the 13-year history of Audi Sport customer racing we are offering such a colour concept to our customers," says Chris Reinke, Head of Audi Sport customer racing. "With one model per colour, our Colour Edition guarantees pure individuality and will not be issued a second time like this. It is unique compared to our competitors and attracts attention – whether as a collector's item or as a race car at track days and competitions."
Now, these R8s are not typical, road-going R8s. They are the most powerful versions of Audi's customer racing R8s, with 640hp from their 5.2-litre V10 engines. That was enough power to put an R8 LMS GT2 on the top step of the Monza podium at the first two races of the European GT2 series, on April 17th and 18th.
Built to racing spec
These Colour Edition models will all be based on the regular R8 GT2 racers and use the same aluminium-and-carbon chassis, with a steel roll cage. Taking road-going cars from Audi's main production facility, an Audi Sport customer racing team in Heilbronn-Biberach then strips them down and rebuilds them to the GT2 regulations of promoter SRO (Stéphane Ratel Organisation). Audi will then paint the bodies, made entirely of carbon fibre reinforced plastic (CFRP), in one of six colours — Kyalami green; Misano red; Nogaro blue; Sebring black; Tactical green (our favourite — it looks like military beige); or Vegas yellow.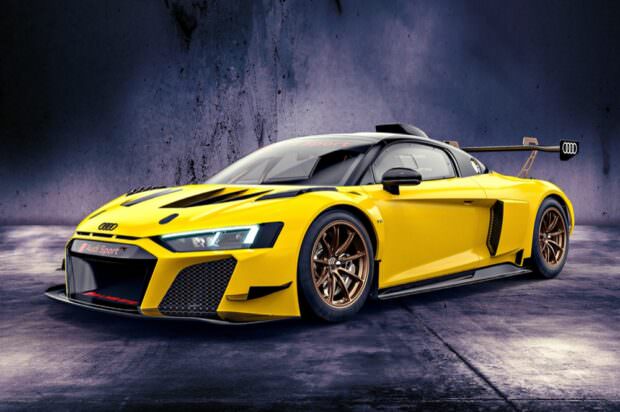 How much will an Audi R8 LMS GT2 Colour Edition cost? A mere €349,000 (plus VAT), each. Oh, and you'll need a race track to run it on.