The Brabus 800 — when an AMG is no longer enough
The new Brabus 800 gets an uprated V8 to produce an E-Class that has an incredible 800hp and 1,000Nm of torque.
For anyone who has just bought a 4.0-litre twin-turbo V8-engined Mercedes-AMG E63 S 4MATIC+ and thought: "Hmmmm… needs more cowbell", well, Brabus is here to provide all the cowbell you need.
Based in the German town of Bottrop, just outside the big industrial centre of Essen, Brabus has been providing discreet (and less-than discreet) modifications for hot Benzes since 1977. While Mercedes bought fellow tuning firm AMG and turned it into its performance brand, Brabus is still independent, albeit an independent that gets a steady stream of nod-and-wink approvals from Mercedes.
This time Brabus has excelled itself. The world may not have realised that the hero we both need AND deserve is an E-Class saloon with 800hp, but here it is — the Brabus 800.
With its big 'B' badge, multi-toothed grille, and some menacing-looking bodykit, the 800 looks like Darth Vader's latest PCP purchase. Many of the extra styling components are 'naked' carbon fibre, which can be optionally matte or gloss-finished. At the same time, add-ons such as the front splitter and rear boot lip spoiler provide genuine reductions in high-speed lift and extra stability.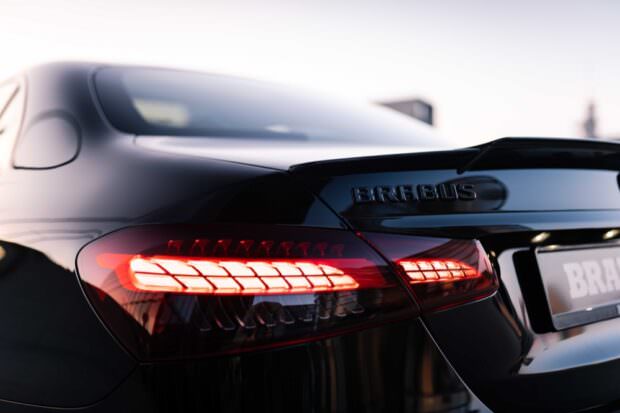 You're going to need all that because this is an E-Class that can get from standing still to the N-road speed limit in 3.0secs. That's because Brabus has taken the standard 4.0-litre twin-turbo V8 and added an extra 188hp, bringing the total power output to a nice, round, insane 800hp. Peak torque is now 1,000Nm (that's an extra 150Nm), developed at a lowly 3,600rpm. Top speed? Electronically limited to 300km/h.
That's all courtesy of Brabus' proprietary turbo design, which uses a larger compressor, a modified core, and reinforced bearings to huff air and fuel into those eight cylinders at 1.6-bar boost pressure. Special carbon air intakes were developed and integrated into the radiator grille on the left and right to supply the engine with sufficient breathing air.
There's also a bespoke Brabus PowerXtra engine control module that helps manage all of that extra power and ensure that the engine doesn't rip itself to shreds. Indeed, Brabus is so confident of its work that everything is independently tested by the TÜV (Germany's standards and accreditation agency) and gets a full three-year warranty.
By way of literally bringing the noise, there's also a unique Brabus exhaust system with four stainless steel and carbon exit pipes that optimise power delivery by reducing exhaust back pressure. On top of that, there's a variable flap in the exhaust which gives the driver the option of a 'Coming Home' mode (quiet, gentle); or a Sport mode (noisy, breaks windows within a 20km radius).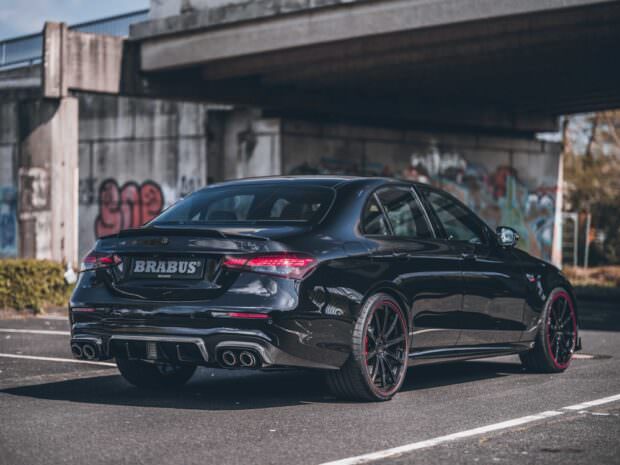 The 800 gets 21-inch Monoblock Platinum Edition' Z forged' wheels which are finished in body colour with contrast pinstriping. The tyres are special 295/25 ZR 21 items supplied by either Yokohama, Pirelli, or Continental.
The Merc's standard air suspension gets a new Brabus control unit, which provides a ride-height lowering by ten or 20mm depending on the selection of the available Comfort, Sport or Sport+ modes.
Inside the Brabus 800, you'll find stainless-steel scuff plates with a backlit Brabus logo that changes colour in line with the interior's ambient lighting. There are Brabus aluminium door pins and pedals as well, along with leather interiors "made from the finest leather and Alcantara." The variety of colours and upholstery designs is practically limitless, says Brabus. On top of that, there are precious wood or genuine carbon inlays, which can also be tailor-made in a wide variety of colours and finishes.