You can now buy a full-size Tamiya Wild One Max for the road
The Little Car Company is making a Tamiya Wild One Max that you can drive on the road.
If you had radio controlled cars as a kid, chances are you have a Tamiya Wild One . It was right up there with other R/C kings like the Sand Scorcher and Hornet. Even today, grown-ups can't help but be excited by a Tamiya box, and now The Little Car Company is launching one that you can get into and drive.
Tamiya Wild One Max specs
You won't be able to stash this Wild One under your bed. Measuring 3.4m long and 1.8m wide, it weighs in at 250kg or 551lbs. That makes it an 8/10th scale and is roomy enough to accommodate drivers between 160cm (5' 3") and 195cm (6' 5").
The Little Car Company uses a spaceframe chassis that runs coil-over suspension on all four corners. Drive is sent through the rears wheels by a 4kW electric motor powered by a 2kWh battery. It has a top speed of The driving range is up to 40 kilometres with a full charge. In true R/C style, there is the option to increase the performance and range of the Wild One Max with modular PowerPacks.
Just like the scale models, buyers can then assemble this car as a kit at home. Owners will even be able to apply full-size stickers just like they did with the R/C version when they were kids. Only this time the sticker sheet is almost as tall as they are.
It can be made road legal
Those who so desire can add a Road Legal Pack to enjoy taking their Wild One Max out onto public roads. In Europe, these kits are designed to comply with L6e and L7e quadricycle legislation or Neighbourhood Electric Vehicle legislation in the United States. The additional parts include indicators, a rear view mirror, reflectors and brake lights.
The Little Car Company previously produced similar small cars like the Bugatti Baby II and Aston Martin DB5 Junior. Company CEO, Ben Hedley, said: As a child of the 80s, developing an almost full-size Tamiya model, which you can actually drive, is a dream come true. We are honoured to be working with the Tamiya team on the project to bring one of their most iconic models to life for a new generation. Because it is still early days in the project, we have the opportunity to include the feedback and feature suggestions from the legions of Tamiya fans out there. We encourage anyone with imaginative ideas and feedback around the engineering of the project to sign up to the newsletter at WildOneMax.com. We can't wait to get these on, and off, the road in 2022!"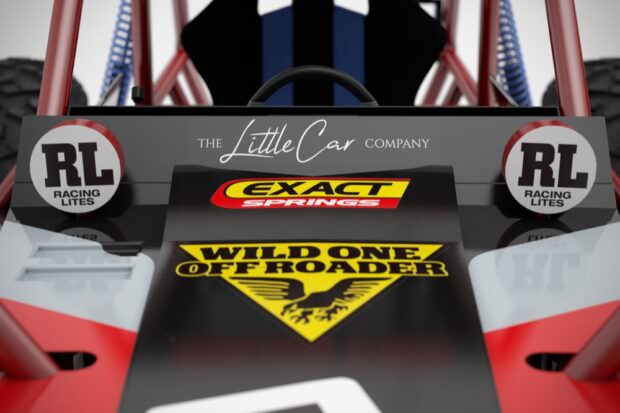 How to buy a Wild One Max
Buyers can reserve a production slot for the Wild One Max through a dedicated website with a £100 fully refundable deposit. All build slots will operate on a first come, first served basis and the cars are due to begin deliveries in 2022. The cost is said to be €7,000 or $8,250 plus local taxes.