SPOFEC Overdose ramps up the Rolls-Royce Wraith
SPOFEC is a division of German tuner Novitec and its latest creation murders-out a Rolls-Royce Black Badge Wraith.
The SPOFEC Overdose is a special interpretation of the rather posh Rolls-Royce Black Badge Wraith coupe. It's part of the well-known NOVITEC group, and the name is a contraction of Spirit Of Ecstasy, the iconic Rolls-Royce emblem.
Black all over
SPOFEC is only going to make three of these cars, and it's gone to some lengths to make sure that it's as stealthy as possible. Apart from the Spinal Tap None More Black paint job and equally light-absorbing wheels, the clever people at SPOFEC have realised that you're less likely to be spotted if your car is crouching down, closer to the ground. Well, we assume that's why the Overdose appears to be sitting on a set of broken air springs. Or possibly the dampers need refurbishing.
The SPOFEC Overdose gets 717hp from a twin-turbo V12
Or maybe it's something to do with the sheer power of the twin-turbo V12 6.75-litre engine creating its own gravity well. SPOFEC has tweaked Rolls' mechanical marvel to a whopping 717hp. Peak torque is — wait for it — 986Nm (produced at just 1,800rpm), so the ordinarily demure Wraith will now hit 100km/h in just 4.2secs.
The power is unleashed by a new' N-TRONIC' engine control unit and some remapping of the injection system, plus an increase in turbo boost pressure. Top speed remains limited to 250km/h.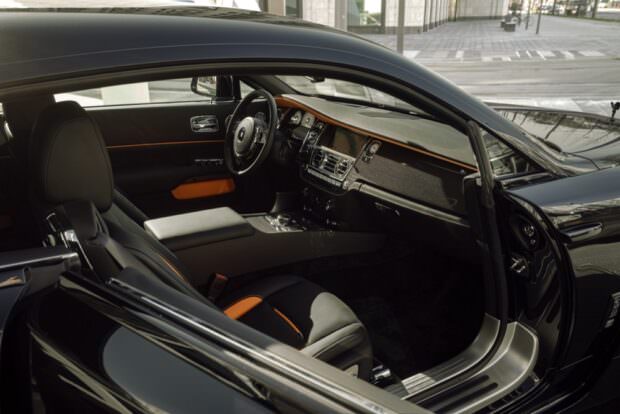 The SPOFEC Overdose is based on Rolls' Black Badge Wraith, and yes, that is specially tuned air suspension that sits some 40mm lower to the ground than standard (well, it does at speeds of up to 140km/h — above that the suspension raises again to give enough ground clearance to cope with high-speed bumps). The bodywork, now made of carbon fibre in many places, has been specially widened and is based on a design by German designer Vittorio Strosek.
SPOFEC Overdose runs on 22-inch rims
Actually, the bodywork is some 130mm wider and wraps around 22-inch rims, with 295/30 ZR tyres. The wheels are made by US company Vossen and have 18 spokes and a jet-black cover for the wheel nuts.
Between the wheel and those swollen arches are unique rocker panels, which wrap under the car and are intended to give it a sucked-in 'Wasp Waist' look. Around the front, there's a new carbon fascia, not just for looks but also to reduce front-axle lift. Balancing that out is a small carbon lip spoiler on the boot.