Brabus boosts power of the Mercedes-AMG A45
Brabus tunes the AMG A45 up to 450hp and tweaks the suspension.
You may not have thought that the already insanely-powerful Mercedes-AMG A45 super-hatch needed any more power. And you'd be right, in general terms. Surely 400-odd-hp in a compact five-door hatchback was already quite enough?
Pah! The power-hungry loons at Mercedes tuning legends Brabus laugh in the face of such timid thinking. What the A45 AMG needs, reckon the engineers from Bottrop, is MOAR POWER!!!
Mechanical and electronic upgrades
And so we have this, the Brabus Performance Upgrade for the A45 4MATIC +. While the Upgrade includes the obvious electronic tuning, Brabus says that it's also about more traditional mechanical work. So the A45's already-heavily-boosted 2.0-litre turbo engine gets a Brabus PowerXtra CPC auxiliary control unit, a special duct for the airbox, and a BoostXtra adapter, which lets the engine produce a sporty blow-off noise like a racecar and which will really annoy any Toyota Glanza owners in the vicinity…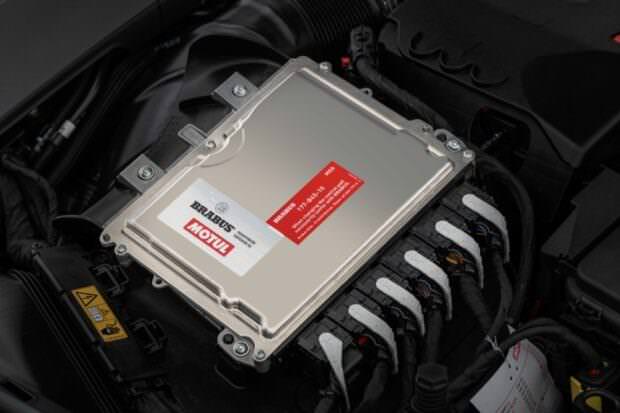 All of which adds an extra 29hp and 50Nm of torque, bringing the A45's totals to 450hp and 550Nm of torque. That's enough to trim the 0-100km/h time to a mildly insane 3.7secs, and give the Brabus version a top speed of 270km/h — electronically limited of course.
Brabus Height-adjustable suspension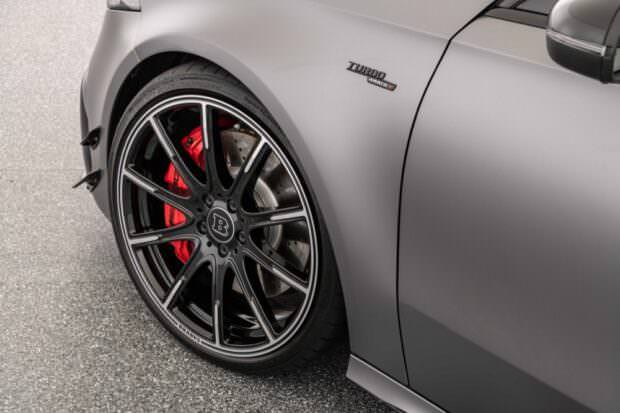 Looks-wise, Brabus pumps up the A45's visuals with tailor-made Monoblock Z 8.5Jx20 wheels wrapped in 245/30 ZR 20 Continental tyres, which have been developed especially for Brabus. There's also special Brabus suspension, which uses adjustable springs so that you can vary the ride height of your A45 by as much as 30mm.
On the inside, there are stainless scuff plates with the Brabus logo, which can be illuminated in 64 different colours in sync with the ambient lighting. Other options include aluminium pedals and high-quality velour floor mats with Brabus logo. You can also choose upholstery from the Brabus trim shop, which the company's upholstery experts can create in virtually any colour and upholstery design.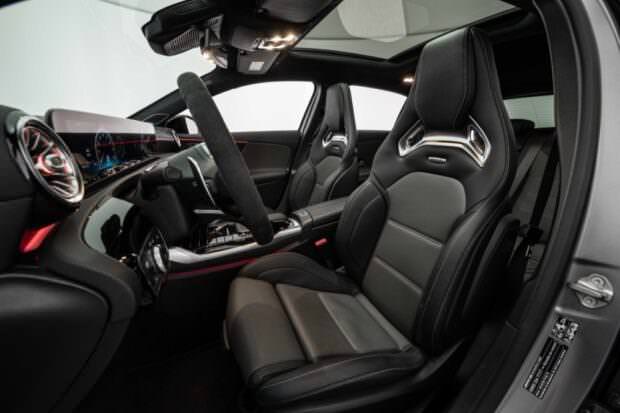 Three-year warranty
Oh, and one other thing — this is no 'grenade' tuned engine that will, almost inevitably, expensively explode after a few months' use. No, thanks to months of testing on test benches, autobahn and racetrack, the Brabus-tweaked engine has passed the stringent TÜV type approval test and comes with a three-year or 100,000-kilometre Brabus Tuning Warranty.
Oh, and if you don't want to go the whole-hog with a monstrously powerful AMG hatchback, Brabus says that it offers all sorts of tuning and tweaking options, from performance kits for virtually all current petrol and diesel models in the Mercedes-Benz lineup, all the way to the mighty Brabus Rocket 900 'One Of Ten' with its incredible 900hp twin-turbo V8 engine.