Brabus Rocket 900 boosts the AMG GT to, well, 900hp
New Brabus Rocket 900 'One Of Ten' model will be one of, er, ten built.
Because obviously, a standard Mercedes-AMG GT four-door coupe, with its mighty 639hp twin-turbo V8 engine, is just not going to be enough. You're going to want more. No, wait. You're going to want MOAR! You need to go to Brabus.
900hp 4.5-litre twin-turbo
Brabus is based in Bottrop, a picturesque town near Essen in the heart of Germany's home of heavy industry, the Ruhr valley. Bottrop is famous for three things. Its 'Movie Park' theme-park (featuring the SpongeBob Splash Bash); the fact that it's twinned with Blackpool, in England; and the fact that it's the home of Brabus — arch-tuners of all things insanely Mercedes.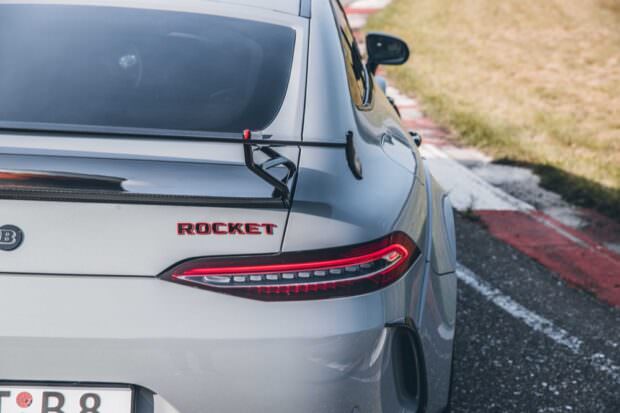 Brabus, which in the past has not been above the slotting of 7.3-litre V12 engines into a C-Class, has decided that the regular (shall we say 'vanilla'?) AMG GT S is just not good enough, and so has decided to cram some chillies up its exhaust. So to speak.
The Brabus Rocket 900 'One Of Ten' may sound like it's a member of The Borg, but with 900hp on tap, resistance probably really is futile. To get to that figure, Brabus has bored-out the AMG 4.0-litre V8 to 4.5-litres, given it a special precision-balanced billet crankshaft with matching pistons and rods, and even increased the cylinder bores a little.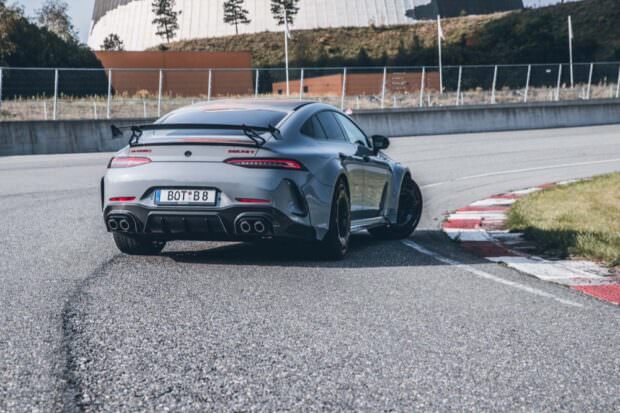 Then, Brabus adds its twin-turbo setup, including turbos with a larger compressor unit than the production components and a special core assembly with reinforced axial bearing. Boost pressure increases to 1.4-bar. There's also an integrated carbon ram-air intake system on the left and right in the radiator grille and a bespoke Brabus high-pressure fuel injection system. The upshot of all that is that 900hp figure, plus 1,050Nm of torque.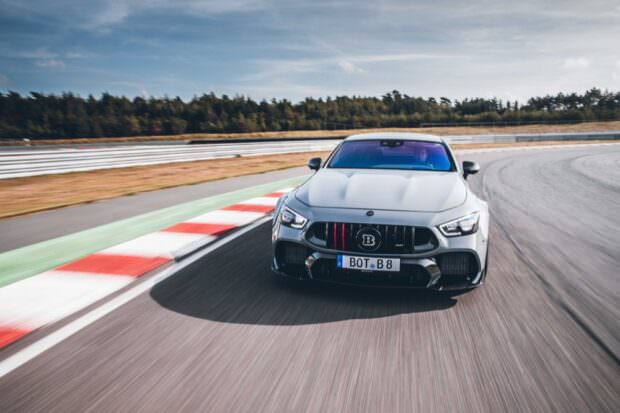 Actually, the engine would develop 1,250Nm, but Brabus trims that a little to prevent the gearbox from turning into a cloud of shrapnel every time you go to the shops. You'll not be long getting to the shops, either — 0-100km/h is done and dusted in 2.8secs, and the Rocket One Of Ten will hit 300km/h, from a standing start, in just 23.9secs. Top speed is limited to 330km/h, just to be on the safe side, mostly because if it went any faster, this 2.1-tonne superweapon would probably melt its tyres.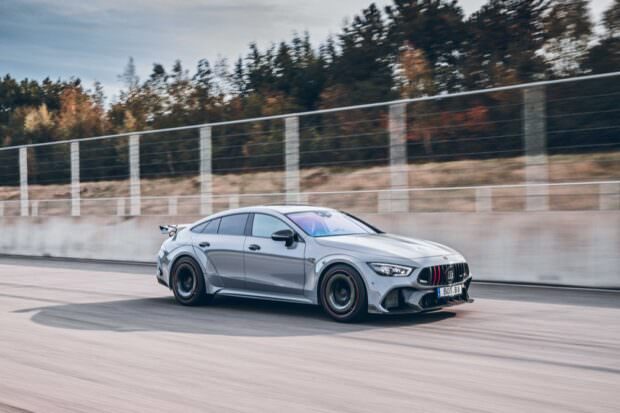 Naked carbon for the Brabus Rocket 900
Wanna know the economy and emissions? 11.5-litres per 100km and 260g/km of CO2, which to be honest isn't half as bad as we were expecting.
All that power goes to all four wheels via the Speedshift MCT-9 dual-clutch transmission and the 4MATIC+ four-wheel-drive system. The wheels themselves are ten-spoke specially forged items, which Brabus says trip a think line between lightness and strength. They're 21-inch diameter on the front, and 22-inch at the rear, and are topped off with aero-friendly covers made from what Brabus calls 'naked carbon.' Steady on, there…
Brabus even gives the Rocket 900 its bespoke air suspension, Brabus Airmatic Sport, which has two modes — Comfort and Sport — and which lowers the car by up to 25mm for superior aero performance. The brakes — carbon-ceramic, natch — have swollen to a massive 402mm at the front, and 360mm at the rear.
Wider, carbon arches
Style-wise, Brabus has flared the AMG GT body out by 78mm, adding custom-made carbon-fibre wheelarches, with Kevlar linings. The front end has been redesigned with more air-intakes to feed the massive brakes and that hot engine, and there's a new chin spoiler to reduce front-end lift.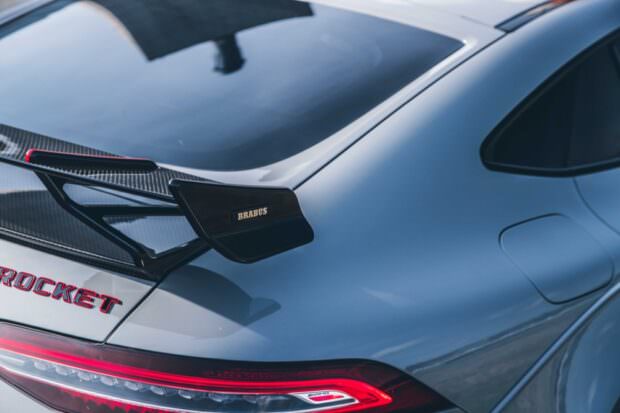 At the back, there's a multi-section carbon rear wing, plus a big diffuser under the bumper, and more naked carbon panels scattered about. Brabus developed a special Stealth Grey paint finish, and it's covered up all the chrome in the same shade.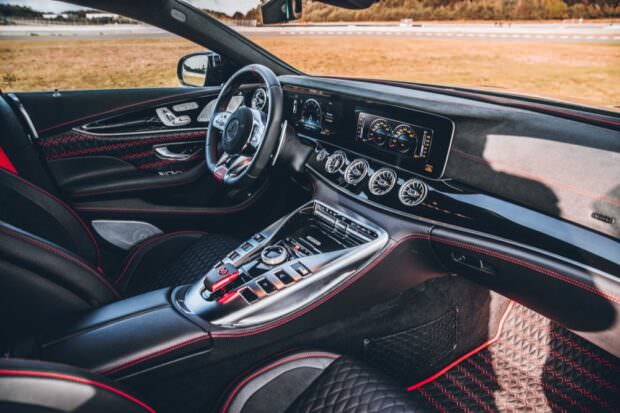 Inside, there's more Stealth Grey piping for the leather and Alcantara trim, and a quilted 'crest' Brabus coat of arms on the doors and seats. Some 215 individual switches and components have been specially painted in the body colour.
How much? €427,000 to you sir, but that's the export price, so doesn't include local taxes nor VAT.