Micro-miles Jag XJ220 for sale
Got any Lottery cash going spare?
Remember the Jaguar XJ220? If you're of a certain age (my hand up) you sure do. Born in the late eighties as a four-wheel drive V12-engined supercar concept, originally displayed at the 1988 Birmingham motor show. The organisers reckoned it brought an extra 90,000 visitors to the show that year, and Jaguar booked 1,500 reservations for the car.

After something of a torturous development process, the XJ220 eventually went on sale in 1992, but with a cheaper V6 engine (allegedly borrowed from the MG Metro 6R4 rally car) and rear-wheel drive.

Way back then, it was priced at £490,000 in the UK, not the best thing to be doing as the world tipped into a recession, and customers who'd booked a place in the queue for an XJ220 went apoplectic, saying Jaguar was trying to pawn them off with a V6 when they'd been promised a V12.
Top speed runs at Nardo

All of which bad publicity, swirling around the XJ220's birth, failed to disguise a couple of salient facts. First, it was drop-dead gorgeous. Second, it was really, truly, properly fast — hitting a massive 217.1 mph (349.4 km/h) at the famous Nardo test track in Italy, with Martin Brundle (then rather more famous for winning Le Mans for Jaguar, as opposed to his current career as an F1 TV commentator). 200mph+ supercars were not quite so common as they are today. In fact, back then, it was an exclusive club with really only the Jag, the Bugatti EB110, and the Ferrari F40 (and then only just) as members.
Oh, and it kinda-sorta won Le Mans. A trio of works-backed XJ220C racers entered the 24hrs in 1993 in the GT class, and did win on the day, but the winning car (co-driven by none other than David Coulthard) was later disqualified for a minor technical infringement. 
This is XJ220 #147

Well, thirty years on, an XJ220 is up for sale. Only 281 were originally built, and this one has just 4,200kms, all logged by its original French owner. Finished in a gorgeous Silverstone Green, it's currently being held in a secret location (McGurk Performance Cars, a short drive from Junction 12 off the M40 in Kineton, Warwickshire) and is priced at STG£349,850. The interior is finished in Sand leather, and it comes with a Jaguar Heritage Trust Certificate. It is chassis number 147 to come off the XJ220 production line.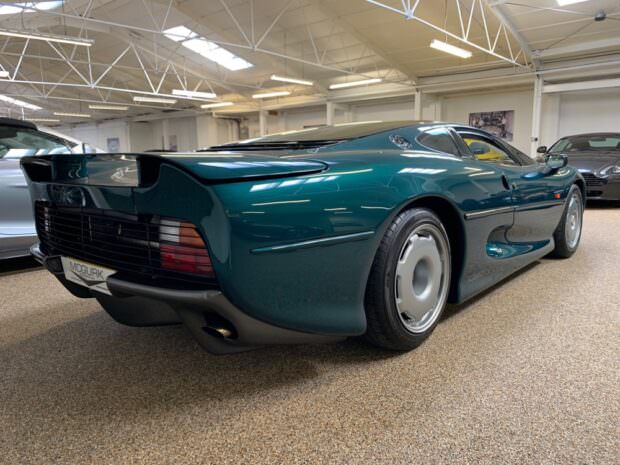 The original 542hp V6 turbo engine is present and correct, as is the bonded honeycomb aluminium structure and that gorgeous all-aluminium bodywork (with paint courtesy of Rolls-Royce). This particular XJ220 was fully refurbished in 2013, and was given new fuel tanks at the time.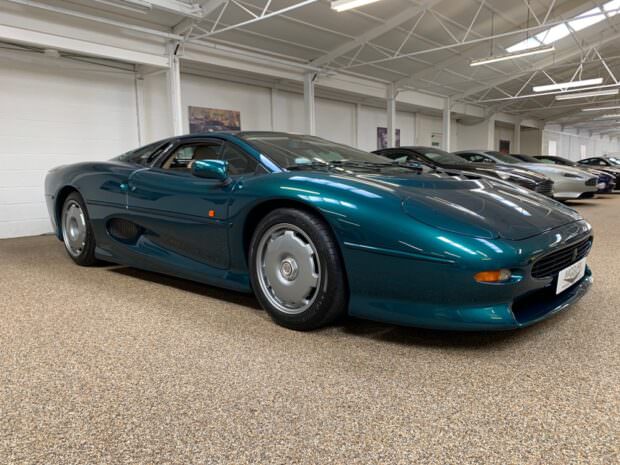 "I love these cars," says John McGurk, owner of McGurk Performance Cars, who worked with the XJ220 in a prior role at TWR Jaguar — TWR being Tom Walkinshaw Racing, Jag's Le Mans racing team which prepped the XJ220 for production. "I've driven and sold a lot of XJ220s previously, and this car is as close to a new one as you'll find today. They're sensational to drive, challenging, but great fun, the turbos come in with a huge kick and the performance is still shocking today," says McGurk. Its status among enthusiasts and collectors, allied to its obvious rarity, particularly in such condition make it a must have for collectors, the XJ220 still looking good value when compared to its contemporaries from Ferrari and McLaren."