Screamin' Eagle Milwaukee-Eight 131 crate engine debuts
Harley-Davidson has introduced a high-performance Screamin' Eagle Milwaukee-Eight 131 Crate Engine for its Touring models.
The Screamin' Eagle Milwaukee-Eight 131 create engine is a 2,147cc motor making it the largest and most powerful street-legal that Harley has made available and it has been designed to fit into its Touring models that have been built since 2017 models. It's a bolt-in replacement engine that is designed to run at higher engine speeds while simultaneously providing a noticeable bump in torque at cruising speed.
There'll be no mistaking it thanks to the unique 131 Stage IV badging on the cylinder heads and timing cover. Harley will also make the engine available with a choice of black and chrome or black and gloss black finishes.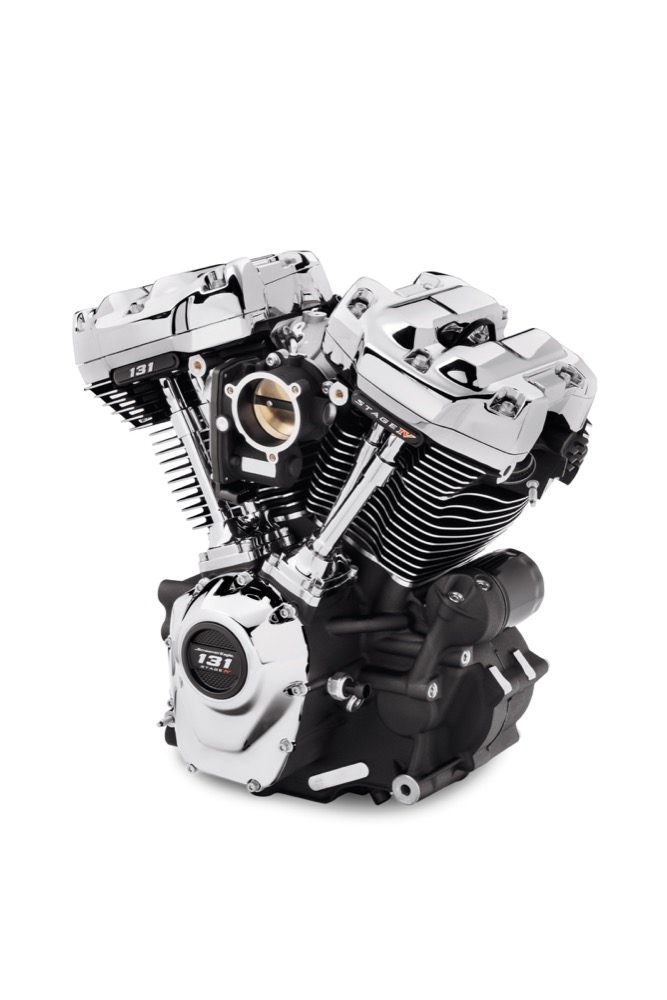 It features the same 4.5-inch stroke of the Milwaukee-Eight 114 engine combined with new 4.31-inch bore cylinders. The four-valve cylinder heads are CNC-ported and come fitted with valves that are 1mm larger in diameter to improve air and fuel flow.
Other elements of the Screamin' Eagle Milwaukee-Eight 131 include a high-lift SE8-517 camshaft and uprated cam bearings, high-compression forged pistons, 64mm throttle body and high-flow fuel injectors that can deliver 5.5 grams of fuel per second.
The result is an increase in power output to 121hp and 177Nm of torque at the rear wheel proving that the engine is fitted with Screamin' Eagle Street Cannon exhausts. All engines will also require the ECM recalibration with the Screamin' Eagle Pro Street Tuner as part of the installation. The Screamin' Eagle 131 engine is eligible for Custom Coverage under the motorcycle's factory 24-month vehicle limited warranty when dealer-installed by an authorized H-D Dealer within 60 days of vehicle purchase, and is backed by a 12-month limited warranty.
"Our adrenaline-seeking riders asked for thrilling power and torque with reliability," said Harley-Davidson Product Manager James Crean. "The Screamin' Eagle 131 Crate Engine delivers exactly that. Developed by the Screamin' Eagle performance team and factory-assembled at Harley-Davidson Powertrain Operations to ensure the highest quality standards, this high-performance engine is genuine Harley-Davidson."