Your Aston Martin helicopter is now available to order
If you would you like to fly to Le Mans in 2021 to watch that new hypercar class, you can now do so in your own Aston Martin helicopter. 
Not content with having dipped its toe into luxury aircraft with the Volante Vision Concept, Aston Martin has now teamed up with Airbus to create an uber-luxurious chopper called the ACH130 Aston Martin Edition. 
It seems that Aston isn't going let itself be shown up by Ferrari in the brand licensing wars. To date, Aston has added its name to a luxury apartment development in Miami, Florida – a well-known spot for people that aren't so keen on paying taxes. The company also has a creative collaboration with Triton Submarines for when having a cringey '007' personal number plate doesn't quite feel enough James Bond for your liking. And don't forget the recent motorcycle collab with Brough Superior. 
So what do you get? Well for starters there is a choice of four exterior colours including Xenon Grey, Arizona and Ultramarine Black in addition to the Stirling Green seen here, which fades into Jet Black on the underside and features cowlings painted in Skyfall Silver.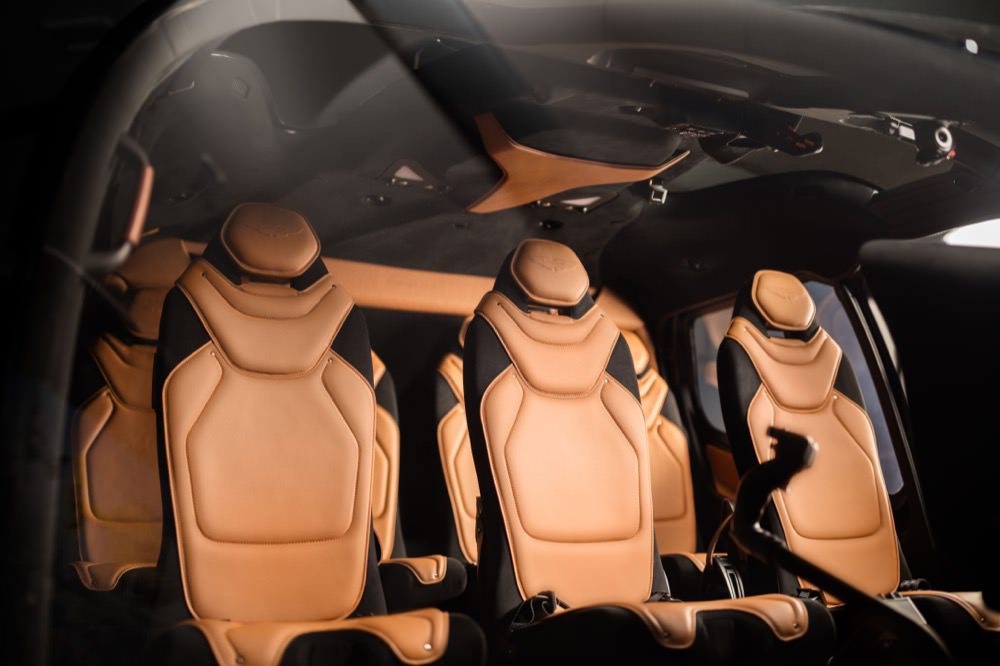 On the interior buyers can enjoy the same colour materials that can be found in Aston's existing colour palette. The cabin is Pure Black ultra-suede, and the seats receive a similar finish as those found in the DB11. Upholstery choices include Oxford Tan, Pure Black, Cormorant and Ivory, and fear not, Airbus will also make sure that the doors and other touchpoints on the inside are covered in nice materials to protect those precious passengers. 
It's clear that Airbus Corporate Helicopters know its buyers well, as company head, Frédéric Lemos adds: The ACH130 Aston Martin Edition is optimally positioned in the market for hands-on owners who draw satisfaction from personally piloting their aircraft and it generates strong brand-loyalty. In the same way Aston Martin's products are cars for drivers who relish being at the wheel and they inspire a comparable attachment to the brand. So they are the perfect partner for us in developing this superb new ACH130 Aston Martin Edition." How wonderful.
As for the price, well, Aston Martin hasn't said precisely how much each one would cost, and the exact figure will likely depend on just how each ACH130 AM is spec'd, but it will carry a premium over the standard €2.95 million pricetag. We'd still prefer a Vulcan.