200th Bugatti Chiron produced
Despite production of the Bugatti Chiron only beginning in 2017, the 200th car has recently rolled off the production line in the factory at Molsheim.
The total output for the Chiron will be capped at 500, so if you're considering getting one, you'll need to be quick. There are less than 100 slots left on the order books.
"You can't feel anything but pride when you see this 200th Chiron emerge from the factory," emphasizes Stephan Winkelmann, President of Bugatti. "Also, this model marks the celebration of our company history and recalls our French heritage. The different shades of blue used on this Chiron Sport lend it a timeless elegance." Mr Winkelmann is also quick to acknowledge the accomplishments of the Molsheim workforce: "The quality and dedication of everyone involved in a Bugatti car is unique in the world and demonstrates the passion that we bring to our work."
The 200th Chiron was one of the special edition '110ans Bugatti' models that celebrate the company's long history. Among the details are the French flag on the wing mirrors and the 'Sky View' glass roof panels. The eight-litre W16 -8 engine produces a staggering 1,500hp and 1,600Nm of torque.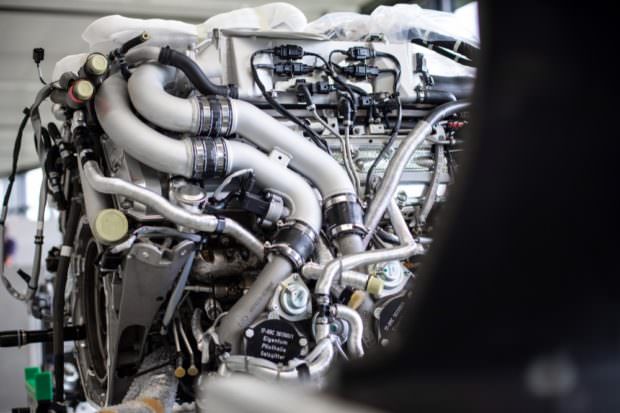 "It's a special event, the year is a significant one, and so is the car, which makes it doubly special," says Christophe Piochon, Bugatti Production Director. "It's not every day that you can see in the Atelier, a model with very few differences, even with the various personalization, in different production phases at once. The anniversary Chiron Sport '110 ans Bugatti' makes it possible, with this week at least four of the 20 cars being built at the same time."
Bugatti is also set to begin production of the sportier Divo model and the company is believed to be considering future one-off models following the debut of the 'La Voiture Noire' car, that was commissioned for a well-known collector and is rumoured to be the most expensive new car sold to date.
Enjoy these photos from inside the Bugatti factory that followed the production of this 200th Chiron.