First drive – Bentley Bentayga Speed
What's the ideal vehicle in which to take on the Anglesey circuit for the first time? Surely not a 2,491kg SUV, is it… is it?
Anglesey – or Trac Môn, in its native Welsh – is a heck of a circuit. It has been beloved by petrolheads and the motoring media/PR circus alike for years now: featuring regularly on British TV show Fifth Gear; being used by pretty much every mainstream automotive outlet this side of the Rhine for group tests and circuit thrashes on an almost monthly basis; and becoming something of a track-day Mecca for those of us not fortunate enough to be racing drivers in real life.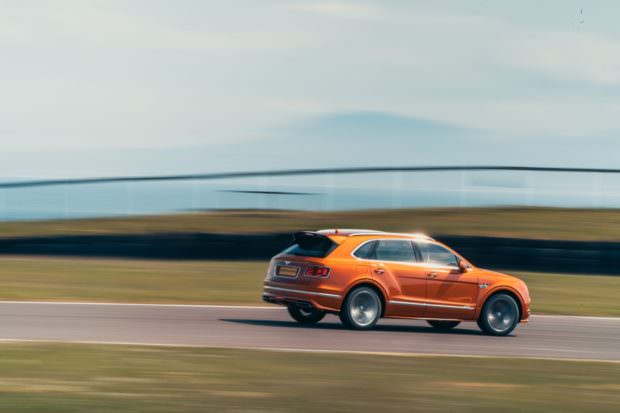 Incredibly, though (and not for the want of trying), yours truly had never been there… until May of this year. After 16 years in the business, Anglesey was one of the circuits missing from my own personal checklist and somewhere I was very keen to go. So when the opportunity to drive the full International GP layout presented itself, I leapt at the chance.
Heavyweight contender
The thing is, the vehicle that would be provided for the hot-lappery was not the ideal candidate for Anglesey's technical beauty, perched as it is on a clifftop next to the Irish Sea, on the fringes of the island sitting just off the coast of north-west Wales. Not that something with a 635hp/900Nm biturbo 12-cylinder petrol engine is to be sniffed at, of course, but the Bentley Bentayga Speed is 2,491kg of prime British SUV beef – it's not exactly a vehicle that screams 'track car', despite stats that show it can do 0-100km/h in less than four seconds and go on to a top speed of 305km/h (where permitted… and it wouldn't be possible at Anglesey, either, not even on the Tom Pryce Straight).
Bentayga Speed engine
Not that I should have worried, of course. While it would have been lovely to have done Anglesey for the first time in something light and focused, like a Caterham or a Lotus, there's a certain majestic shock-and-awe about something so tall, so big and so damned heavy managing to tear-arse around a simply stunning racetrack in such a composed and thrilling fashion. The Speed, you see, is a Bentley Bentayga W12 with an additional 27hp, a Sport mode that is enhanced with louder exhaust noises, better turn-in (thanks to revised air-suspension and active anti-roll settings, not to mention mighty 22-inch tyres on bespoke alloy wheels) and faster gearshifts, and a general feeling of imperious disdain for the laws of physics.
And so it was that the Bentayga Speed actually provided the perfect opening gambit for an Anglesey newbie, having enough power to make it feel like care was needed to get the braking and turn-in points just so, yet without being skittish or a handful in the slightest – allowing a rookie to instead focus wholly on familiarising with the track layout and listening to the kindly tuition of ex-Bentley racer and all-round top bloke Guy Smith.
Indeed, the way this leviathan SUV manages to bite at the apex of corners like Rocket In (hard uphill, brake full force, turn almost back on yourself in a blind, second-gear left-hander) just as well as it thunders through the high-commitment Church right-hander in a four-wheel drift (not my own abject skills, here, but those of Steven Kane, one of the 'Bentley Boys' who compete in the brand's motorsport machines) thoroughly vindicates the company's decision to confer the 'Speed' epithet onto the Bentayga, one of Bentley's most controversial products in the eyes of diehard motoring enthusiasts.
Interior scenery
Furthermore, as you come out of Peel for the first time and briefly sit atop the crest, looking out onto the glittering expanse of the sea with the distant, blue-grey forms of Snowdonia National Park's mountains lurking to the left of your visual frame of reference, it'll take your breath away just as surely as the quality of the Bentayga's interior will, the first time you clap eyes on it. Like what I did there…?
So no, I wouldn't ordinarily have picked a goliath of the motoring world as the ideal thing in which to try Anglesey for the first time. But having sampled the quite shocking things the Bentley Bentayga Speed can do on track, I'm sure as hell glad that it was this monster SUV in which I popped my Trac Môn cherry. And what a lovely mental image that is to leave you with, eh?