MV Agusta Superveloce 800 Serie Oro goes on sale
Order books for the stunning MV Agusta Superveloce 800 Serie Oro have opened, with prices starting at €27,990.
The Mv Agusta Superveloce 800 Serie Oro blurs the line between motorcycle and art. This limited edition bike is now on sale, but the Italian manufacturer is only planning to produce 300 examples of this beautiful thing.
What exactly is a Superveloce 800 Serie Oro?
The bike is based on MV Agusta's F3 800, but it is draped in bodywork that echoes the company's Grand Prix bikes of the past only reimagined. Power comes from a 798cc three-cylinder engine that produces 148hp at 13,000rpm. That's good enough for a top speed of 240km/h.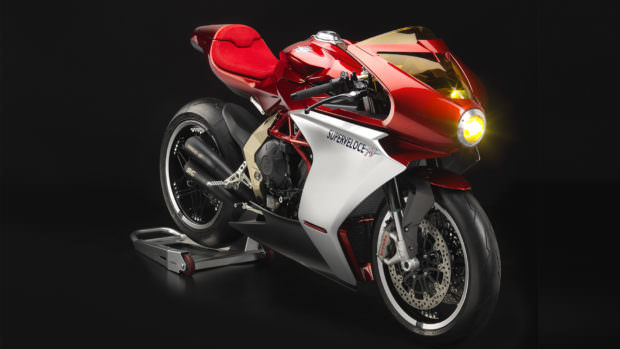 MV Agusta has tweaked the engine's mapping to add more mid-range grunt. The free-revving engine also uses a counter-rotating crank to its advantage in aiding how the bike handles.
It features a classic 3-into-1-into-3 exhaust, with two silencers on the right side and one on the left. The exhaust system has a black satin finish that matches the engine casings.
Lightweight components
All of that beautiful bodywork is made from lightweight carbon fibre and is painted in a deep metallic red. Like the iconic F4, the side panels have a silver finish, while the belly pan is black.
Much of the Superveloce's classic styling is down to the single-round LED headlight on the nose of the aerodynamic fairing. Oh, and that oh-so-cool yellow tint to the screen. Behind that screen is a modern full-colour TFT instrument display to show the rider everything they need.
No matter where you look, the Superveloce 800 Serie Oro is dripping with exquisite detail. A leather strap runs along the length of the tank as part of the filler cap design.
The single-sided swingarm shows off the wonderful and intricate wheel design. Featuring a six-spoke design that is made up of four-cross spokes per each main spoke, they're a thing to behold.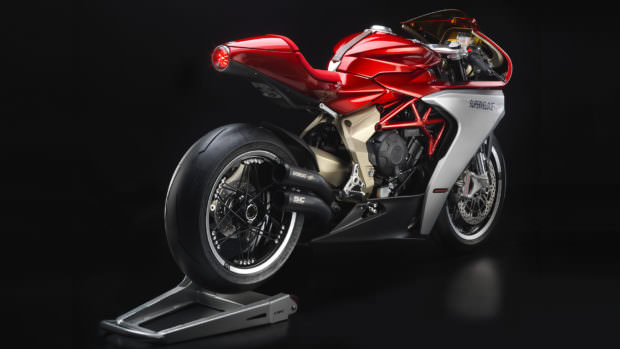 The tail unit is short and features a seat that appears to be upholstered in a perforated red Alcantara material. So far the bike has only been shown as a single seater, but a separate cowl section would suggest that it could be converted to carry a pillion. Around the back, the tail unit tapers back to end with a flat circular LED rear light.
Limited production
With only 300 units pencilled in for production, MV Agusta shouldn't have much of a problem shifting every single one, even with the €27,990 asking price. We hope that some do see the light of day and aren't just squirrelled away in collections.