Performance crossovers and SUVs: anathema to petrolheads, or perhaps the new breed of 'hot hatch' fast motors?
It's not as if fast SUVs – or crossovers, or 4x4s, or 'jeeps', or whatever you want to call them – are a new phenomenon. After all, the Range Rover has been offered with a V8 since time immemorial (granted, not a very powerful V8 in the early days, but a V8 nonetheless). As part of the gentleman's agreement between BMW and Alpina, the original X5 of 1999 gained a 347hp 4.6 V8 in 2001 and then saw that enlarged to 4.8 litres and 360hp in 2004; these two, badged 4.6is and 4.8is, were bonkers quick, sounded furious, handled sharply and used Alpina-derived engines for maximum kudos. Mercedes has been handing its 4x4s, including the ancient G-Wagen, over to the lunatics at AMG since the turn of the millennium. Porsche started building the controversial Cayenne in 2002.
So there are plenty of precedents for this vehicle-type. And yet, with a whole slew of smaller, more affordable hot crossovers on the way, suddenly the petrolhead community seems to be up in arms when a manufacturer decides that a drivetrain that, say, could otherwise be usefully deployed in a hot hatchback, is instead slotted into a pseudo-SUV. The Volkswagen Group is particularly in the firing line here, because it has given us the Cupra Ateca and the Audi SQ2 in short order, while a Volkswagen T-Roc R that employs the same hardware is also imminent.
Elsewhere, Hyundai is talking about 'N'-ifying the Kona crossover. Mercedes-AMG continues to do hot versions of everything from GLA to GLE (and, natch, the G-Wagen Mk2), BMW has M variants of all of the X3 to X6 clan, and Audi even does a V8 diesel that sounds like a NASCAR engine when it's installed in the monster SQ7.
Basically, there's a lot of choice out there. You can have fast SUVs with 600 horsepower and more, with exotic nameplates attached to bonnet and boot, you can have mid-sized models that will tick off the 0-100km/h sprint in less than four seconds, and now there's a strain of semi-affordable circa-300hp versions… which seem to be dripping into the same sort of price bracket as hot hatchbacks. And that suddenly becomes a whole new ballgame.
Hot hatches
Are you comfortable with the idea of the likes of the Volkswagen Golf GTI/R, the Honda Civic Type R and the Ford Focus ST/RS being superseded by machines that are taller, heavier and more focused on interior space than they are on scintillating handling? Or is it fair for us to even say that of these performance SUVs? There's a school of thought that says their higher driving positions, their four-wheel drive (where fitted) and slightly softer, longer-travel suspension makes them better fast road cars, because you can exploit more of their abilities, more of the time, with more of an outlook on safety (both your own and that of other road users). So here's another example firing into the mix: the BMW X2 M35i.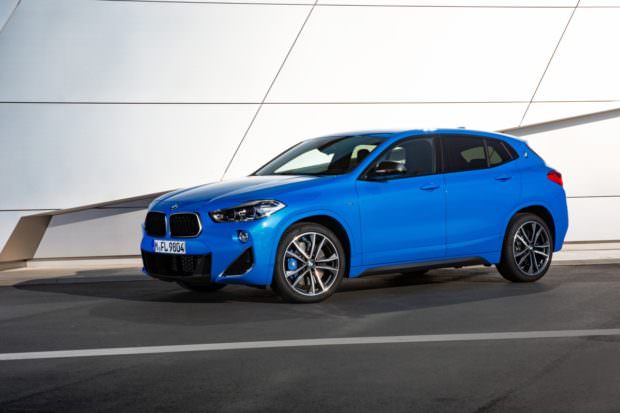 X2 M35i roots
This one is based on the same underpinnings that can be found beneath a MINI. And which will form the basis of the new 1 Series/2 Series models. All lower, more hatchback-y (or coupe-like, in the case of the Two) machines, that might have been better recipients of the M35i's 306hp/450Nm 2.0-litre drivetrain, a motive unit so potent that it earns the epithet of BMW's most powerful four-cylinder production engine ever built.
That the uprated 2.0-litre motor has found its way into the 1,685kg X2 M35i will irk some people beyond belief. It doesn't matter that the X2 is one of the sweetest-driving crossovers of them all anyway, even in its more mundane guises. It doesn't matter that it's not even the highest of such vehicles, measuring in at just 1,526mm tall. It doesn't matter that it can do 0-100km/h in 4.9 seconds, that it has a limited-slip differential on the front axle (despite the M35i also packing xDrive AWD) or that you can option up adaptive dampers and simply glorious one-piece M Sport bucket seats in the front – it's a performance crossover. The X2 M35i should be burnt at the stake.
How it is
And so we won't be able to convince these doubting Thomases with this rather salient fact, either: the X2 M35i is an absolutely blinding performance motor. Its involving handling, its ridiculous traction capabilities, its mega drivetrain, its superb two-stage adaptive damping, its general air of refinement and likeability… none of it will make one iota of difference to these people. Slightly stodgy steering, slightly dated cabin and slightly too often experiencing some 'wooooooAAAAAAH, brake, brake, BRAKE!!!' sensations aside, there's really very little to fault the X2 M35i for. It's brilliant, and utterly deserving of its M Performance status.
Still, the people who refuse to accept it will be the ones to lose out in the long run. It's clear that this is a new breed of hot hatch; one that rides higher, which grips tenaciously, which goes like absolute stink when it needs to… and yes, admittedly, a breed that weighs a bit more and has a higher centre-of-gravity, two things that always harm driving dynamics. Nevertheless, if these new taller hot hatches are only half as good as the BMW X2 M35i, then you certainly won't find us complaining.