First look: Volkswagen Touareg
Beijing was the stage upon which the all-new, third-generation Volkswagen Touareg made its global debut, and we were on hand to see it in person. The model is out to claim its title as Volkswagen's new flagship SUV, and judging by our first look, it appears to be just that.
Fresh new exterior
The first thing you notice with the new Touareg is that front-end design. It has a large, bold grille that neatly integrates the car's headlights to form one stylish design element. The lower bumper section varies depending on which model line you choose, with the R-Design creating the most visual drama. Every panel on the Touareg is new, and it portrays a solid stance with taut surfaces and shape lines that have now become a key feature in Volkswagen's current range.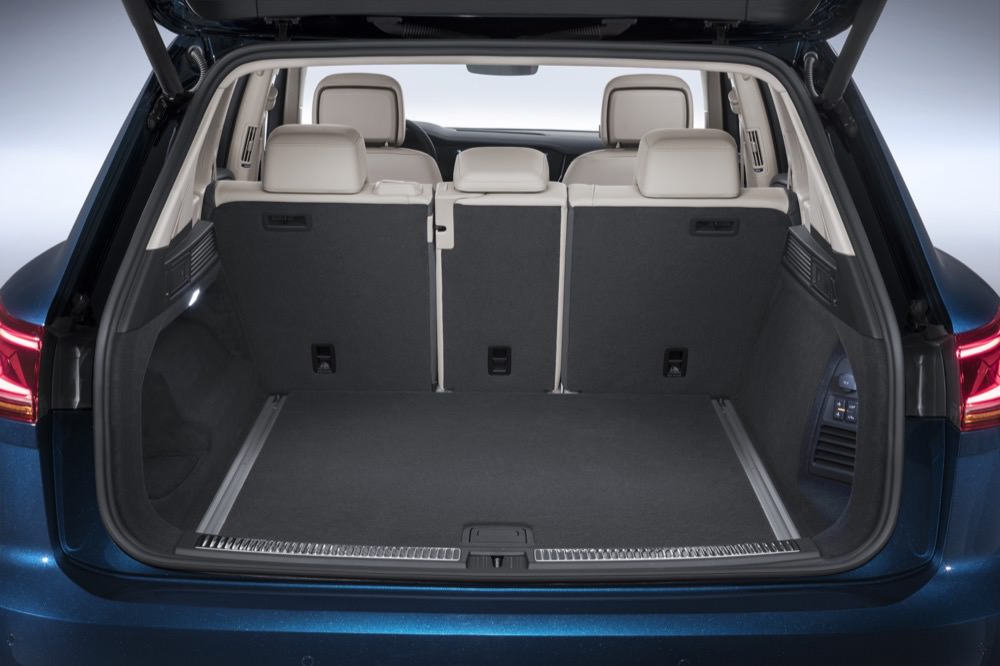 A bigger boot
Even though there's a sloped tailgate that's also adorned with detailed LED tail lights, the boot inside the new Touareg has grown. Volkswagen is keeping its flagship SUV as a five-seater only, with confirmation that there are currently no plans for a larger seven-seat 'Allspace' model in the pipeline. Luggage capacity is up by 113 litres to a total of 810 litres. The rear seat bench has the capability to slide longitudinally by up to 160mm to add more legroom for rear passengers or to maximise cargo space.
Class-leading interior
As nice as the exterior of the new Touareg looks, it is the interior that is sure to truly win over buyers. It's here that Volkswagen's designers have upped their game. We've become used to seeing the all-digital instrument displays from Volkswagen, and it's no different in the Touareg.
There's a new 12-inch unit that looks sharp, but this forms part of a larger assembly that appears to be all one piece that joins with a 15-inch infotainment touchscreen. Called the Discover Premium display, it's larger than an iPad Pro and presents information and media displays in crisp high definition.
Buyers will also be able to specify a colour head-up display unit that can project the most important driving information onto the windscreen. Turn-by-turn navigation guides, road sign recognition and even incoming calls can appear magically a few feet beyond the bonnet, right in your line of sight.
Advanced lighting
Top-spec Touareg models will have the option of full LED Matrix headlight technology, with each headlight featuring 75 light points. This type of setup allows for 12 different light functions that adapt according to whether the car is driving in a dark environment in the countryside or more brightly lit urban roads.
Night Vision
If you want to see even more in the dark, Volkswagen will also have a night vision camera available. Through the use of thermal imaging, the car can detect and highlight both pedestrians and wildlife, and alert the driver. It links in with the advanced headlight tech to further illuminate the detected objects.
Go anywhere all-wheel drive
All new Touareg models will come with Volkswagen's 4Motion all-wheel drive automatic transmissions. The eight-speed unit uses shifty-by-wire technology and can transfer 'up to 1,000Nm' to all four wheels. Right now there isn't an engine in the Touareg range with that much power, but Volkswagen is at least future-proofing itself with the engineering in this transmission. It'll have plenty of pulling power as is, with VW quoting a towing capacity of up to 3.5 tonnes up an 8% gradient.
V6 engines
The most popular choices of engine in the new Touareg will focus on a pair of 3.0-litre turbocharged V6 diesel. These will have power outputs of 231- and 272hp respectively. In time there will be a 3.0-litre TFSI petrol engine (though not in Ireland) that produces 34-hp and 500Nm. China will be the first to get the 367hp plug-in hybrid model, although there is no set date as to when this option will come to Europe.
You can read up on more of the technical details of the new Volkswagen Touareg here.