Techart Porsche 911 GT3 RS
Need to add even more carbon fibre to your Porsche 911 GT3 RS? Good news because German gurus of the lightweight black material, Techart, has just released a new Carbon Sport Package for the GT3 RS. The already mental GT3 RS looks incredible, especially with that huge fixed rear wing, and now owners can add even more bling thanks to Techart. In fact if your pockets are deep enough, and let's face it if you're driving a Porsche 911 GT3 RS they probably are, you can have your car positively dripping in carbon.
We already love the Porsche 911 GT3 RS, as you can see from our full review, and this new styling pack adds even more to it. Buyers can just choose to add individual parts but the whole package you see here really adds to the hardcore racer-on-the-road look.
The front spoiler and wheel arch air outlet louvers are some of the more obvious parts to add. The same too for the rear wing panels but the package also includes the side air intakes and a subtle roof spoiler. Side skirts and a redesigned rear diffuser are also available while smaller items such as the door mirrors can also be finished in full carbon fibre in either a raw or lacquered state.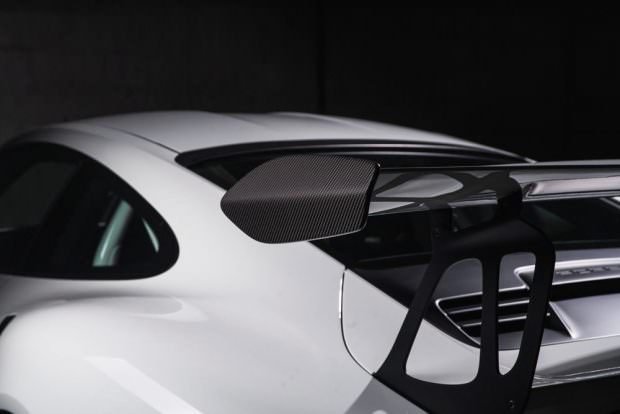 With a 0-100km/h time of 3.3 seconds and a top speed of 311km/h the Porsche 911 GT3 RS is no slouch. It has already been on a serious diet, with Porsche using carbon fibre panels on the front and a 1mm thick magnesium roof. But let's face it, carbon fibre makes everything even better not to mention a little bit lighter.