A Grand Tour – BMW's 318d Gran Turismo driven
It's easy to be sceptical of new things. When trains started to become faster people feared they would suffocate on them as it was theorised that they air would be moving too fast for them to be able to breathe in. Nowadays we dislike when the operating system on our mobile phones changes. The same could be said for cars which evolve to fill new niches – it becomes easy to critique something that hasn't before had a requirement to exist. 
It's at this point that I must come clean. When the BMW 3 Series Gran Turismo was first launched I struggled to see the point of it. After all, we already had the saloon and the touring not to mention the X3, so why did we need this? When you look at the specs, stats and figures you soon see that the 3 GT sits at the very centre of a venn diagram of all of these models which could lead to the suggestion that this is the very best 3 Series yet. I decided to leave aside my measuring tape and simply get into the GT and embark on, if you'll excuse the pun, a gran tour around Ireland that would take in every possible road condition to see just how the GT really performs.
One of the initial things that you do notice with the Gran Turismo is the ease of ingress and egress. The seats may only be a couple of inches higher than the saloon, yet the combination of this and the slightly higher roofline makes for a noticeable difference. It certainly feels more spacious on the inside, helped in the case of my test car by the panoramic glass sunroof and light beige leather interior. The cabin is that very familiar BMW style which could be criticised for not differing enough between models, but a design that can do so across such a wide variety of models, and indeed price-points, must be due some form of credit.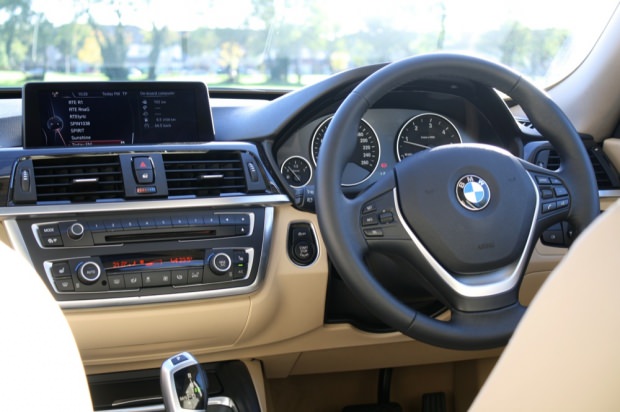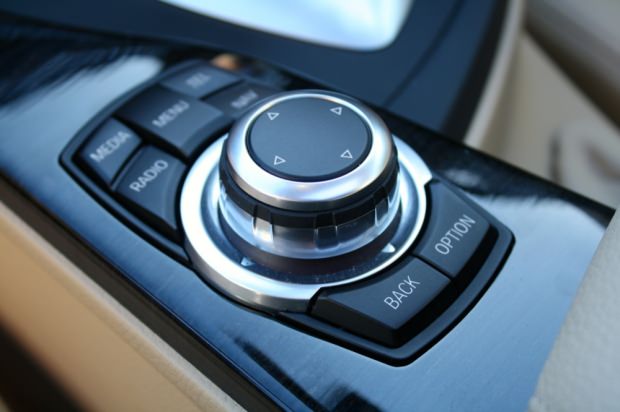 As with much of the BMW range these days a vast array of engines are on offer, the majority of which seem to prove to be quite economical. In this specific case the Gran Turismo is fitted with the 2.0-litre 318d four-cylinder diesel engine which manages a generous 143hp while emitting just 127g/km of CO2. As this car is fitted with the 8-speed automatic gearbox the emissions levels are slightly higher. Opt for the manual option and you'll pay a lower rate of road tax. A more impressive figure is the 320Nm of torque.
When it comes to diesel engines these days BMW seem to pretty much have it nailed, with decent performance levels being complimented by environmentally friendly emissions, the 318d GT is left wanting for little when it comes to being driven. Select Eco-PRO mode on the (now standard) drive control setting and you will be able to eek even more range from that fuel tank as it lowers the amount of power on tap and gives you discreet reminders on how you're currently doing driving-wise. The automatic gearbox is a must if you enjoy pure comfort when driving – its gear-shifts are as good as any of its rivals and in most cases better.
On the motorway heading to the west of Ireland the GT settles easily to a cruise with near-minimal revs and as the range indicator shows it seems to merely sniff at its diesel reserves. Road-noise is surprisingly low considering how lofty the interior space is and as you would expect from a premium car's interior there isn't even the suggestion of a squeak or rattle. Moving onto smaller and twistier roads the GT's steering becomes more noticeable in just how well-weighted it is. It doesn't give you race-car levels of feedback by any means, but the more you drive it the more you begin to appreciate just how good it is.
Despite the benign styling the Gran Turismo is a car that is quite capable of being hustled along at a respectable pace. Even though it may be designed to be a more practical solution, it is clearly obvious that no less amount of work has gone into the chassis development while the suspension reacts and copes very well with a variety of tarmac undulations.
Space is of course the big point of the GT and thanks to a automated hatchback bootlid which opens to a boot which is larger than the 3 Series Touring, and the addition of split-folding rear seats it's easy to see how this could become a very easy choice to make especially for a family. Its looks may still be divisive but trust me, they do ease with time and how many of you look at your car's exterior whilst driving anyway? The Gran Turismo is a new departure for BMW but with the rise in new segments, especially crossovers, the 3 GT could surprise many once they sample it. My advice would be to do so but approach it with an open mind.
Road Tax band: €270 (B1)
Price: From €44,170 (€58,953 as tested)
Available: Now