BMW nineT brings retro to a new level
As part of BMW Motorrad's 90th Anniversary, it has launched a new model with a very old-school look called the R nineT – a clever play on words as a hat tip to the original R90. Using the air and oil cooled 1,170cc boxer engine, it produces 110hp while the 119Nm should ensure that it clips along nicely.
The whole look of the nineT lends itself to being modified by owners in order to add a touch a individualism to each bike. BMW will of course be offering a range of accessories but it won't be long before other aftermarket specialists will be rolling out alternative options for the image-conscious biker. Owners will be able to change the nineT from a single seater to pillion friendly setup by means of a removable frame, but many will prefer the solo look, particularly with the aluminium tail cover which completes the café racer image.
In keeping with the retro styling, the nineT has twin-stacked exhausts on the left side but BMW in conjunction with Akrapović, a titanium variant which has both a short and long link pipe will be offered, allowing buyers to alter how it is mounted, therefore changing the overall look of the bike.
It isn't all retro with the nineT either, the front end is dominated by the inverted telescopic forks from the S 1000 RR superbike. The gold fork legs stand out quite but are in keeping with what a lot of home-builds resemble these days while also forming a nice juxtaposition to the traditional wire wheels which are laced onto black rims and hubs. Radial four-piston brake callipers ensure that the R nineT will be more than able to pull up ample distance.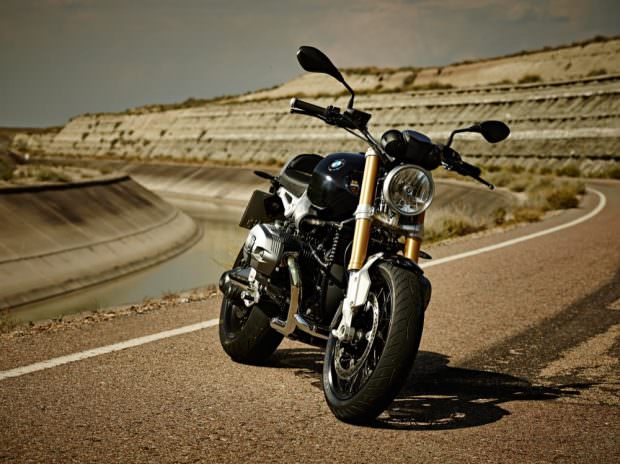 The sides of the 18-litre fuel tank have a brushed aluminium finish which has been clear-coated. Other parts such as the yokes and handlebar clamps are fabricated from forged aluminium and are glass bead-blasted to give an anodised finish. An aluminium plate embossed with nineT lettering sits just above the air intake duct and adds to that hand-built feel.
Purists will no doubt try to find fault with the nineT from a styling perspective, but when simply taken at face value for what it is – a homage to an illustrious past – BMW Motorrad shouldn't find it too hard to find plenty of garages for this beautifully retro motorcycle.