Volkswagen Golf 2.0 TDI DSG – Driven
When it comes to automotive benchmarks it is hard to find one more widely used than the Volkswagen Golf. Since its introduction back in 1974 it has consistently been the yardstick other manufacturers have used to judge their own products, and for many customers that have shopped for a small family-sized car in the last thirty nine years it has, at very least, been on the list for consideration. Now in its seventh generation, and facing more competition than ever before, can the latest Volkswagen Golf still punch above its weight?
The new Golf is built on Volkswagen's highly versatile MQB platform which allows it to not only be lighter, but gives it more room on the inside, better rear legroom and the ability to utilise numerous different powertrains – plug-in hybrid and fully electric versions will come in time. In the case of this test I'm driving the 2.0 litre TDI coupled up with a DSG automatic gearbox which should be one of the more common, if a little upmarket, specs that buyers are likely to consider.

Volkswagen have spent considerable time and money improving the refinement of this engine which is clearly evident from the moment you start it. As with more and more engines nowadays there are numerous systems at work helping to both reduce emissions and improve fuel economy. The Start/Stop system is one of the better ones on offer today. It helps contribute towards the claimed fuel efficiency of 4.5l/100km or 62.8mpg in old money. Combine that fuel economy with the generous 55-litre fuel tank and you won't be visiting your local fuel station too often. The CO2 rating is just 119g/km which places this particular Golf in tax band A4 which equates to a road tax bill of €200 per year.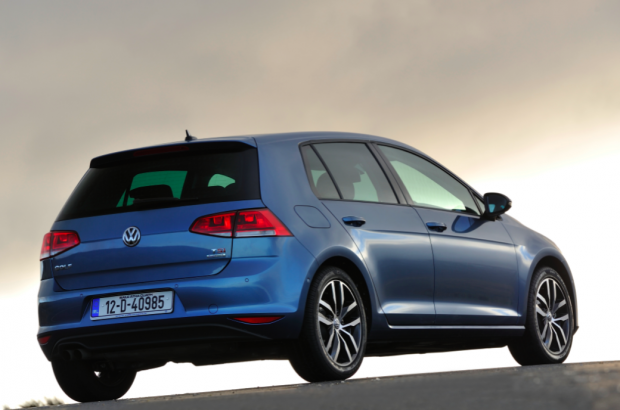 Inside there is a sense of spaciousness that is one of the best in class and in the case of my test car with Highline trim, it feels like one of the most well-appointed in its segment. Granted, there is a huge amount of specification on this test car, which pushes it close to the €40k mark, but it does include a huge array of features. First up its the seats, and these are covered in a beautiful alcantara material which not only look superb but feels it too.
"it seems that Volkswagen have once again reset that benchmark a little higher."
"The Start/Stop system is one of the better ones on offer today."
On the tech side of things there is a seemingly endless list of things that the new Golf can be equipped with, and you may be surprised to hear that they're not all gimmicky. Adaptive Cruise Control once set constantly monitors the distance to the car in front and should that car begin to slow down the Golf's system will also slow in order to maintain a safe distance. Once that car speeds back up the clever Volkswagen will do to same up to the original set speed. It's a clever system that really needs to be experienced in person to see just how well it works. Another system that also needs to be seen to be believed is the Parallel Park Assist which essentially parks your car for you. Once active, when you drive past a car space that the car determines is big enough to fit into it will then guide the car into that space without the driver having to touch the steering wheel. All you may have to do is to select reverse and then control the throttle and brake. Now I know what you're thinking, "I know how to park a car!", but for some people that might not feel overly confident when trying to squeeze into a space this is a Godsend. Plus it could potentially save you from kerbing those lovely 18-inch ally wheels.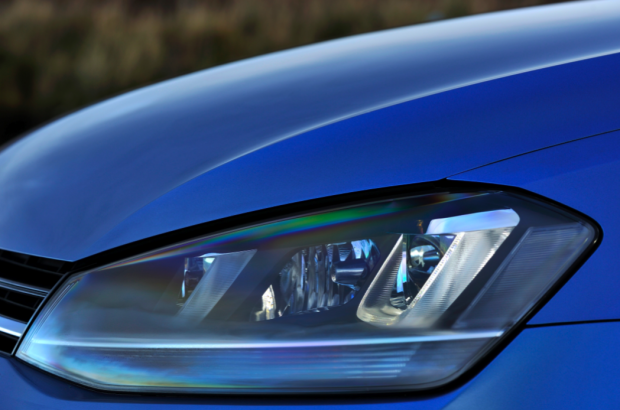 As for the drive itself, well it seems that Volkswagen have once again reset that benchmark a little higher. The 2.0-liter TDI engine offers more than enough grunt low down while its 150hp takes no time to get up to motorway speeds. It is well matched to with the DSG automatic and is a combo I would certainly recommend going for. The level of noise insulation inside is excellent and even on poor road surfaces the Golf remains composed and sure-footed while the steering gives consistently good feedback across a range of speeds. Rear visibility is good and the almost vertical back-end on the Golf means that rear passenger room, particular headroom is very good while bootspace is an adequate 380 liters and is helped by quite a large aperture.

Granted, this particular Golf has all the bells and whistles one could possible want in a car, but if you strip those away momentarily you are still left with a car that is sublime to drive, mature in both looks and quality and once again defines why the Volkswagen Golf is still a seriously desirable car.
Road Tax band: €200 (A4)
Price: From €19,995 (€39,256 as tested)
Available: Now
Like this story? Why not Like us on Facebook here