Mazda have pulled off something of a coup with their new crossover – the CX-5. It's one of the only vehicles in 2012 that all of the journalists seem to be in agreement in just how good it is, so I decided to test it out for myself. The all new model I'm driving is powered by 2.2 litre diesel engine which produces 172 bhp and does so rather economically thanks to Mazda's new SKYACTIV technology.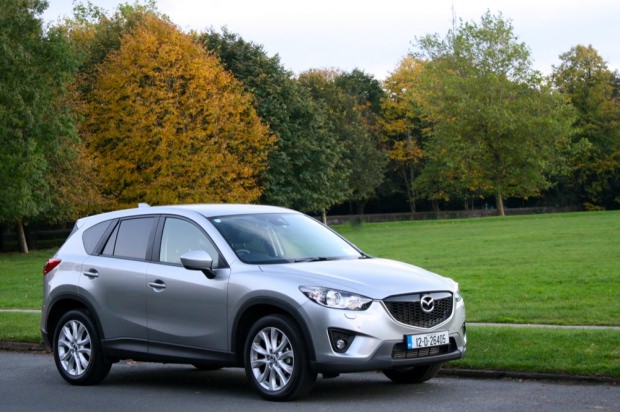 What is SKYACTIV I hear you say? It's the name given to Mazda's new technologies that provide increased levels of both driving performance and environmental performance as well as improved safety technology. In the case of the diesel engine powering my CX-5 it means the use of ceramic glow plugs which heat up the combustion chamber more efficiently on cold starts and also the lowest engine compression in the world – 14:1. This means that less pressure is placed on the engine components which allows Mazda engineers to use an aluminium block as well as lighter pistons and crankshafts which result in a 10% lighter engine and 20% less internal friction.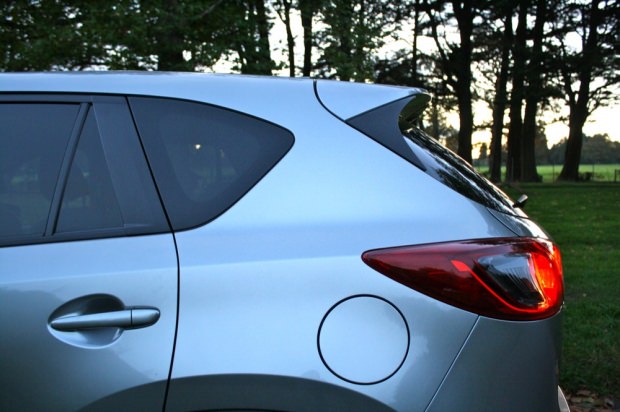 All of that means in the real world that this engine is not only very smooth – to the point when you're almost not sure if it's petrol or diesel – but is also quite punchy in the power department. Torque (420 Nm) both low down and in the mid range is more than reasonable. The six-speed manual gearbox which is as smooth as you like, is pretty well geared and in this version is 4×4 – the two other engines (2.0 litre petrol & a 148bhp diesel) come only in 4×2. To be honest though the CX-5 is much more biased towards on-road rather than off-road driving and I would imagine that is were 99% of them will stay.
"One thing that the CX-5 doesn't do is handle like your typical SUV crossover – it's far more refined."
Inside there is quite an array of spec, the majority of which comes as standard. The Sport SE model that I'm driving is equipped with a leather interior and heated front seats, dual zone climate control, a 5.8" colour TFT display with built in sat-nav, cruise control, bluetooth, multi-function steering wheel and parking sensors. What's even better is that almost all of these options come as standard across all trim levels which makes the CX-5 and even stronger proposition for potential buyers. My only criticism is that Mazda have played it a little too safe on the interior design and although everything is ergonomically bang on it just doesn't match up to the superb exterior design.
"Inside there is quite an array of spec, the majority of which comes as standard."
The near vertical snout may divide opinion but it has grown on me while the rest of the CX-5's exterior is very well proportioned and it is fairly hard to find a bad line on it. I wouldn't quite go as far as Mazda's press release which describes the headlamps by saying that "they hint at the eyes of a cheetah looking boldly ahead, instinctively focused on its prey." Lets just agree that it looks good. Apart from looks the exterior shape of the CX-5 is very aerodynamic which isn't always an easy thing to do when dealing with the usual SUV shape.
One thing that the CX-5 doesn't do is handle like your typical SUV crossover – its far more refined. Yes you do get a SUV-like driving position which allows for excellent all-round visibility but what you don't get is any unnecessary body-roll that you might experience in other SUV's. On back roads it remains composed and makes light work of absorbing the biggest of Ireland's tarmac impurities whilst moving out onto the motorway it stays nice and smooth while that engine rests at near idle speeds when cruising in sixth gear.
Mazda may have been a little late to the SUV party with their CX-5 but it seems to be a case of being well worth the wait. In all honesty the CX-5 isn't the most exciting of vehicles but that's what helps make this such a dark horse. It may not be on everyone's radar but it really ought to be because what Mazda have done with the CX-5 is make a vehicle that's darn good in every aspect and for that reason it deserves to be very near the top of people's shopping list.
Test Drive Distance: 341.7kms
Road Tax band: €280 (B2)
Price: From €28,895  (€38,795 as tested)
Available: Now
For more images visit our Facebook page here
Got a question? You can tweet Dave – @lordhumphreys