Rally School Ireland experience
Sometimes the elasticity of my arm surprises even me, so you can already imagine what happened when I received a phone call from David Smyth of Rally School Ireland inviting me to spend a day with them predominantly going sideways. Located in Scotstown, Co. Monaghan, Rally School Ireland offer a lot more than just plain tomfoolery. Pulling into RSI after my ninety minute drive from Dublin I was impressed at just how professional a setup it appeared to be.
My first port of call was to sit down with RSI boss David Smyth over an exceptionally well brewed coffee (first test successfully passed) and get a flavour of exactly what we would be doing during the day. Following our coffee I was taken on a tour of the site and got to see all of the many toys that lurk in their state of the art workshops. Rally fans would be more than happy to simply visit and take a tour nevermind get to experience and drive some of these icons that include Audi Quattro's and Metro 6R4's.
Heading outside and up to the track-side viewing area I get a first glimpse of their rather epic track. It's no racing circuit but it does have multiple layouts and appears to be very technical – good thing I relish a challenge. A tip of the hat must go to the team who have been able to cram so much stuff into a relatively compact area. But the only real way to see how this track flows is to drive it and what would be better than their E90 M3.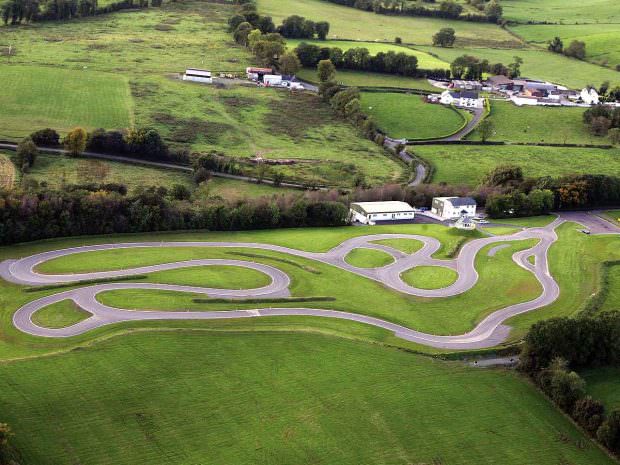 Their track has been designed specifically to challenge the driver and its tight and technical nature certainly does just that. With David guiding me around I soon picked up more pace and as I got to know the track that bit better I reached that point where I found myself doing quite a lot of gardening with their M3. Thankfully all Mr. Smyth did was laugh his head off. Once we eventually found tarmac again we swapped over and I decided to let the local expert show me how it's really done and that was certainly impressive. Then it was into their 350Z Drift Car where I almost got to re-sample my breakfast from that morning.
After letting the tyres relax and downing another exceptionally brewed coffee (this time with biscuits) I was shown some of their other activities such as their BMW Advanced Driving School in which they cater for all manner of things such as winter driver skills right up to advanced driver tuition using their M -cars. Other items of note include Ferrari & Porsche driving experiences (perfect for birthdays & Christmas) as well as trying out some of those extremely tasty rally cars that I mentioned earlier.
As I expected the day went all too quickly but it did certainly leave me with the desire to head back another time to try out some more of those fantastic toys and hopefully to do less gardening next time. If you require any further information about some of the things I tried you can contact RSI directly on 047 89098 (N. Ireland +353 47 89098) or by emailing [email protected] 
Their website: rallyshcoolireland.ie
Twitter: @rallyschoolirel